AJF was very excited by the response to the first ever 2017 Susan Beech Mid-Career Grant competition. Not only was the number of proposals beyond our expectations, but the breadth and depth of the proposals proves that the art jewelry field is indeed a dynamic community of diverse, innovative, and creative thinking. The ideas presented in the proposals were so rich and interesting that we wanted to introduce you to the nine artists who were finalists for the grant. An interview with each finalist will be conducted throughout the year, so this short introduction will serve merely to whet your appetite.
Special thanks go to Susan Beech, the founder and driving force behind this grant; to the jury members—Iris Eichenberg, Cindi Strauss, and Susan Beech—for their insight and expertise in selecting these finalists from an impressive pool of 98 applicants; and to Bonnie Levine, the woman behind the scenes who kept everything organized, on schedule, and moving forward.
The Susan Beech Mid-Career Grant will be available again in 2019, so let your creative juices start flowing! In the meantime, these artists are looking for funding for their projects … perhaps you, dear reader, are interested in helping them realize their dreams?
KRISTIN BEELER
BIO: Kristin Beeler is professor of art and coordinator of jewelry and metalwork at Long Beach City College in the Los Angeles area. Solo exhibitions include Archive of Rag and Bone, featured at Mesa Contemporary Arts Museum, and Beauty and Other Monsters, at Velvet da Vinci gallery. Major group exhibitions include Shadow Themes, at Reinstein|Ross in New York; (Lost) Paradise, at Alliages, in Lilles, France; California Handmade: State of the Arts, at the Maloof Foundation, Los Angeles; SIERAAD International Jewellery, Amsterdam; La Frontera, at the Franz Mayer Museum, Mexico City; and Extreme Beauty, at the Glassell School of Art, University of Texas, Houston. Professional contributions include lectures at the Royal Melbourne Institute of Technology; the Material Matters conference, at East Carolina University; La Frontera Symposium, in Mexico City; the Northwest Jewelry and Metals Symposium, Seattle; the Society of North American Goldsmiths conference, Houston; the Yuma Symposium; and an essay in Metalsmith magazine. She has been a resident artist at Cleveland Institute of Art and Kent State University, and a visiting artist at Cranbrook Academy of Art. Currently, she is also a research associate at the University of Technology Sydney in the Faculty of Engineering and IT, working with the Materialising Memories research program.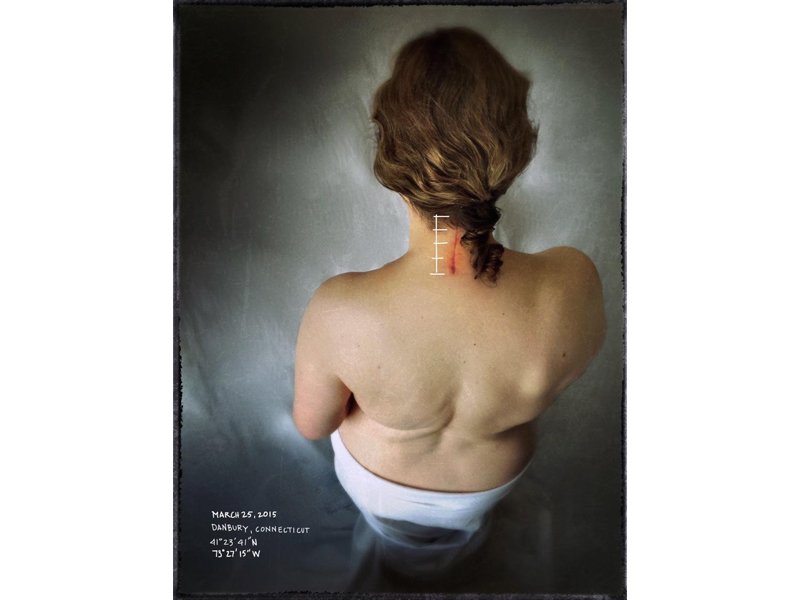 ABSTRACT: This proposal expands two facets of my project, Archive of Rag and Bone. First, it develops eight to 10 jewelry pieces to complete the narrative cycle of the project. Second, it creates a monograph with three critical essays driven by the work's themes. Through portraiture, Archive of Rag and Bone addresses jewelry at its most fundamental level. It considers the body as location for personal history and intimate memory; skin as a boundary; and the repair marks of scars as self-identification and a priori jewelry. Under this proposal, the collection expands to include jewelry objects alluding to navigation of the body's topography and the landscape of psychology. The second part focuses on a book documenting and expanding the project, to be shared as a collection of text meditations and imagery. Three writers with an investment in our field have committed: Wendy Steiner, professor emeritus at the University of Pennsylvania and author of Venus in Exile; Suzanne Ramljak, editor of Metalsmith magazine, will write an essay based on her experience as one of the portrait subjects; Dr. Gabriele Hauch of the University of Saarland, Germany, has proposed a composition based on the concept of integumentum, an outer covering, skin, or envelope.
LOLA BROOKS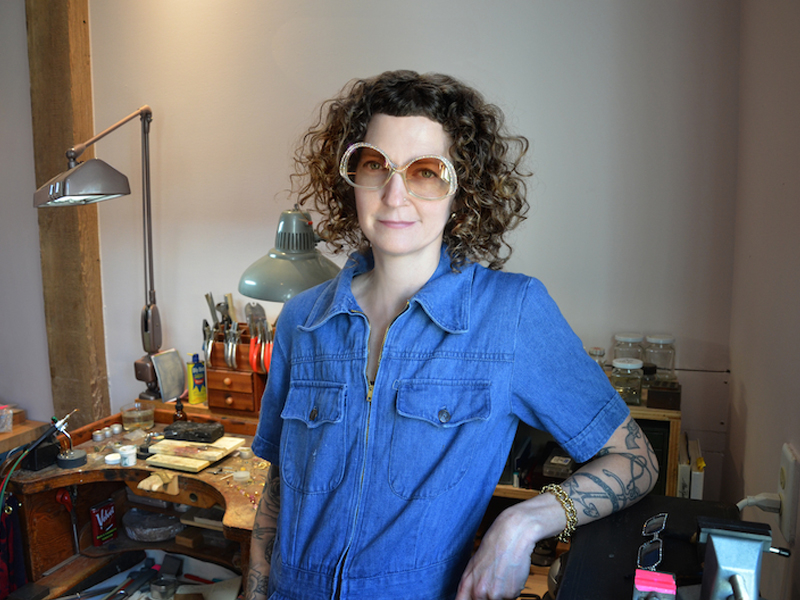 BIO: Lola Brooks is an American artist, metalsmith, jeweler, clotheshorse, and sometimes writer who currently finds herself living in the deep South, after having spent 25 years living in New York City. At its core, Brooks's practice is motivated by her interest in the psychological aspects of how meaning and identity are created and how the jewelry and objects we surround ourselves with participate in this process. After 16 years of teaching at some of the top-ranked metals programs in the United States, she has decided to retire from teaching in order to allow herself the time and space to experiment, research, take risks, fail, make things, and write a monograph about the intersection of her work and her life.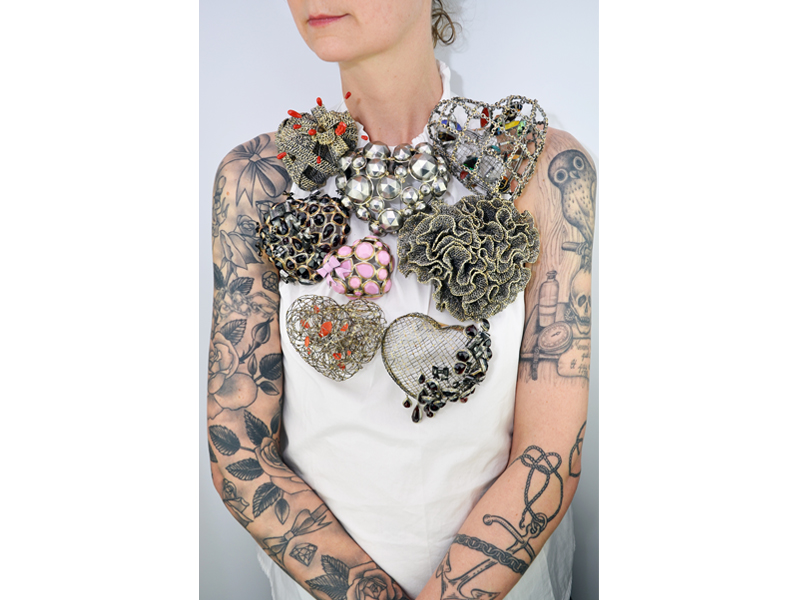 ABSTRACT: Over the next few years, I will be embarking on the creation of a mid-career monograph of my work that will explore the confluence of my life and my jewelry. I will be authoring the body of the book with the direction and editorial skills of art historian Damian Skinner, who will also participate in some capacity as a ghostwriter. The book will include the autobiographical aspects of my life that have influenced and permeated my practice, how and why I make jewelry, and the concepts and theories that form its foundation. Through using a performative, personal narrative arc to demonstrate the complexities of my relationship to the jewelry I make and the things I surround myself with, this book will offer an expansive view of the myriad roles jewelry adopts, and how it fits into a larger cultural context that includes life, art, design, fashion, and psychology. I believe this will create a dynamic and compelling space within which to think about and discuss contemporary jewelry. I view this space as a natural extension of my work.
Read more about Lola Brooks here and here on AJF.
SUSIE GANCH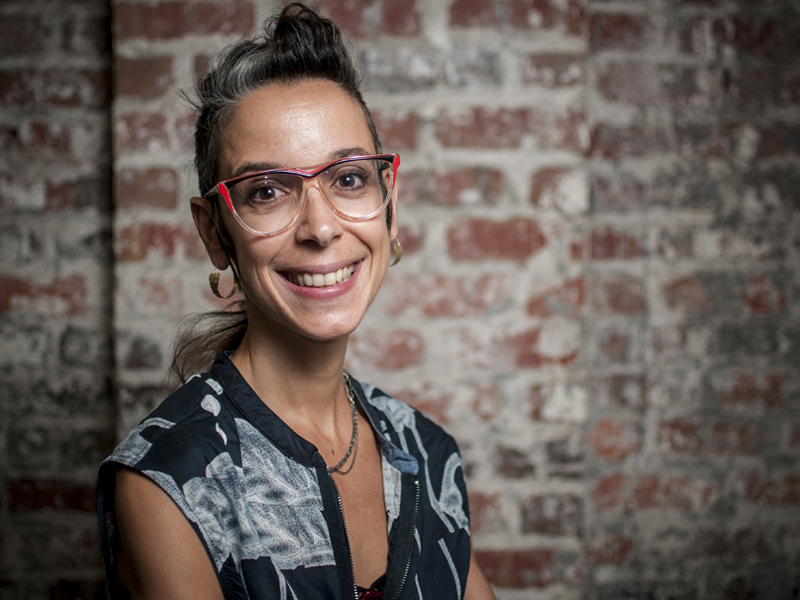 BIO: Susie Ganch received her MFA from the University of Wisconsin-Madison. Ganch is associate professor/head of the metal program for the Department of Craft and Material Studies at Virginia Commonwealth University (VCU). She is also the director of Radical Jewelry Makeover, an international jewelry mining and recycling project that travels across the country and abroad. Ganch's recent solo exhibitions include TIED, an ArtForum critics' pick at Richmond Visual Arts Center, Richmond, VA, and 2015's Land and Sea at Sienna Patti, Lenox, MA. Her work has been included in museum exhibitions around the world, including the Design Museum, London; the National Gallery of Victoria, Melbourne, Australia; Ueno Royal Museum, Tokyo, Japan; and Cameron Art Museum, Wilmington, NC. Current and recent exhibitions include the Museum of Fine Arts, Boston; the Kohler Art Center, Sheboygan, WI; the Milwaukee Art Museum; and the Urban Institute for Contemporary Arts, Grand Rapids, MI. Public collections include Los Angeles County Museum of Art, CA, and Asheville Art Museum, NC. Ganch is a recipient of the Virginia Museum of Fine Arts Fellowship, a Peter S. Reed Foundation Grant, a Theresa Pollack Fine Art Award, a Virginia Commission for the Arts Grant, and multiple VCU Faculty Research Grants. Work can be viewed on her website.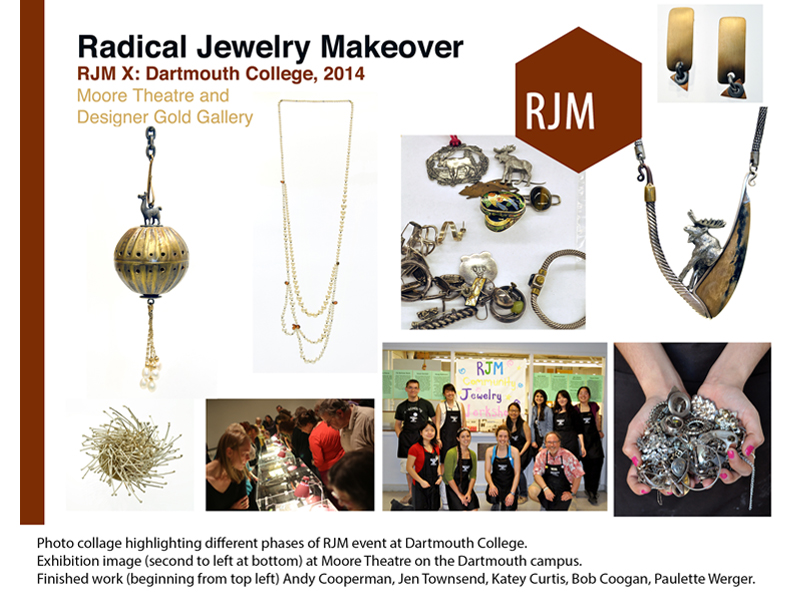 ABSTRACT: Radical Jewelry Makeover (RJM) is an international traveling community mining and jewelry recycling project. It raises awareness of the connection between mining, metalsmithing, activism, and art. It involves volunteer "miners," "smelters," "refiners," jewelers, and metalsmiths working together to create a new and transparent supply chain. The project is both performance and event, linking recycling, reuse, and collaborative work sessions with the creation of unique, innovative, handmade jewelry.
Through RJM I have collaborated with over 530 artists who, together, have made more than 1,500 pieces of jewelry. Hundreds of people are wearing RJM jewelry today. I authored an RJM "tool kit" creating an open-source curriculum that institutions can use to teach artists material sourcing issues surrounding the jewelry industry. It also provides technical jewelry strategies that hold human health and the environment as the primary design criteria. The kit offers information about how to create an RJM event. Creating a professional RJM video would be a critical part of the tool kit [and] opens up collaborative possibilities wherein I can reach more audiences.
The catalog would serve as a multifaceted text in which to tell the story of the past 12 installments, feature beautiful jewelry from the hundreds of artists who have participated, and offer my jewelry community a lasting record of this project. It's a way that I can contribute and continue working to change minds, one at a time.
LAUREN KALMAN
BIO: Lauren Kalman is a visual artist and metalsmith based in Detroit whose practice is invested in contemporary craft, video, photography, and performance. Through her work she investigates beauty, adornment, body image, and the built environment. Raised in the Midwest, Kalman completed her MFA in art and technology at Ohio State University and earned a BFA with a focus in metals from the Massachusetts College of Art. Her work has been featured in exhibitions at the Renwick Gallery of the Smithsonian American Art Museum; the Museum of Contemporary Craft; the Museum of Arts and Design; the Cranbrook Art Museum; the Contemporary Arts Museum Houston; the Museum of Fine Arts, Boston; the Mint Museum; and the Beijing World Art Museum, among others. Her work is in the permanent collections of the Museum of Fine Arts, Boston; the Smithsonian Museum of American Art; and the Detroit Institute of Arts. She has been awarded residencies at the Bemis Center for Contemporary Arts, the Australian National University, the Corporation of Yaddo, the Virginia Center for the Creative Arts, the Brush Creek Foundation for the Arts, Haystack, and the Santa Fe Art Institute. She has received Ponyide, Ludwig Vogelstein Foundation, Puffin Foundation West, and ISE Cultural Foundation Emerging Curator grants. She has taught at institutions including Brown University and the Rhode Island School of Design. Currently she is an assistant professor at Wayne State University.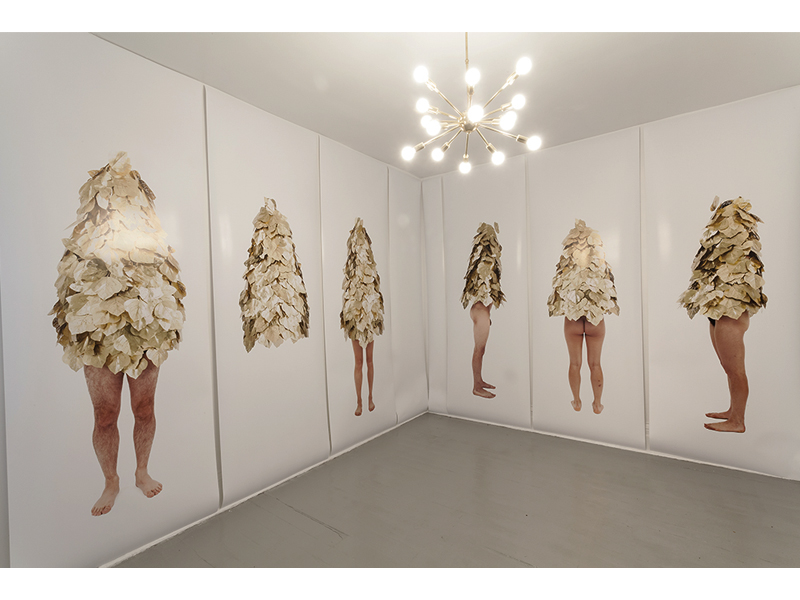 ABSTRACT: My work is framed within the jewelry and metalsmithing field. Over the years, it has transitioned from jewelry as the format of my work to adornment as the subject of my work. This has freed me to approach jewelry through a variety of methods ranging from traditionally fabricated metal objects to textiles, beading, ceramics, installation, 3D printing, and computer-controlled objects. Moving forward, my practice will expand on my previous work, which focused on the creation of objects that are hybrids of grotesque or undesirable aspects of the body with objects we commonly associate with beauty, power, status, health, or wealth. The act of covering and adding to the body transforms it from a natural state toward an icon of perfection, and my work explores adornment as agents of this transformation.
Advancing from my previous work, where my body is the primary model, this new work will utilize images of a diverse array of individuals. It is important to me, in response to recent trends of bigotry, racism, homophobia, and sexism in society and politics, that this work represent a range of individuals. Through expelling gilded fluid forms, the images and videos will depict a corporeal protest to power structures based in wealth. To further emphasize this point, I intend to utilize identifying features of the individuals, including their style of dress, another departure from my current tactic of using nude bodies and neutral spaces. It feels both important and timely that my work address body politics even more directly in make these necessary evolutions.
ANYA KIVARKIS
BIO: Anya Kivarkis is currently associate professor and area head of jewelry and metalsmithing at the University of Oregon in Eugene, where she has taught since 2004. She received a BFA in jewelry and metalsmithing from the University of Illinois at Urbana-Champaign in 1999, and an MFA in metal from the State University of New York at New Paltz in 2004. She has a solo exhibition coming in the fall of 2017 with Sienna Patti in Massachusetts, and will be part of an exhibition at the Art Gym at Marylhurst University in Oregon, also in fall 2017.
Kivarkis was a recipient of the 2016 Hallie Ford Fellowship in the Visual Arts, 2008 and 2014 Oregon Arts Commission Individual Artist Fellowships, the 2014 Oregon Career Opportunity Grant supported by the Oregon Arts Commission and the Hallie Ford Foundation, a 2014 University of Oregon Fund for Faculty Excellence Award, and the 2007 Rotasa Foundation grant to support the publication of The Thinking Body, an exhibition co-curated with Kate Wagle. She has been included in publications such as Metalsmith, American Craft, and Italian Elle magazines, among numerous others. She is represented by Sienna Patti, in Lenox, MA, and Galerie Rob Koudijs, in the Netherlands.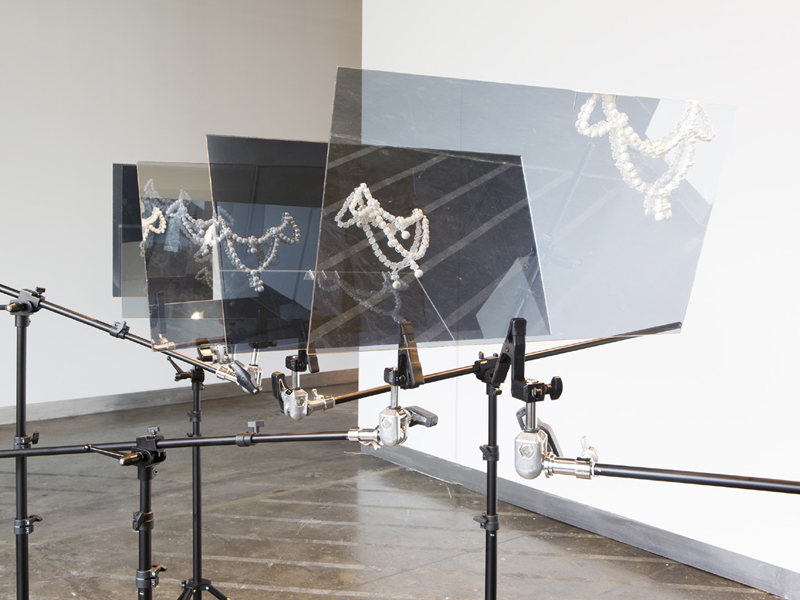 ABSTRACT: I am currently examining representations of jewelry in films such as Alfred Hitchcock's To Catch a Thief and Alain Resnais's Last Year at Marienbad, among others. This has resulted in a series of objects and images that examine and translate the quality of the paused frame of film, sequential and cinematic time, cinema's manipulation of desire, and the artifice of the heightened reality produced by film. I am drawn to the agency of crafting approximations of objects that allows me to question "realness" by fabricating things that look and feel hyper-real, or simultaneously alive and dead. I am also interested in how the work might reside as both the prop of the decontextualized jewelry object and the screen-based video.
This project marks a shift in my practice as it is interdisciplinary in its research and range of outcomes, and moves fluidly from the format of the object to the photograph to video. At the same time, what remains central to my practice is the jewelry object and an interrogation of representations of it. From my perspective as an academic who is charged with sustaining the field by building new knowledge, I believe that it is critical to consider our work within the broader art discourse since we exist within art departments. If we want to survive as a field of inquiry within the American university [system], it is crucial to determine what is central to craft and how craft is vital to a broader conversation.
KARIN SEUFERT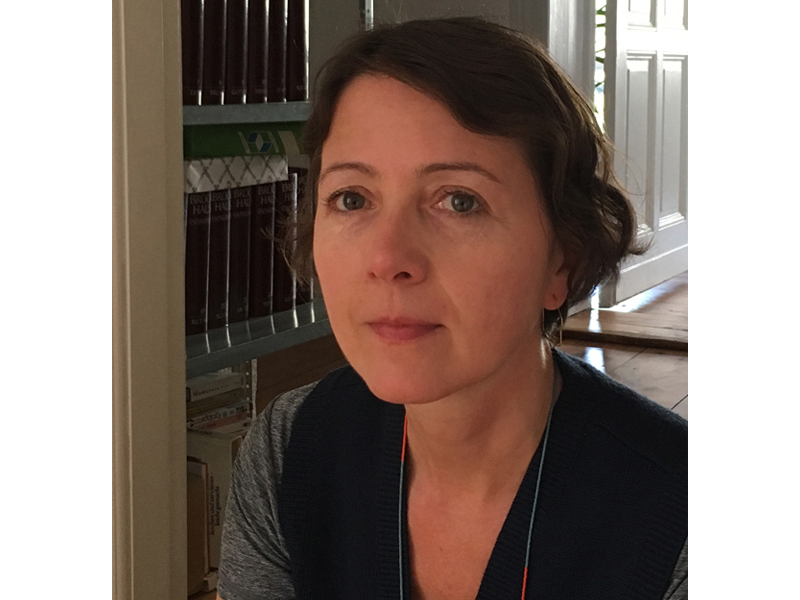 BIO: Spaces, the form of void. What are the properties of a void captured between "walls"? My research will focus on the void within walls and on the development of three-dimensional forms based on these spaces. * How to define emptiness? * When there is a space, is there always emptiness as well? Architecture is indispensable to my project since the space—and especially the void—is the center of my research. I would like to deal specifically with the architecture of Zaha Hadid's curved buildings, as I see a link between her buildings and my theme of shells and spaces. Since my research is based to a big extent on analysis, experience, and perception of architectonic works, a visit to some of the sites where buildings by Zaha Hadid are located would be of crucial importance.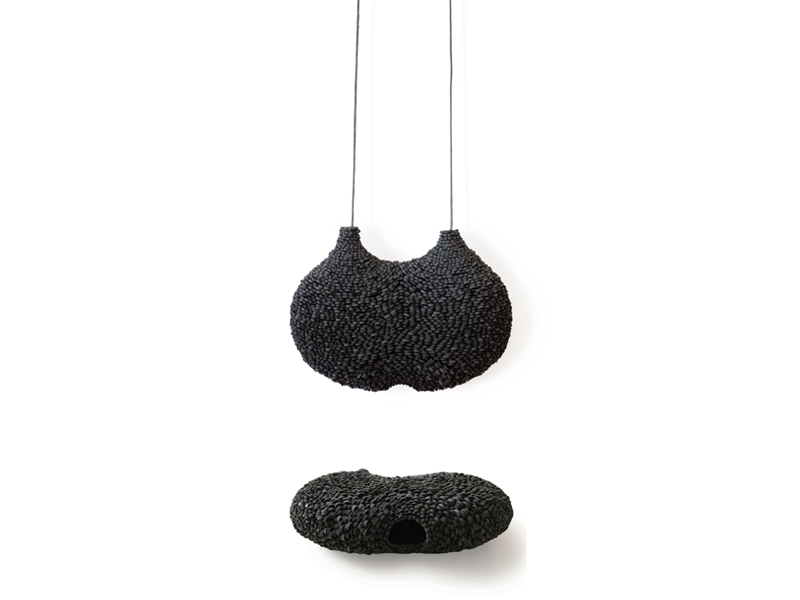 ABSTRACT: My research will focus on the void within walls and on the development of three-dimensional forms based on these spaces. Throughout my research I will refer to architecture, especially to Zaha Hadid's work with its "complex and dynamic curve-linearity." Other space perceptions like the "hollow spaces sculpture" (Anish Kapoor), the house UR (Gregor Schneider), and the filled cavities (Rachel Whiteread) will be part of my research as well and will contribute to the development of my void spaces.
Bringing the findings of my research back into jewelry, I'll concentrate on "the core"—the shape of the void. The core will be the foundation upon which I'll build my work. It will determine how the jewelry will finally look, from inside to outside.
The documentary part of my project will include the theoretical analysis of my research, photo material of the interior space in the jewelry, and photo material of the jewelry itself, as well as worn. I plan to realize a catalog with the documentation material. There will be a result presentation of my research as well, and exhibition jewelry accompanied by photo documentation of the "cores" of the pieces.
CARINA SHOSHTARY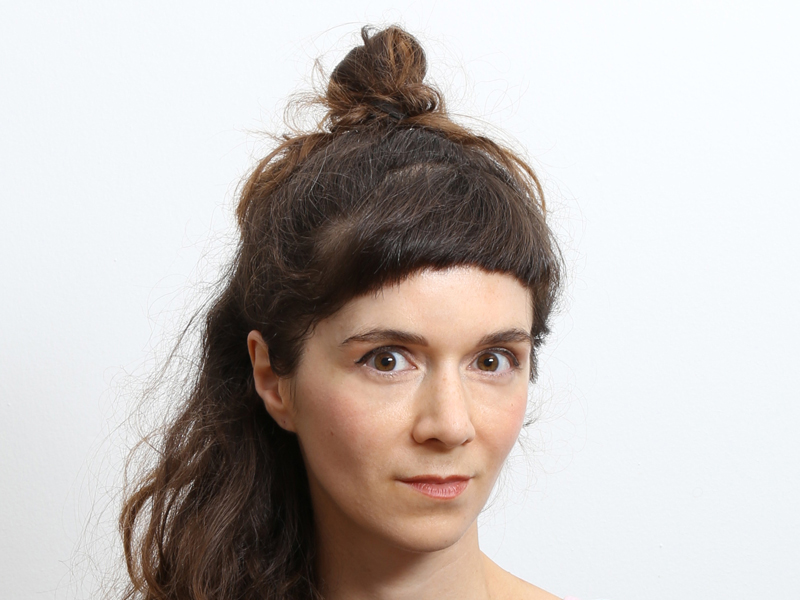 BIO: Carina Shoshtary was born in 1979 in Augsburg, Germany, and is of German and Iranian descent. She trained as a goldsmith in Neugablonz, Germany, from 2001 to 2004 and studied art jewelry under Professor Otto Künzli at the Academy of Fine Arts, Munich, from 2006 to 2012, graduating in 2012 as a Meisterschüler (master student). She has exhibited internationally in galleries and museums, including the Museum of Applied Arts, Frankfurt, Germany; the Pinakothek der Moderne, Munich, Germany; Sienna Patti, Lenox, MA; Cheongju International Craft Biennale 2013, Cheongju, Republic of Korea; and the Ruthin Craft Centre, Ruthin, UK.
Her work is in the public collections of the Rotasa Foundation, California; the Röhsska Museum, Gothenburg, Sweden; and the International Design Museum, Munich, Germany. In 2012 she was awarded the Bavarian State Prize for Emerging Designers and the Upper Bavarian Prize for Applied Arts. She was a finalist for the sponsorship award of the city of Munich in 2013 and the Art Jewelry Forum Artist Award in 2016. Shoshtary has given lectures at the Munich University of Applied Sciences, Germany; at the National Craft Gallery, Kilkenny, Ireland; and at the jewelry seminar Code C of the Hnoss Initiative, Gothenburg, Sweden.
Since 2015, she has been writing the Karma Chroma blog about art (jewelry) and color, in which she investigates diverse topics about color and promotes art jewelry by interviewing artists in the field and presenting their work.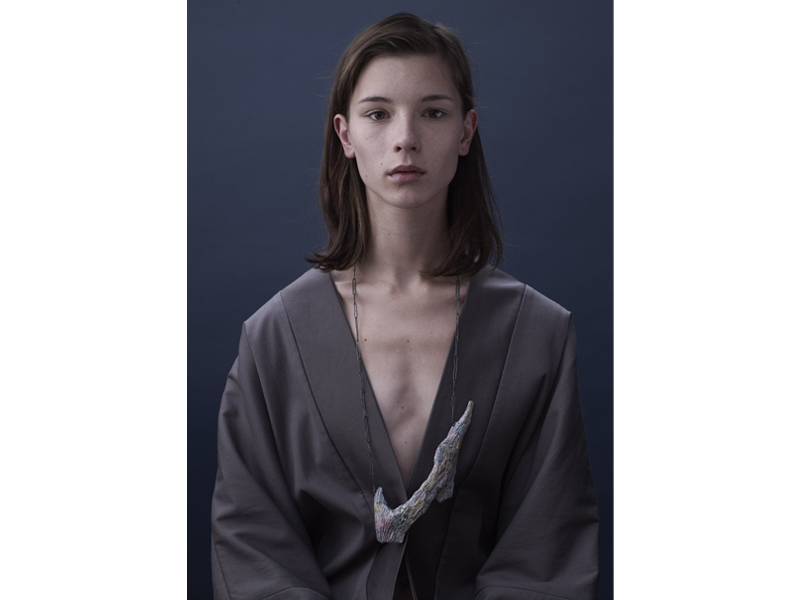 ABSTRACT: My idea is to create a body of art jewelry pieces of one series, and then make an accompanying song and an artistic video. The jewelry, the song, and the video will all interact to tell one story. To implement this, I would like to collaborate with professional people working in the corresponding media to ensure the results will be of a high standard. In my opinion, interdisciplinary projects contain a huge potential to advance the field of art jewelry, because they make it accessible to a wider audience and reduce the limitations of the field—assuming the new medium is performed with an equal amount of skill and creative energy.
My aim is also to find a way to make my art jewelry accessible from new perspectives and enhance the expression of my work by involving more senses. I am sure that my personal development as an artist and my career would benefit significantly from this venture as I strongly believe that if an artist is doing what he/she is truly passionate about and dares to break new ground in the process, it will lead to positive results. I believe the audience recognizes and values authenticity and uniqueness. To think outside of the box is important in all areas of art, but it is especially important for the field of art jewelry.
CHRISTOPH ZELLWEGER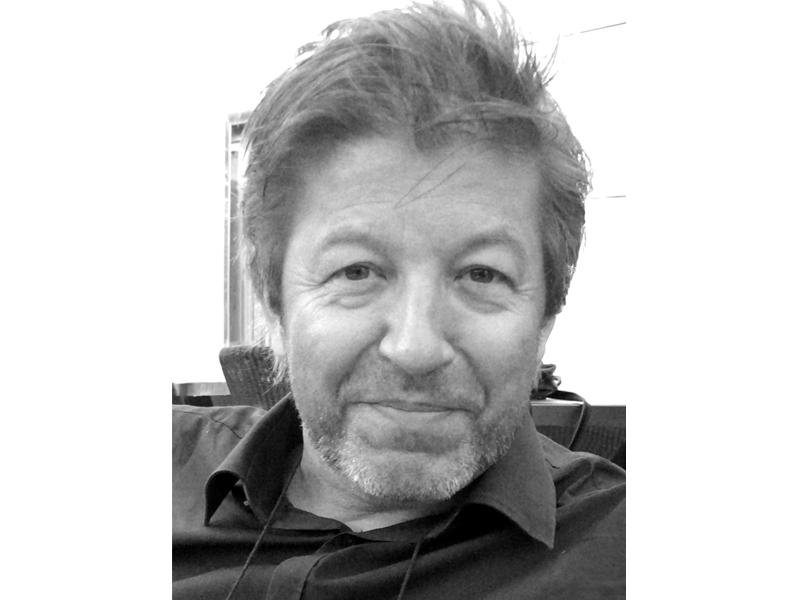 BIO: Swiss artist Christoph Zellweger was born into the fifth generation of a family of gold- and silversmiths, watchmakers, and jewelry enthusiasts. After he completed a goldsmith apprenticeship with a Viennese master craftsman in 1984, he worked in the field as a model maker, designing and producing fine jewelry for the luxury trade in Switzerland until 1990. In 1993 he graduated from the Royal College of Art, in London, turning toward an interdisciplinary experimental jewelry practice, expanding and challenging his own tradition and the field. Zellweger's work uncovers social obsessions related to the constructions of identity, beauty, and bodily health. His one-off jewelry pieces and fictional products position themselves between critical design and object art. Internationally recognized as influential and thought-provoking, he follows a conceptual approach and a fundamental curiosity for challenging technical processes and intensive material research. Zellweger's work has received various awards, including the Herbert Hofmann Prize and the Swiss Federal Design Prize. It is represented in private and public collections, including the Museum of Contemporary Art Hangzhou (MCACAA), China; the Design and Fashion Museum, Lisbon; MUDAC, Lausanne; the Swiss National Museum, Zurich; Jewellery Museum Pforzheim; the Museum for Applied Art (MAK), Frankfurt; the Middlesbrough Institute of Modern Art; and the National Foundation for Contemporary Art (FNAC), Paris.
ABSTRACT: In 2007, Actar Publishers produced Christoph Zellweger's monograph Foreign Bodies, which was acknowledged within and beyond the field of art jewelry as a reference book that expanded the understanding of body adornment and shared knowledge about material and conceptual processes. Zellweger has continued his artistic journey, now crossing from jewelry into the territory of medical and social sciences. Ten years of research, discussed and presented through several larger exhibitions inside and outside the art jewelry circuit, have led him to establish analogies between the aesthetic practices promoted by the medical industry and the cultural functioning of jewelry as an identity- and community-building artefact. The new publication Rituals of Self Design will invite the reader to adopt a jeweler's perspective and to step into a journey through operation theaters, DIY workouts, luxury interiors, and social obsessions—the places where jewelry meets Botox, fat, big data, otherness, and eternal youth. With contributions from several authors coming from art and design history, the medical sciences, and philosophy, this publication will not become a coffee-table book, but will instead be a thoughtful source and experimental platform to inspire innovative thinking around contemporary jewelry.