Thursday March 15, 2012
Munich is known as die stadt der lebensfreude, the city filled with the joy of life – and with the bonus of welcome, sunny weather it was a pleasure to be in the Bavarian capital while Schmuck was on.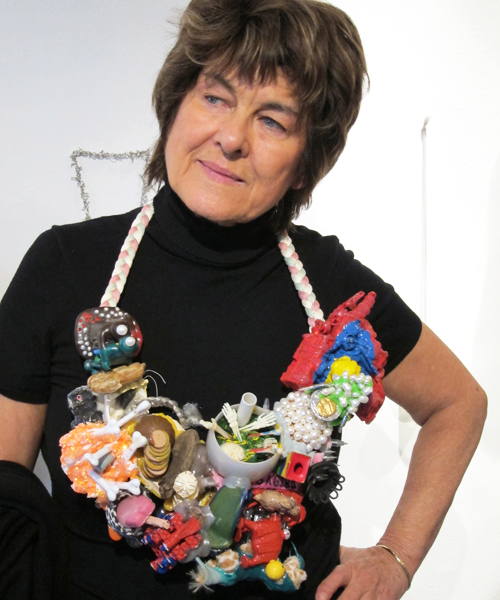 Gallery Biró, our first stop, was just a short distance away, so we walked to where Olga Zobel-Biró and Lisa Walker's exhibition, Glee, awaited us. Refreshments were offered – and Olga explained the vision behind Gallery Biró (in Munich, you need to have at least seven exhibitions a year before you can call yourself a gallery.) When Olga opened the gallery in 1992, plastic jewelry was uncommon in Munich. But she chose to focus solely on displaying this innovation, featuring jewelers like Peter Chang and Mikiko Minewaki. Word spread and slowly other artists, like Paul Derrez and Ramón Puig Cuyàs, became involved. During our visit, Lisa Walker kindly translated for Olga, before explaining her own intuitive way of working. Olga enthusiastically modeled the jewelry, taking out several items from the displays.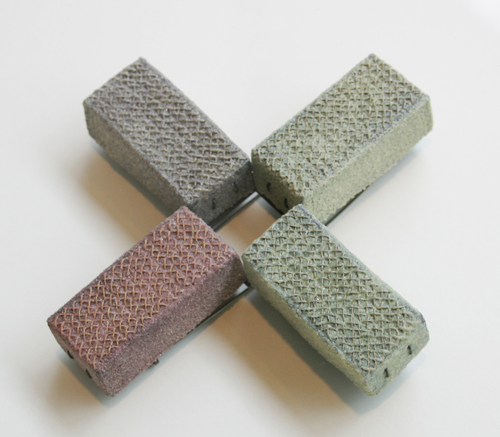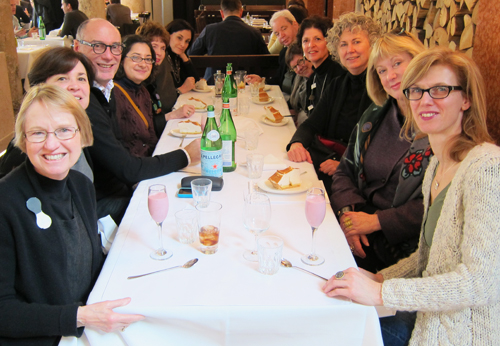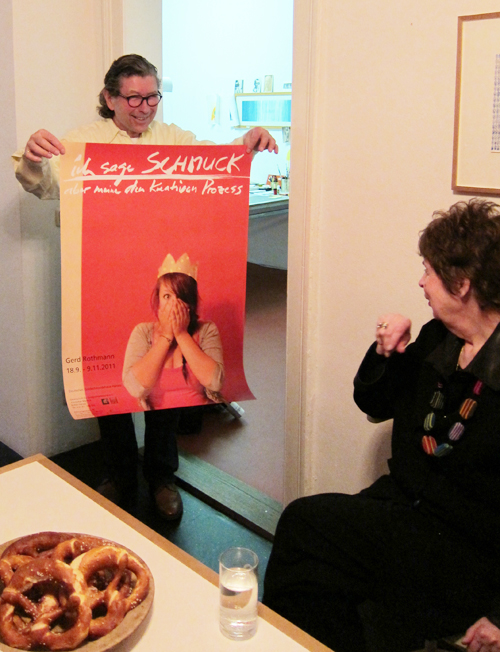 Next on the program was a visit to the studio of renowned jeweler, Gerd Rothman. What was scheduled to be a pre-dinner drink expanded into a cordial Bavarian welcome, with food and wine. Plied with questions Gerd answered them passionately. He took us to his storeroom and started unpacking a few of the many boxes to display a wealth of jewelry, from early work to his most recent. To see all this magnificent work and to be able to touch it felt like being let loose in a candy shop. Needless to say, pieces were tried on. Each of us was generously given a catalog of Gerd's work before we hurried back for dinner at the hotel's Restaurant Davvero. We weren't a very lively group at dinner that evening – the day's impressions had made a big impact and a good night's sleep was in order to prepare us for a new day and more jewelry visits.
Friday March 16, 2012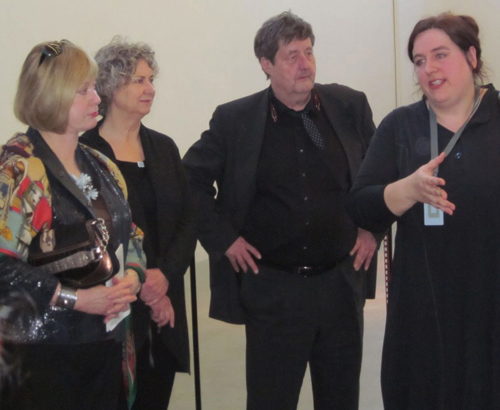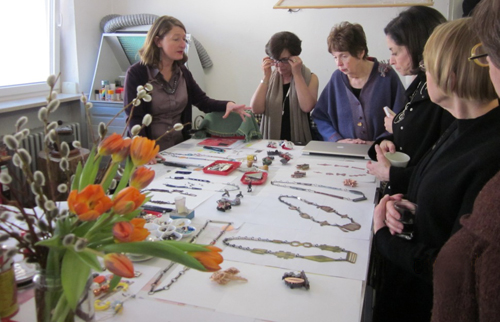 We started the afternoon by visiting the shared studio of Helen Britton, David Bielander and Yutaka Minegishi. Laura Deakin was also there, kindly helping out with coffee and tea. The benefits of their studio sharing were obvious. Besides pooled equipment, including valuable machinery for efficient metal-working, the shared studio allows the jewelers close contact with their fellow artists.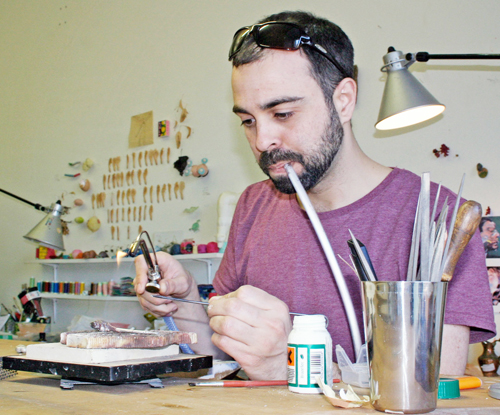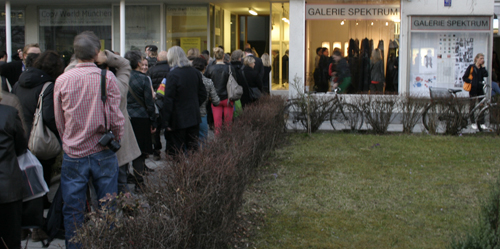 Friday's dinner was held at Cohen's, a Munich landmark and was open for all AJF members, not just those attending the trip.
Saturday March 17, 2012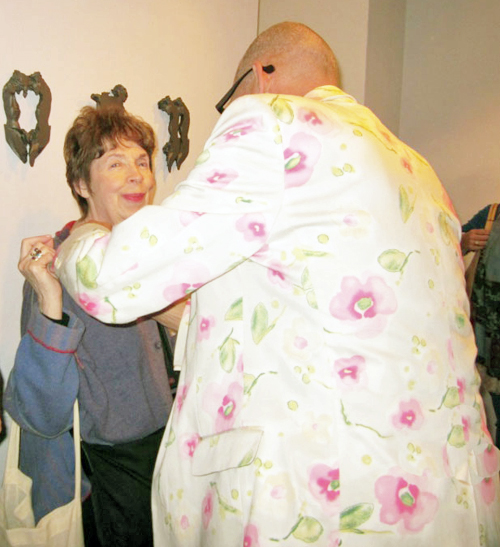 Sunday March 18, 2012
On Sunday, Dutch art historian Marjan Unger lured us back to the Pinakothek der Moderne. The auditorium was packed with a who's who of the art jewelry world. We listened to Marjan Unger's absorbing lecture, titled 'Freedom has its Limitations: Jewellery Now, Seen from a Dutch Perspective.' For me, this was the highlight of the event. Her lecture was in part an extension of her thesis completed in 2010 and titled 'Jewellery in Context: A Multidisciplinary Framework of the Consideration of the Jewel.' The second part of the lecture was about the changes in the world around us and what the consequences are for the jewelry world. She ended by specifically addressing the makers in the audience, motivating them to participate in today's exciting changes. This lecture has been published and is available on the website of Die Neue Sammlung.
When the Rijksmuseum in Amsterdam reopens in 2013, the Unger jewelry collection, donated by Marjan and her husband, will be on permanent display. The collection contains Dutch jewelry with an emphasis on the period 1930 to 1970. This collection was featured in Marjan's book, Dutch Jewellery in the 20th Century, which served as the starting point for her doctoral research. So perhaps 2013 is a good year for AJF to visit the Sieraad jewelry fair and the Unger collection in Amsterdam?
The lunch at Brasserie Tresznjewski marked the end of a fabulous trip. Together we had the opportunity to see and experience what Schmuck is all about, without being lost in all the activities. I cannot thank AJF enough for what they organized. Having exclusive premiers of gallery exhibitions were priceless and the many studio visits were also highlights. Combined with good food, great discussions and gorgeous jewelry, this made the trip far more than merely worthwhile.