Damian Skinner, Art Jewelry Forum Speakers Tour, Pratt Institute, Brooklyn, NY, 26 September, 2013
His impeccable taste in jacket pins says it all: Damian Skinner is one of today's foremost art jewelry scholars and historians. On September 26, 2013, our department had the honor of hosting him at Pratt Institute in Brooklyn, New York. Dr. Skinner came to present his new book Contemporary Jewelry in Perspective and was kind enough to personally critique the initial progress of each senior student's thesis. This experience was a privilege. It is not every day esteemed critics take time to review student designs in their preliminary stages. Our pieces are usually seen as finished products, but as any practitioner of the creative process understands, it is far more constructive to receive criticism before the tools have been locked away.
Our jewelry program at Pratt is structured to simultaneously garner awareness and adeptness in craft and artistic expression. The curriculum covers a wide range of technical skills and equally values design, concept, and execution. We are fortunate to have professors who strive in their personal work to bridge gaps between art and fine jewelry. Throughout the critique and lecture, Dr. Skinner continued the process of teaching us to become conscious of the eventual wearer and marketplace in addition to historical precedents.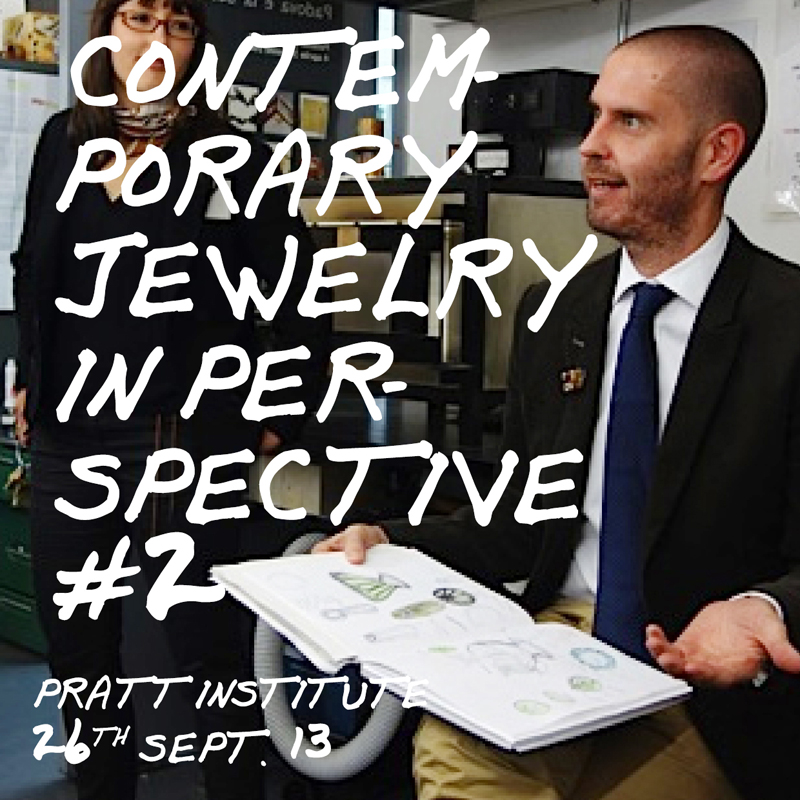 Later, in his lecture on Contemporary Jewelry in Perspective, Dr. Skinner included and expanded on several points from the individual critiques. He cited current publications and media outlets to demonstrate the perception of art jewelry within the larger world of accessories. Comparing and contrasting contemporary with commercial jewelry, he addressed issues in both practices. This evaluation acknowledged the shortcomings of our field, specifically its impracticality and inaccessibility. Ultimately, he exalted the spirit of artful ornamentation while imploring jewelers to eliminate self-made boundaries.
These expert insights will guide the Pratt class of 2014 as we navigate the production of our thesis and post-graduate work. Dr. Skinner was genuinely interested in our designs and appreciated our enthusiasm. This earnest discourse validated us as young makers, "the future of the field." Now, the pressure is on to deliver what is missing from the repertoire of contemporary jewelry. What is it, exactly, that Dr. Skinner feels the discipline lacks?
"I don't have the answer," he freely disclosed. Whatever it is better be brilliant, because he was quick to add, "I want my expectations blown apart."
Follow the link to see the lecture: Damian Skinner, Art Jewelry Forum Speakers Tour, Pratt Institute, Brooklyn, NY, 26 September, 2013