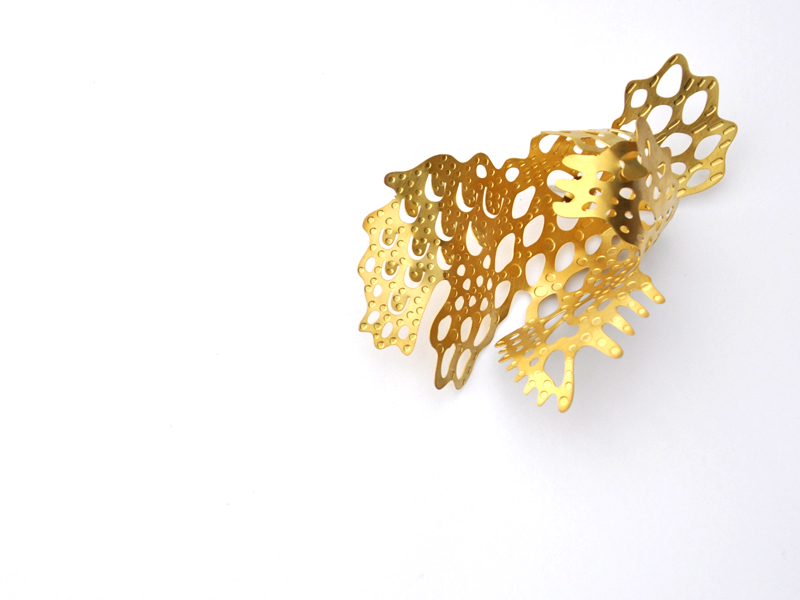 Art Jewelry Forum (AJF) is sending a stunning gold-plated version of its 2016 limited-edition pin by Swedish jeweler Hanna Hedman on a grand tour around the world—and we invite you to come along! The one-of-a-kind pin begins its yearlong journey this March at the international art jewelry exhibit, Schmuck, held annually in Munich. During its trip, it will be passed from hand to hand by one individual in the contemporary art jewelry field to the next, with the goal of traveling to at least two dozen cities globally.
Keepers of the special art pin will highlight its travels and the exciting cities in which it is worn through photos posted on Instagram, Twitter, and Facebook. Where will the beautiful brooch go next? Follow the pin's journey at #AJFpinup. Updates on its travels will also be available on AJF's website at artjewelryforum.org.
The original version of the pin is available as a benefit to new and renewing AJF supporters at the $125 level and above. Hanna Hedman, whose work is found in the permanent collections of the Pinakothek der Moderne, Munich, and the Nationalmuseum, Stockholm, created the pin by chemically etching stainless steel. The art piece comes with a steel push tool so the wearer can manipulate it into a unique three-dimensional jewelry piece, and become part of the creative process.
###
Art Jewelry Forum is a nonprofit organization spreading awareness and increasing appreciation of art jewelry worldwide since 1997. AJF advocates for art jewelry through an ambitious agenda of education, conversation, and financial support. It commissions critical writing that sets the standard for excellence in the field and publishes artjewelryforum.org, an online resource for original content on art jewelry.