AJF is pleased to announce the 2008 Emerging Artist Award winner, Masumi Kataoka. Kataoka received a BFA in Metal/Jewelry at Northern Arizona University and completed a MFA in Metal Jewelry at the University of North Texas in 2003. She was chosen from among 79 entries, a record number, from the United States, Puerto Rico, Canada, Australia, Italy, Sweden, the Netherlands and Iran.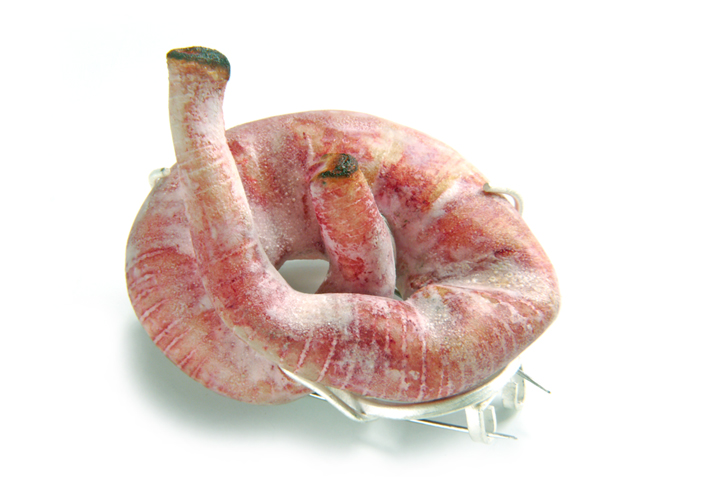 Kataoka's work emphasizes the intimate nature of jewelry as an object. Historical jewelry, such as Victorian mourning jewelry, has been of great interest to her because it signifies a deep affection and bond with another person and consequently, with the object itself. Kataoka uses materials that may suggest skin and internal organs as if they were an extension of the body, as if one's inner feelings are outwardly displayed. She finds the use of bodily elements and materials that relate to the body in jewelry interesting because this blurs the boundary between the person and the object and emphasizes the intimacy of objects.
Jurors for the 2008 competition were Cindi Strauss, curator of Modern and Contemporary Decorative Arts and Design at The Museum of Fine Arts, Houston; Ron Porter, long-standing member of AJF and a collector of contemporary jewelry; and Andrea Janosik, jewelry artist and recipient of the AJF's 2007 award. Criteria used in the judging were originality, depth of concept and quality of craftsmanship. Jurors felt Kataoka's work had both a distinctive look and a range of form and they described her work as having an organic feel and commented on her seductive use of the materials.
You can read an interview with Masumi on AJF here.
You can visit her personal website here.