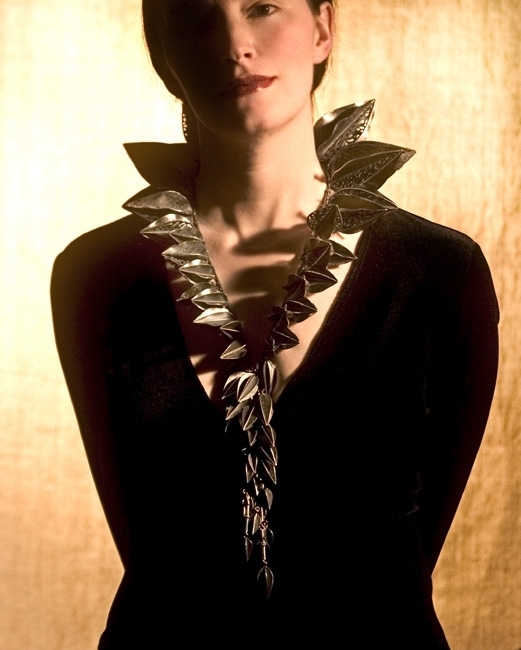 In 2003, Lori Talcott gave a lecture about her work at SOFA Chicago. This lecture was sponsored by AJF.
Lori Talcott offered SOFA attendees a visually rich and insightful presentation, describing how her work is a synthesis of family history, travel experiences and research in traditional and historical adornment.
Talcott is a fourth-generation jeweler, metalsmith and jewelry historian who credits her father for 'opening the door to a vocation that became my world.'
'For him, being a jeweler was far more than just a way to make a living. He had great appreciation for beauty and craftsmanship, as well as a high regard for the connection people had with their jewelry; believing that its power transcended mere consumerism or materialism.'
Leaving the family business– a manufacturing and retail jewelry store founded in 1872– at age 27, Talcott went back to school at the University of Washington to become a 'maker.' After completing a BFA in Metal Design, she pursued her interest in European folk jewelry, apprenticing to a master silversmith in Norway where the aesthetic and technical knowledge is still a 'living tradition,' passed on from master to apprentice. Today Talcott is considered to be an expert in the field of Scandinavian folk jewelry, as well as an artist of international stature. She is known for the virtuosity of her craftsmanship, thoughtfulness of design and skillful layering of symbolism and historical reference in the content of her work.
In her 2002 exhibition Arbor Mundi: Form, Myth, Metaphor, Talcott used the ubiquitous tree-of-life symbol as a central theme: 'Fragments and ideas from Norse mythology and epic poetry, along with botanical 'relics' are contained in archetypal forms.'
These pieces led to her most recent series of neckpieces based on the 'Brisinga men,' a mythic ornament belonging to Freyja, the Nordic goddess of creation and destruction. Brisings' Stole, from this series, was purchased by the Renwick Gallery of the Smithsonian Art Museum.
Those who appreciate thoughtfully made and intellectually stimulating work will find that Lori Talcott's jewelry far exceeds her goal of making 'beautiful, evocative, and wearable forms; referencing history while meaningful in contemporary culture.' Surely, her father, grandfather, and great-grandfather would be proud and today's art-jewelry patrons privileged to call her work their own.
Talcott currently lives and works in Seattle, where she is beginning a new body of work based on her research and experiences while on sabbatical in Europe this past year. She was supported by an art fellowship from the American -Scandinavian Foundation.