Last, but not least, we would like to share our best moments of Schmuck 2016. For those of you who couldn't come this year, and for those of you who need a reminder—what happens in Munich doesn't always stay in Munich!
With the participation of Berndt Arell, Klara Brynge, Sally Collins, Mike Holmes, Agnieszka Knap, Panjapol Kulpapangkorn, Nichka Marobin, and Paulo Ribeiro.
A big thank you to AJF, our amazing jury, and everyone who made Schmuck 2016 happen.
See you next year!
THE FIRST DAY OF SETTING UP THE EXHIBITION INVISIBLE WALL, FEBRUARY 22, 2016
Selected by Panjapol Kulpapangkorn, jewelry artist (Thailand)
"It was a really special time for my fourth year in Munich. This time, I did not just visit a number of amazing exhibitions taking place during Munich Jewelry Week 2016, but it was also the first time that I had an exhibition, together with Deborah Rudolph, Jing He, Jo Pond, Lisa Kroeber, and Patrícia Domingues. Some of us had never met before. We had discussed and planned everything for almost three months. It was a really special moment to work and share our experiences together during this time."
Caught at 3 Stations, Munich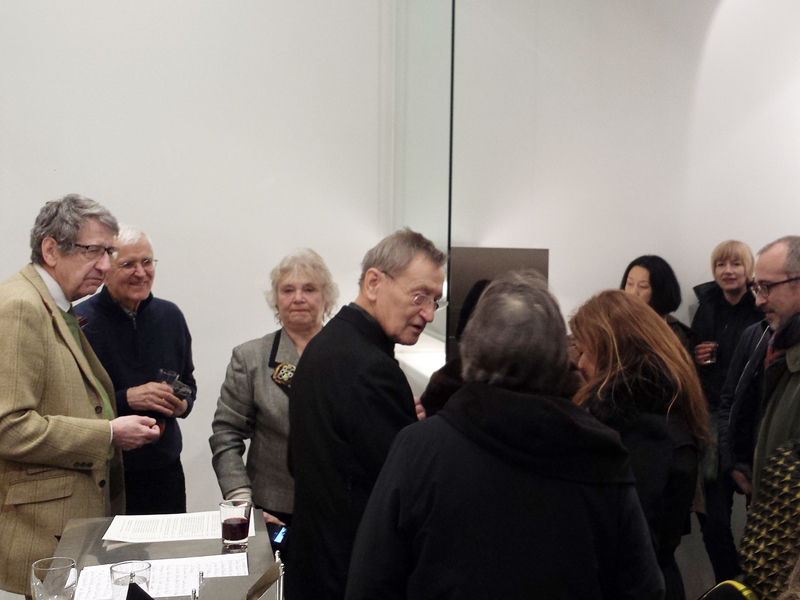 THE OPENING OF UNSICHTBAR. PETER SKUBIC AT GALERIE ISABELLA HUND
Selected by Nichka Marobin, collector of contemporary jewelry, art historian,
and founder of The Morning Bark (Italy)
"A generation of giants of contemporary jewelry, all together to bring homage to a great artist."
Seen at Unsichtbar. Peter Skubic, Galerie Isabella Hund, Munich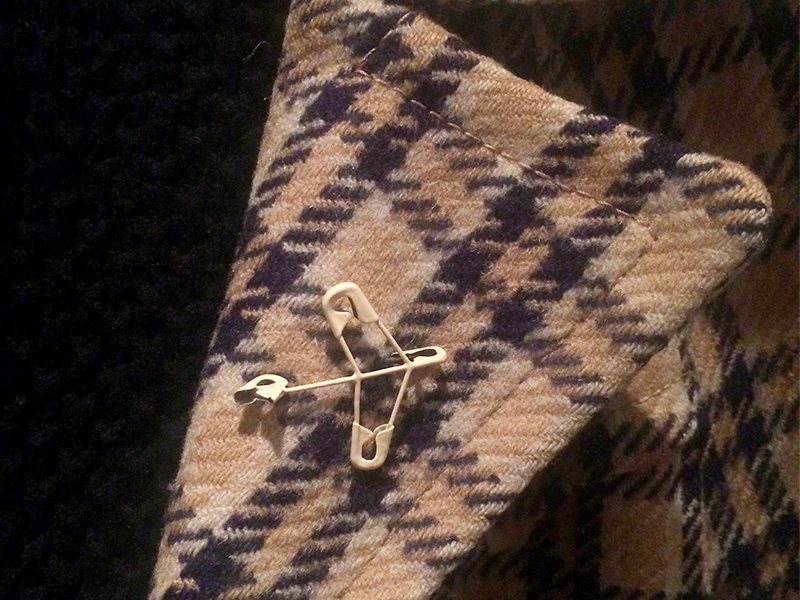 A PAINT STORE IN MUNICH
Selected by Klara Brynge, jewelry artist and lecturer in jewelry art at the School of Design and Crafts,
University of Gothenburg (Sweden)
"A beautiful moment occurred in a paint store, where the owner made an interesting and insightful analysis of the airplane brooch Karin Johansson was wearing. He really paid attention to the details of the jewel, and Karin and I were very glad to come across this short meeting over a piece of jewelry between the shelves of his pigments in all colors and values on the side of the gallery-to-gallery walk."
A FABULOUS COUPLE ENTERING ONE OF THE EXHIBITION VENUES, MARCH, 2016
Selected by Karin Roy Andersson, jewelry artist, manager of Four, and part of team Diagonal (Sweden)
"Seeing pieces of contemporary jewelry worn is unfortunately not something I normally get spoiled with. At Schmuck I am very much enjoying these moments. My favorite moment this year was when Mike Holmes and Jo Bloxham showed up wearing portraits of each other. I have admired Tore Svensson's iron brooches ever since I saw them the first time at Schmuck 2012, but seeing them like this—well, it was just the perfect match and the perfect moment."
Seen at the exhibition Everyday Epics, Kunstpavillion, Munich
JAA—JULIANE SCHÖLSS, ADAM GRINOVICH, ANDREW LAMB
Selected by Paulo Ribeiro, director and founder of JOYA Barcelona Art Jewellery Fair (Spain)
"After running to catch more than 10 exhibitions on the second day of Schmuck, we ended up in a beautiful antique shop, where no one was inside. We entered, as the address seemed to be correct, and started to ask: Hello … hello … nobody appears, candles were everywhere, antique objects like heads of animals, old furniture, old metallic letters. We walked more and found a beautiful garden and more candles but nobody was there … And again: Hello … hello … suddenly an Italian gentleman appears from downstairs, extremely well dressed, saying: WELCOME! COME WITH ME, DOWN … But there was nobody, we felt we were in the wrong movie, wrong place, and with the wrong person. I asked about Christian and he said: I don't know him … That was it! I was sure he misunderstood us, we should move out and never should have come inside … But in the end, everything was correct … We had just arrived at the JAA exhibition curated by Christian Hoedl, installed in the basement of Abitarte Giuseppe Guglielmi space, and we were not part of a Fellini movie scene. "
Experienced at the JAA (Juliane Schölss, Adam Grinovich, and Andrew Lamb), curated by Christian Hoedl, Abitarte Giuseppe Guglielmi, Munich
THE DINNER, A PERFORMANCE BY ANNIKA PETTERSON AND MIA MALJOJOKI
Selected by Agnieszka Knap, jewelry artist and curator (Sweden)
"Going to the dinner and not being invited to have a meal was a new experience. I wondered what it would be like to watch other people eating and not being a part of it!
The installation, with its long, strong, highlighted table in the middle of the room, and the similar clothing of the participating artists (all wearing white shirts) moved me directly to the "theater-like" setting and put one in the right frame of mind to follow the refreshing conversations at the table. Every guest had to wear a piece of jewelry specially made for the occasion (by Mia Maljojoki and Annika Petersson). The pieces created a framework for the discussion. Questions of usership, ownership, the life of the piece of jewelry, created an electric atmosphere in the room. Undoubtedly this concept of dialogue can be an alternative form of conversation about the field!"
Seen at the Kulturzentrum Giesinger Banhof, Munich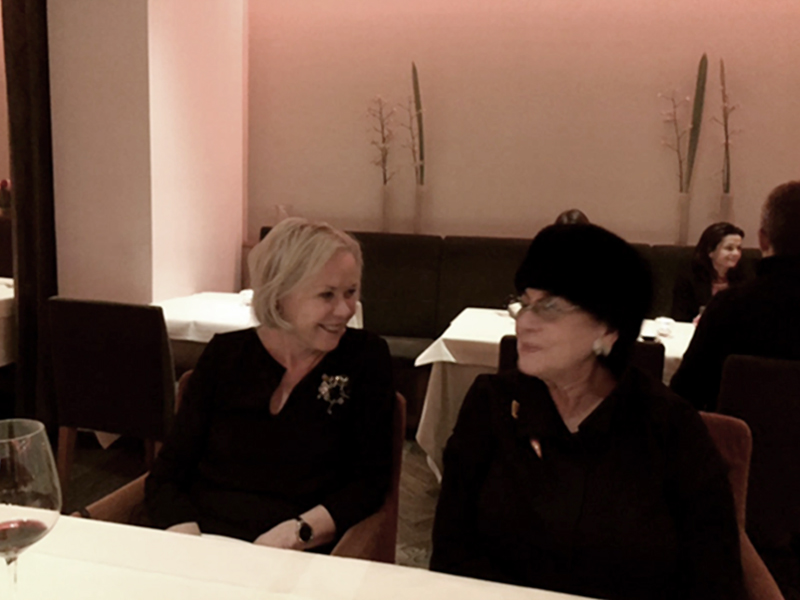 INFORMATION EXCHANGE AND PLANNING OF FUTURE COOPERATION
Selected by Berndt Arell, director of Nationalmuseum (Sweden)
"Meeting individuals with great knowledge in the field."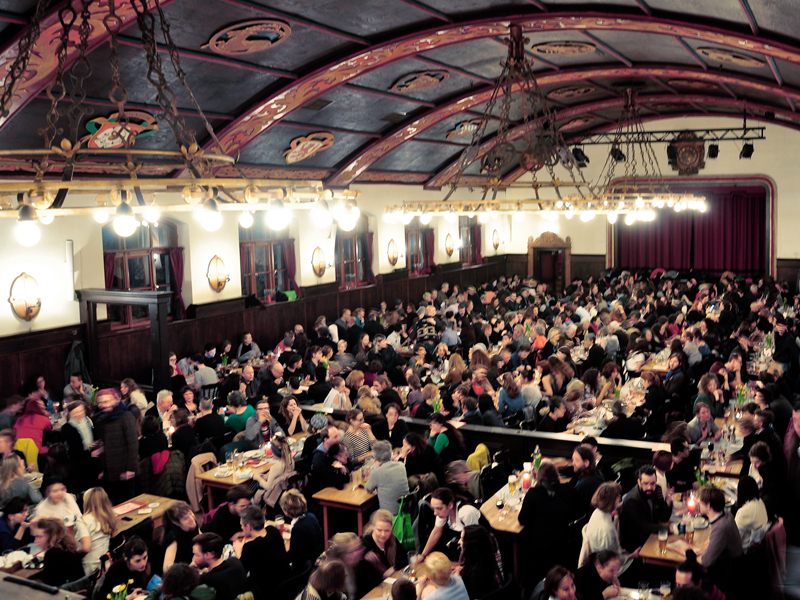 GOLDEN NETWORKING OPPORTUNITIES
Selected by Sanna Svedestedt Carboo, jewelry artist, contributing editor for www.klimt02.net,
and part of team Diagonal (Sweden)
"We are all, I am sure, well aware that the field of art jewelry is often criticized for being an insular club. Current Obsession is one of the actors doing a massive job by framing the Schmuck event and placing the term 'Munich Jewelry Week' on the map. Still, it is worthwhile to remember what we already have achieved: While other art fields struggle to create good platforms for networking and knowledge exchange, we've got that one locked down. To be able to meet colleagues from all over the world once a year is invaluable."
Experienced at the Goldschmiedetreffen, Augustinerkeller, Munich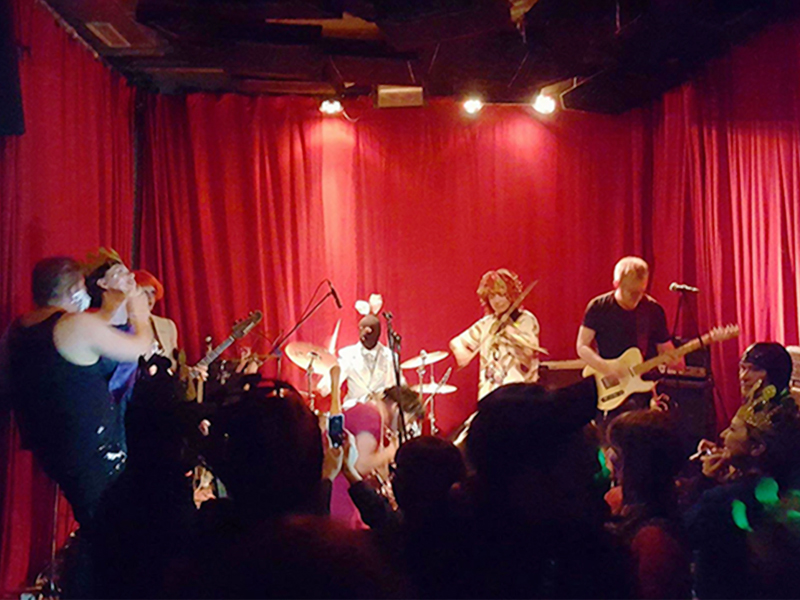 SCROTUM CLAMP, GOD SHAVE THE QUEEN
Selected by Sally Collins, jewelry designer, lecturer, and collector (UK)
"A delightfully unexpected moment of hilarity and peculiarity when Christoph Zellweger shaved the legs of the Dialogue Collective 'Queen' to the dulcet tones of Scrotum Clamp playing 'God Save the Queen,' featuring Felieke Van Der Leest on the fiddle. Priceless."
Seen at the Alternative Schmuck Night—Jewellery Punk, 84 GHz with Glockenbachwerkstatt, Munich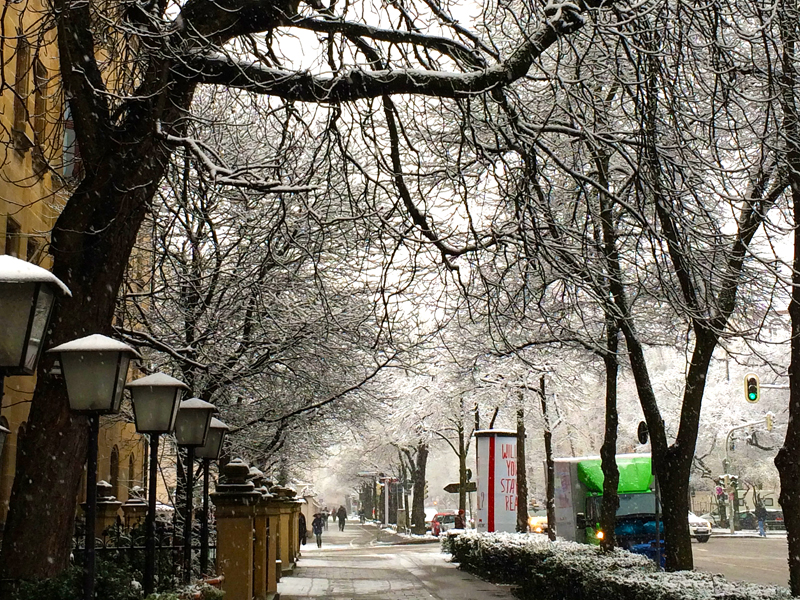 THE SNOWFALL
Selected by Mike Holmes, curator and manager of Velvet da Vinci, San Francisco (USA)
"The early dates this year meant many cold walks but paid off with the snowfall on Thursday. It turned Munich into a winter wonderland. Beautiful."