The following corporate sponsors of Art Jewelry Forum are an important part of keeping fresh and exciting content about contemporary jewelry accessible on the website. We thank them for their support and joint efforts to advocate for the field of contemporary jewelry. To find out more about becoming a corporate sponsor of AJF, visit our Why Sponsor? page.
Empowering jewelers around the world to push the limits of 3D printing and design.
Shapeways is the world's leading 3D-printing service and marketplace, where jewelers can prototype, print, cast, and sell their designs, all from their browsers. With over 60 different materials and finishes, you have access to exactly the materials you need, from castable wax to steel to polished silver. By giving anyone the ability to quickly and affordably turn ideas from digital designs into real products, Shapeways is fundamentally changing how products are made, and by whom. Shapeways produces roughly 3,000 unique products every day and over one million unique products annually. Headquartered in Manhattan, Shapeways also has factories and offices in Long Island City, Seattle, and Eindhoven, Netherlands.
Prototype | 3D Print | Cast | Sell | Ship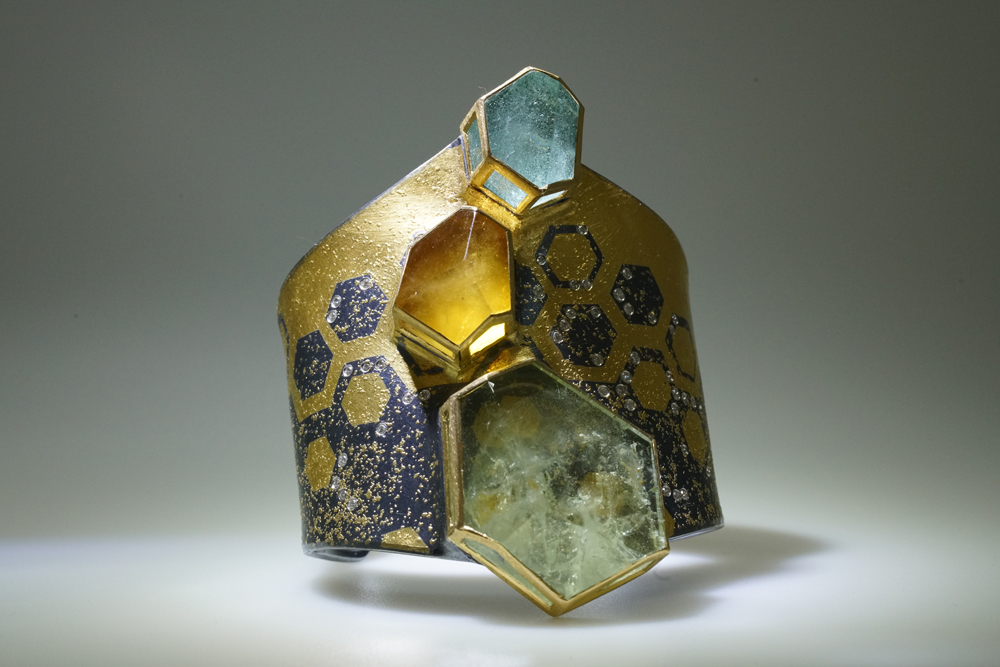 Initiatives in Arts and Culture (IAC) educates diverse audiences in the fine, decorative, and visual arts. Our primary activities are conferences, publications, and exhibitions that take an interdisciplinary approach, considering issues related to fabrication, connoisseurship, cultural patrimony, cultural preservation, and the future of culture. During two days of panels, talks, and discussions involving over 40 renowned speakers and participants during the Seventh Annual Gold Conference (April 26–28, 2017), Initiatives in Art and Culture explored craft, artistry, and manufacture of gold jewelry; training the next generation; current trends in retail, including the use of "story-telling"; the future of multi-generational businesses; legislative and regulatory guidelines; ethical sourcing and responsible practice.
Read an interview with Initiatives in Art and Culture founder and president Lisa Koenigsberg on AJF.

Modern examines 20th- and 21st-century design, architecture, and interiors, with a fresh, lively, and intelligent approach.
Each issue celebrates fresh young talent, honors contemporary masters of innovation, and uncovers forgotten genius. Modern profiles designers from around the globe—looking at their work, personalities, inspirations, and ideas—and explores styles from subtle to sleek, biomorphic to bold. Each season, Modern brings important buildings, extraordinary interiors, and important modern and contemporary furniture to the exclusive world of art and design collectors, curators, architects, and interior designers.
Read an interview with Modern Magazine editor Beth Dunlop on AJF.

You are amazing. It takes guts to make a living in the world of jewelry. The creativity and the bravery we see from our customers inspires us every day. Handcrafted art is such a personal form of expression. It requires something special to turn that art into a business and nurture it to its fullest potential. 
We have customers who have been sourcing from us for all 43 years we have been in business, and others who just found us on the internet today. Whatever your path to Halstead is, we are honored to be your choice for quality supplies. We will do our best to support your business as it grows. That's our passion: helping small jewelry businesses to thrive. Our team of talented individuals is our greatest resource. We hope you call us to talk to some of the incredible people who work at Halstead. We would love to speak with you! All of our employees take jewelry-making classes in our Halstead studio to learn about our 5,000+ jewelry-supply products, as well as important trends in the industry. Investing in our people is a top priority. That means more than just training and education, it means great benefits, profit sharing, and plenty of friendly office dogs and occasions for cake (we love cake). Halstead is a family business and we're proud to invite you to our tribe of jewelry lovers. We are so grateful for your support. Welcome!
Read an interview with Halstead president Hilary Halstead Scott on AJF.
Read an interview with the principal at Berbay Marketing & PR, Sharon Berman, on AJF.

Penland School of Crafts is an international center for craft education dedicated to helping people live creative lives. Located in the Blue Ridge Mountains of North Carolina, Penland offers one-, two-, and eight-week workshops in books, paper, clay, drawing, glass, iron, metals, photography, printmaking, letterpress, textiles, and wood. The school also offers artists' residencies, local programs, and a gallery and information center.
Read an interview with Penland School of Craft director Mia Hall on AJF.
We appreciate their support!