In 2017, the inaugural Susan Beech Mid-Career Artist Grant will be given. This grant will alternate with the ongoing AJF Artist Award program, which will run again in 2018, for as long as the Susan Beech Mid-Career Grant is funded. Information about the 2018 Artist Award will be announced via social media and our mailing list next year. You can follow AJF on social media and subscribe to our mailing list to keep up to date on opportunities offered by AJF.
PURPOSE OF AWARD
The purpose of the Art Jewelry Forum Artist Award is to:
Acknowledge promise, innovation and individuality in the work of a contemporary jewelry artist who is early in their career, has created an independent body of work, shows potential for continuing to create new work, and is rigorous in their approach to create and produce new/exciting/thoughtful viewpoints
Advance the career of a promising artist
AMOUNT OF AWARD
Unrestricted cash award of $7,500
The winner will be recognized as a supporter of AJF on AJF's website for one year.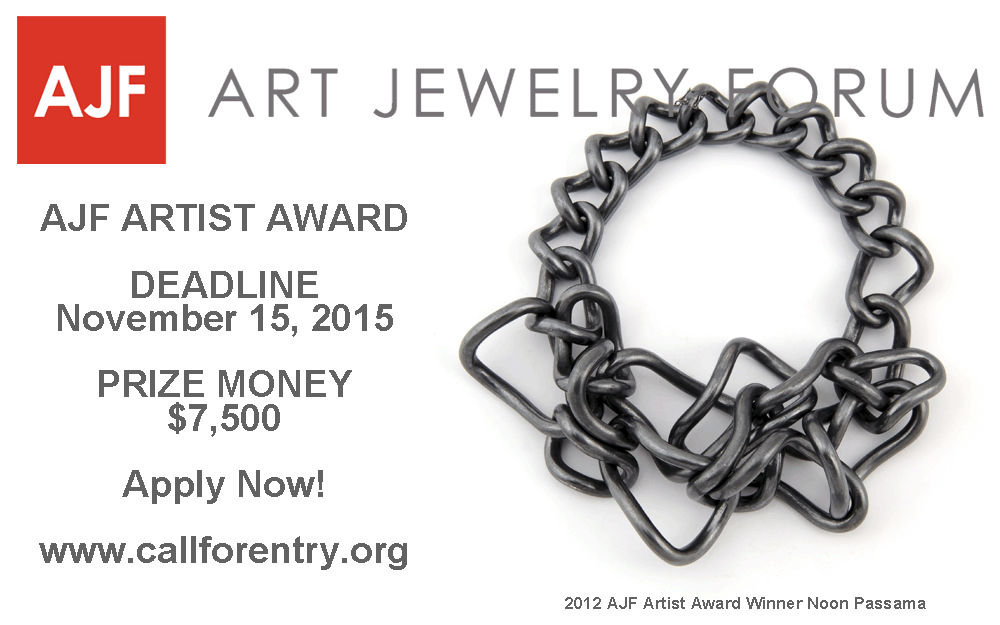 ​ENTRY CRITERIA
Maker of wearable art jewelry
35 years of age or younger a the time of application
Not currently enrolled in a professional training program
Work submitted must have been unsupervised.
Submitted work must have been completed within the previous two years, i.e., for 2016 award work must be completed from 2013–2015.
Applicants who applied previously must submit new work, i.e., work submitted in a prior AJF Artist Award application may not be resubmitted in the current application.
APPLICATION REQUIREMENTS AND INSTRUCTIONS
The following information must be submitted via the Café website (www.callforentry.org):
Current resume (one page long maximum)
Artist statement relating to the work submitted, approximately 200 words long
A maximum of 10 digital images showing six to seven pieces of work

Please follow the image requirements listed at the CaFe site for submission.
Images (except for those of the back of the piece and the piece being worn) must also be available in high-resolution (300 dpi or higher TIFF file) and immediately available to AJF for use in print media for promotion if you are selected as one of the five finalists.

One of the images must show a piece being worn.
One of the images must show the back of a piece.
Each image must provide:
Name of artist
Title of piece
Year produced
Dimensions
Materials
Photo credit
Applications close at 11:59 PM in Mountain Time Zone (Denver, CO, USA) on NOVEMBER 15, 2015. Incomplete and late entries will not be accepted.
Include the following information in the digital application:

Date of birth (if age is greater than 35 years at time of application deadline, not eligible)
Currently enrolled in professional training program (yes/no); if yes, not eligible
Date of completion and level of professional training ([BA BFA, MA, MFA or self-taught] and [month/year graduated])
Represented by gallery (yes/no); if yes, name of gallery
How you learned about this competition (e.g., instructor, posting at school, curator, gallerist, SNAG News, magazine [specify], collector, former award winner)
RESPONSIBILITES OF THE WINNER
The winning artist should be prepared to deliver work to a gallery at Schmuck.

Four finalists will also be invited to participate and show work during Schmuck.

The winning artist is expected to travel to Schmuck in Munich, Germany in February 2016 for the award presentation where s/he will deliver a 10-minute presentation about their work. The artist will arrange travel.

Four finalists will be invited to participate and will also arrange their own travel.

The winning artist is expected to participate in the following year's AJF Artist Award jurying process.
Images (except for those of the back of the piece and the piece being worn) must be high-resolution (300 dpi or higher TIFF file) and immediately available to AJF for use in print media.
JURORS
This year's jury will be:
Philip Clarke (New Zealand), inaugural director of Objectspace, Auckland, New Zealand's renowned public gallery for contemporary craft and design
The winner of the 2014 Artist Award, internationally recognized artist Seulgi Kwon (South Korea)
AJF board member and collector Susan Kempin (United States)
AWARD NOTIFICATION
Jury review will take place in December 2015. Work will be judged on originality, depth of concept, continuity of design, and quality of craftsmanship. There will be three rounds of review; those scoring highest in the first round of individual juror review will be moved to the second round for group jury review. In the second round, five (5) artists will be selected as finalists. The five finalists will be notified by telephone and email. The names of the finalists and an image of their work will be announced on the AJF website prior to announcing the winner. In the third round, the winning artist will be selected from the group of five finalists. The winning artist will be notified immediately by telephone and email. All applicants will be informed by email after the winning artist is notified. 
The winning entry will be announced in February 2016.