Jiro Kamata's creative process is material driven. He elevates old camera lens elements to the status of jewels, creating technically exacting jewelry that is awash in color and a sense of play. His work is inspired by his travels in various parts of the world—the saturated colors of Mexico, a desert in Chile, old etchings in a German city. Here, Jiro tells us about his relationships and influences, with people, material, and ideas. His current show—dark to light to dark—is on exhibit at Gallery Funaki through August 1, 2015.
Bonnie Levine: Jiro, tell us about your background as an artist and jeweler. How did you become interested in making jewelry?
Jiro Kamata: I come from a jewelry family. My father has a jewelry shop in my hometown of Hirosaki in Japan so I grew up with jewelry, but I hated it. At that time, jewelry was for me just glittery and expensive. I really didn't understand why people liked and bought such things. After finishing high school, though, I didn't know what to do. I wanted to go in a creative direction, but I was 18, so I had no idea what direction to go in. One of my father's friends informed me about the jewelry school in Yamanashi, Japan. Because I come from a jewelry family, I decided to try to study there. And then I met with my master, Okinaki Kurokawa. He was in Pforzheim, Germany, in the 70s and studied under Professor Klaus Ullrich. He taught me many things and showed me how interesting contemporary jewelry was in Germany and Europe. His work is really fantastic and I still see his inference in my work. This was the beginning of my fascination with jewelry.
Your work is so iconic, incorporating old, retired camera or sunglass lenses of various sorts in it. It's such an ordinary material, yet so magically reinvented. What was the inspiration behind this? Have you always worked with lenses, or has your work evolved to using this material?
Jiro Kamata: The first work that I made in Germany was the Tesa Ring, in 1999, which used Sellotape and lip marks. When I made this ring, I was so fascinated to see the transformation of the material, and I realized that ordinary material can be valuable. Since then, "value" has been an important topic for me. In 2003 I made a series of five pendants from silver called Target (Marzee Collection). This is my first work with the theme of "optic" and it has been one of the main subjects of my work. The other main theme is "reflection." Since I have been making jewelry, I have never seriously used gemstones. I didn't want to go the classical way, and somehow it was taboo for me to use them, but this is exactly the reason why I am working with reflection. Gemstones have strong reflection, color, and mystery. In the past I thought I hated gemstones, but actually I was jealous of gemstones because of the attraction to them. In September 2015 I am going to go to Idar-Oberstein, a city in Germany famous for stone cutting, where I will be an artist-in-residence for two months, learning to work with stones. Maybe now it is time to understand them.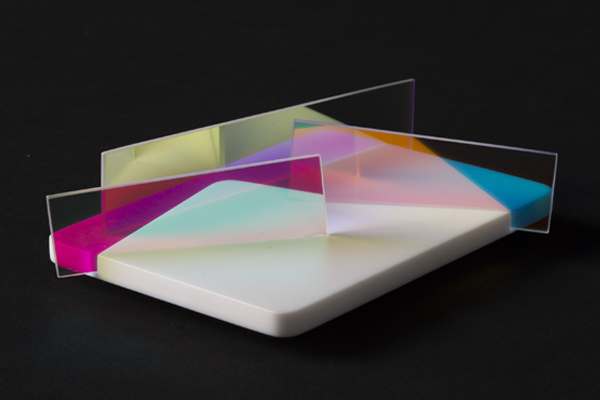 You call yourself a goldsmith and have said that materiality is a starting point for you. Can you tell us more about this and how materials and technique come together in your work?
Jiro Kamata: I am very proud to say I am a goldsmith. I love to work with silver and gold. I can communicate with them very well. Almost all of my pieces use silver or gold and it is an important part of my work, but I am not a classical goldsmith since I work with other materials besides gold, silver, and gemstones.
I am always looking for a new material. If I find it I am crazy about it, I touch and try everything to see what I can do. If the relationship works between the material and me, the material shows me what I should do with it. I sometimes have a feeling that I'm talking to it and it's a wonderful moment.
You studied in Germany at the prestigious Academy of Fine Arts in Munich under the master of contemporary jewelry, Otto Künzli. What was it like to learn from such a legendary force in the field? How did he influence your work? Now that Otto is retiring, will you still stay on in your position at the Academy?
Jiro Kamata: When I started to study at the Academy, I expected to be taught by Otto, but he was not a teacher. I was a bit depressed because no one told me what I should do. But that was, of course, the wrong expectation, and one day I realized that I have to decide myself what I should do. I have to know what I want to do. This is the first thing that I learned from him. He doesn't teach students but supports students. Maybe the biggest influence that I got from him is the mindset of an artist.
I am at the Academy until the end of this semester. I will open my new studio in August in Munich.
You've been in Germany a long time now—studying, living, making, and teaching—so you're very familiar with European culture and traditions. Why did you decide to stay there? Does your native Japanese background find its way into your life and work?
Jiro Kamata: Munich is a great city to live in as a jewelry artist. A lot of things with jewelry happen here, and people come from all over the world. But the most important thing for me is friends. I've been in Munich for 15 years and have here all of my friends and great colleagues. Any attractive city couldn't be really attractive without good friends—this is the reason I am staying here.
Please tell us about your various series of work—Momentopia (2008–2010), Arboresque (2010–2012), Spiegel (2011–2013), and now the BI and Palette series. How did they evolve from and influence one another?
Jiro Kamata: I made the Momentopia series when I was in Hanau, Germany, for the artist-in-residence program in 2008. It was inspired by the old etchings of the City of Hanau that look like a fisheye landscape. In 2010 I was in Mexico and was influenced by the Mexican color, architecture, tacos, tequila, and blue sky. With this wonderful experience I made the Arboresque and Spiegel series. BI came from the experience in the Atacama Desert in Chile, with an amazing sunset and, simultaneously, a full moon rising, sometime in 2013. Palette was made for special display for the exhibition Lux is the Dealer in Munich in 2015. In my work there is always a different story behind it, but somehow they are connected and cross each other.
Your current show at Gallery Funaki is called dark to light to dark. What's your concept behind the show? What work are you presenting?
Jiro Kamata:In this exhibition I show BI pendants, brooches, and necklaces, and Palette brooches. All pieces are made with dichroic mirror, which reflects two colors in two directions and also changes the color in many different ways. The title dark to light to dark connects the effect and function of this material. On the other hand, wearing the light is also the subject of this exhibition. A piece of jewelry needs the light. We wear jewelry but in some way we wear the light on the body.
As a maker and teacher, what do you see as your role in contemporary jewelry today? Do you see jewelry as an object of value?
Jiro Kamata: I was never a teacher, and as a maker I don't really care about my role in our field. I am making what I want to make. I am glad if my pieces can make someone happy and if someone can find value in it. And yes, for me jewelry is an object of value.
What have you seen or read lately that influenced you that you'd like to share with our readers?
Jiro Kamata: I have just come back from Melbourne, Australia. During my stay I went to Grampians National Park and saw an amazing sunrise on the pinnacle of the mountain. It was dark, cold, foggy, windy, and raining, but the amazing sunrise was waiting for us after two hours of climbing. It was one of the most beautiful and magnificent sights I've ever seen.
Thank you so much—it's been great talking to you!
Index Image: Portrait of Jiro Kamata, photo: Fred Kroh