Bruce Pepich has been the director of the Racine Art Museum (RAM) for more than thirty years. In the course of his tenure there he has implemented many programs and raised the profile of the institution to one of a nationally recognized center for craft and the arts. His engaging personality and devotion to the institution is infectious. Pepich is an ardent supporter of craft as well as the artists who create it. In an essay in the 2008 SOFA catalog, he commented on the importance of encouraging artists so that they will continue to create new work. This is done through the museum but also by collectors, who are a key part of the artist's support system. Since the early 1990s, Pepich has actively embraced the world of art jewelry. RAM has shown exhibitions of both Arlene Fisch's and Jamie Bennett's work in the past few years. Recently, RAM was presented with 49 pieces from Donna Schneier's collection of art jewelry, through Schneier's personal donation to the museum. These new pieces both complement and augment RAM's extant collection. It was in this context that I posed these questions.
Rachel Carren: Please tell us something about your background. Where did you study? Do you have special interests within the world of craft?
Bruce Pepich: I have a degree in art history from Northern Illinois University in DeKalb, Illinois. It is about 60 miles west of Chicago and had a large visual arts program with close connections to the Chicago arts community. My area of concentration was contemporary art. While working on my degree, I served as the university's first curator of the campus collection and also worked as a volunteer arranging exhibitions in the Student Union Art Gallery. The Union Gallery hosted two regular national competitions
– a print and drawing show and a craft competition
– and purchased works from these shows for the collection. From these early experiences, I was very comfortable working with works on paper alongside works in contemporary craft media. I always saw these works as being on the same parity level. I was able to carry on this interest in bringing craft together with painting and sculpture when I began organizing exhibitions in my first museum job.
How long have you been at RAM?
I was hired by Racine's Charles A. Wustum Museum of Fine Arts straight out of college in 1974, on my way to graduate school. I soon realized I was able to conduct original work in the field on a daily basis there and stayed. RAM opened in 2003 as an outgrowth of Wustum Museum and as home to its permanent collection. In the 1990s, I established one of the most significant contemporary craft collections to be found in any United States art museum at Wustum. I continue to oversee Wustum as our visual education campus. RAM, located two miles away in Racine's downtown development district, is where we present artists with national and international reputations. I am celebrating my 35th anniversary at the same institution this year and have been executive director since 1981.
I have had an incredible amount of freedom in creating this collection over the past three decades. Knowing I have personally walked most of the works in the 4500-piece collection into the museum has provided me with an intense relationship with this museum and its core mission. This unique opportunity has held me at RAM. I have also had an extremely supportive relationship with RAM's major donor, Karen Johnson Boyd. She inaugurated RAM's art jewelry collection with a gift of about 30 major works in 1991. We share many beliefs about blending art from a variety of disciplines and media and a respect for the artists. It is easy to do good work when you are supported and encouraged as a professional and this environment has provided that for me.
Tell us about the museum's acquisition of the Donna Schneier collection. Other parts of the Schneier collection went to the Museum of Arts and Design and to the Metropolitan Museum, both in New York. What is unique about the body of works now at RAM from the Schneier collection?
Donna Schneier began collecting art jewelry in the 1980s and eventually assembled a collection of about 600 pieces. She was primarily attracted to jewelry created in non-precious materials. In 2002 she made the first gift from her collection to a museum and Donna Schneier presented approximately 80 pieces to the Museum of Arts and Design in New York. Following this gift, she broadened the parameters of her collection and added adornment in precious materials. In 2007 and 2008, she and her husband, Leonard Goldberg, presented a collection of about 200 objects to the Metropolitan Museum of Art in New York and 49 works to RAM. Both museums have received works in both precious and non-precious media.
The gift of the Schneier collection impacts RAM's jewelry holdings in two important ways. First, it brought new artists to the collection, with the first examples of their work. Secondly, it contributed additional examples by artists we already have in the collection. In some cases, the Schneier collection adds examples of jewelry by artists whom we only represent by holloware pieces. In other cases, these new acquisitions enable us to document our major artists in depth. We collect jewelry artists with multiple examples, as a major museum would with its print and drawing collection. We are interested in documenting career development over a period of time, demonstrating how ideas and aesthetic concepts come about and change. Works in the Schneier collection dovetailed with these interests of mine, as curator of collections and the museum's mission to support artists and their careers.
Did Donna Schneier have an overall philosophy for collecting?
Donna Schneier was very interested in acquiring works that made aesthetic statements
– pieces that she believed referenced the history of fine art and elements of popular culture in much the same ways that contemporary painters and sculptors used these resources for inspiration. She saw these works as wearable sculptures. She was attracted to the size and portability of jewelry; she could wear the artworks she collected. She was not interested in creating an encyclopedic collection or a historic documentation of the field. She concentrated on acquiring pieces that interested and intrigued her. The collection was originally displayed in the offices she maintained for her commercial wholesale gold jewelry business. Donna Schneier displayed works from her collection to demonstrate the possibilities existing in this work to buyers from commercial jewelry stores who came to do business with her. I think this aspect of teaching is something both she and RAM have in common with their art jewelry collections.
Is the Schneier collection at RAM principally the work of American or European artists?
The bulk of the works in the gift to RAM were created by American artists or European artists now living and working in the United States. We do collect international figures and while the collection is primarily American artists right now, we are actively acquiring European, Asian and Australian artists and we plan to continue doing so. Art jewelry is such an international field that we believe it transcends geographic boundaries. Each work was selected by us on a case-by-case basis, depending on how it helped fill holes in the permanent collection.
Who are a few of the outstanding artists within the Schneier collection now at RAM?
Although some of the included artists do teach, this gift includes individuals who are primarily known as full-time studio artists and this was one of Donna's intentions. The gift includes examples of work by Barbara Heinrich, Esther Knobel, Nel Linssen, Thomas Mann, Bruce Metcalf, Myra Mimlitsch-Gray, Ruudt Peters, Kiff Slemmons, Tone Vigeland and Martina Windels. The pieces range from the early 1970s through the early years of the new century.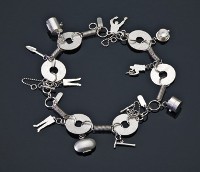 The Schneier collection helps us explore artists's bodies of work in depth. For example, we already had a number of enamel vessels by June Schwarcz, spanning a number of years. The Schneier collection includes a relatively rare example of a cuff bracelet created by Schwarcz. The form of the bracelet is handled in the same folded way this artist approaches her vessels, but it broadens the understanding of her entire body of work to make these connections. Donna Schneier also gave us a large neckpiece by Christina Y Smith. It has male figures and everyday household objects hanging like amulets. These same figures are part of a holloware teapot by Smith already in RAM's collection. These kinds of relationships were in our minds when we made our selections from her collection. This gift includes precious materials employed by artists such as Mary Lee Hu and Harold O'Connor and at the same time it also includes an elaborate neck collar in polymer by Peter Voulkos.
On a bigger scale, how does art jewelry fit into the totality of the collection at RAM? Do you see relationships between jewelry and other fields of specialization?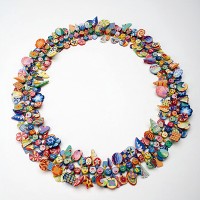 What are RAM's plans for future art jewelry acquisitions? What are your criteria for adding new works into the collection? Are you looking for specific artists? Does the museum only seek a whole collection or are single significant pieces of interest? How important are donations versus purchases in the building of a collection?
We have a small acquisitions endowment fund and have used the income it generates to make a few acquisitions. For the most part, we are dependent upon the gift of actual works to build the collection. We are constantly seeking new additions through gifts of works from collectors and artists. Although we are talking here about a 49-piece collection coming to RAM, we also accept single works offered to the museum and celebrate their arrivals. I just find that with the way most collectors assemble jewelry collections, they usually offer us multiple works
– say four to fifteen
– at a time. We certainly welcome single pieces. We are always seeking to fill holes and if we have to do this one step at a time, we do. We do have a wish list that we work off of in determining what we need to acquire to create the most detailed and well-rounded representation of the field. I am always interested in seeing the work of artists who are mature in their career development, but new to me.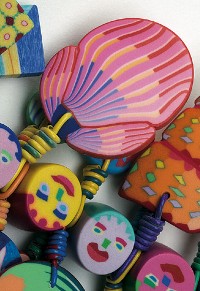 Many of our donors select RAM because they are interested in our philosophy of how we utilize the collection for changing exhibitions and to conduct programs of public education. RAM completely changes all of its galleries three times each year. This accommodates both temporary shows brought in from the outside and also rotating thematic shows curated from the collection. It is the constant rotation of collection works to place them in different contexts that gives a sense of life and vitality to RAM's collection.
I would suggest that collectors examine not only how a potential museum recipient exhibits its collection and how often works come out, but also take into consideration the kinds of education programs produced in conjunction with these shows. How will the museum live with these works after they enter the collection? What will the museum's programming do for the understanding of the field, the advancement of the artists' careers and the encouragement of further collecting and new artists? We currently have collectors living in 30 different states whose works come together here as a historic documentation of the development of this field at this time in history. We are grateful to collectors like Donna Schneier and Leonard Goldberg for this kind of generous support of our efforts.
I also like to remind artists that they own important archives. Not only do they have examples of their own work, but also the work of others, plus their paper archives. These must all be properly managed and treated seriously as part of our nation's heritage.