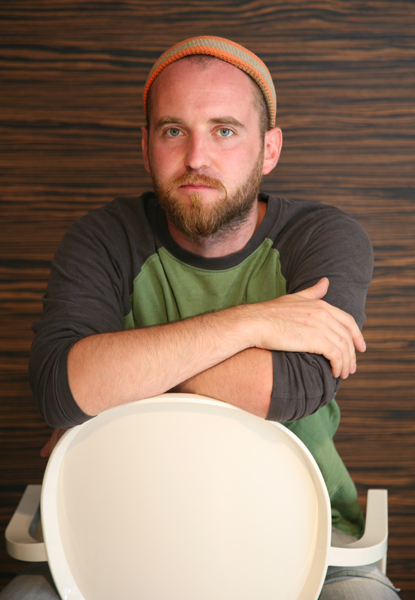 Art Gallery Putti, located in Riga, Latvia, is owned by Agita Putāne. She has chosen to show only graduates from the Art Academy of Latvia (Latvijas Mākslas akadēmija) or the Estonian Academy of Arts (Eesti Kunstiakadeemia), which is a wonderful limitation to impose. With this concentration, the gallery can claim its unique place in the world, and at the same time, adds to the world view of studio and art jewelry. In this month's exhibition Thin Thin, the gallery features the very thin work of Valdis Brože, a local artist who shows with at Art Gallery Putti on a regular basis.
Susan Cummins: Where do you live? Can you tell us something about your surroundings?
Valdis Brože: I Iive in the center of Riga. If I want to reach the old town, it only takes 30 minutes. Usually, I ride a bicycle to go across town. The place where I live is very quiet. There are nice old buildings, and the park is five blocks away. The streets are still covered with very old pavement. 
Where is your studio located?
Valdis Brože: My studio is just three blocks away from where I live. So, some weeks I only see those three blocks, and I get the feeling that I live in a three-block town.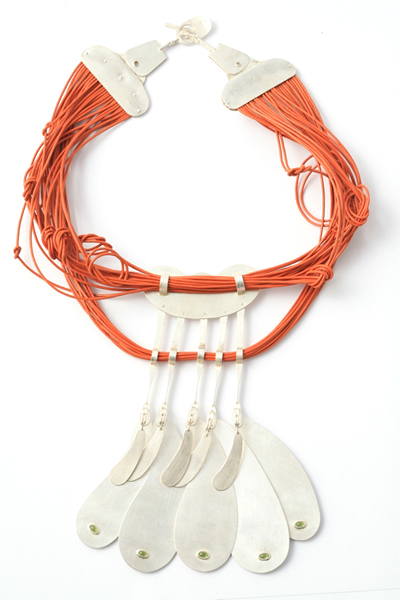 Can you tell me about your training? Where did you go to school, and who was your most influential teacher?
Valdis Brože: My first skills were acquired at Riga's School of Applied Arts in the department of metal design, and then I went to the Academy of Art. My most influential teacher is practice and more practice. When you practice a lot, you learn a lot. You should be the best teacher for yourself!
When did you know you were going to be a jeweler?
Valdis Brože: I knew very early. I think I was in kindergarten when I made my first ring for my Mum. Initially, I made something from plastic. Then, I used some wires, and next, I tried to make something from brass without any real understanding of how to work with metal. 
 Do you mainly make rings? Why?
Valdis Brože: Yes, basically I make rings. Rings are the most common things people wear, but I also make plenty of necklaces, bracelets, and earrings. Now, however, I have changed direction and am concentrating on earrings. There are some ideas with earrings that need exploring, so I know what I will be doing for the next year.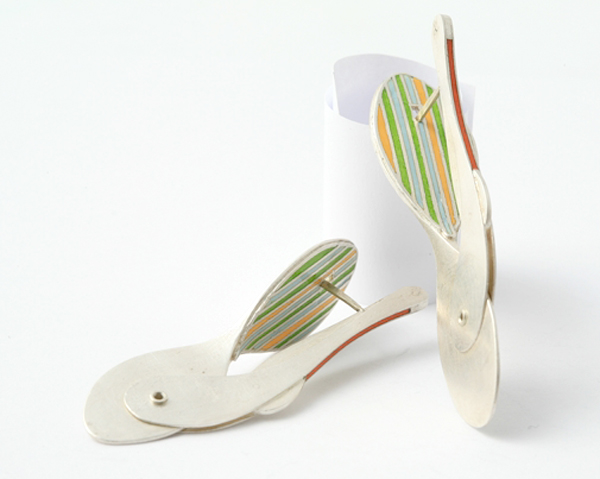 I understand that you are known for your colorful enamel jewelry, but this show doesn't emphasis that aspect at all. What did you try to do with these pieces?
Valdis Brože: I tried to make them more aesthetic. I'll come back to enamel, but in this collection I wanted to get the feeling of paper or a thin layer of ice. And I wanted to pay attention to hinges, which I like lot. 
The pelvic bone seems to be an inspiration for many of the rings. Have you used this kind of natural shape before?
Valdis Brože: It is interesting that it makes you think of a pelvic bone. I like it when people give names to certain rings or earrings. For me, it is the biggest compliment. Some pieces have more than 10 names. If I hear about an association, then I know a piece is done well. I'm not sure I have used that kind of shape before. Basically, I prefer strict shapes or connecting natural shapes with a more strict structure. 
Can you tell us something unusual about how you work?
Valdis Brože: Sometimes I sing. Is that unusual? The strange thing is that I like to work when other people are sleeping. I prefer the late hours on week days and to work on Saturday and Sunday. And I cannot imagine working without good green tea. 
What is the atmosphere in your studio like? Chaos? Tidy? Music? 
Valdis Brože: Chaos. It is chaos for others. But for me, every single detail is in the right place, so it is hard to call it chaos. Of course, there is music. I have a large collection of CDs for work (jazz, classical, and ambient music), and I listen to audio books and drink a lot of tea.
Thank you.
Art Gallery Putti, Riga, Latvia