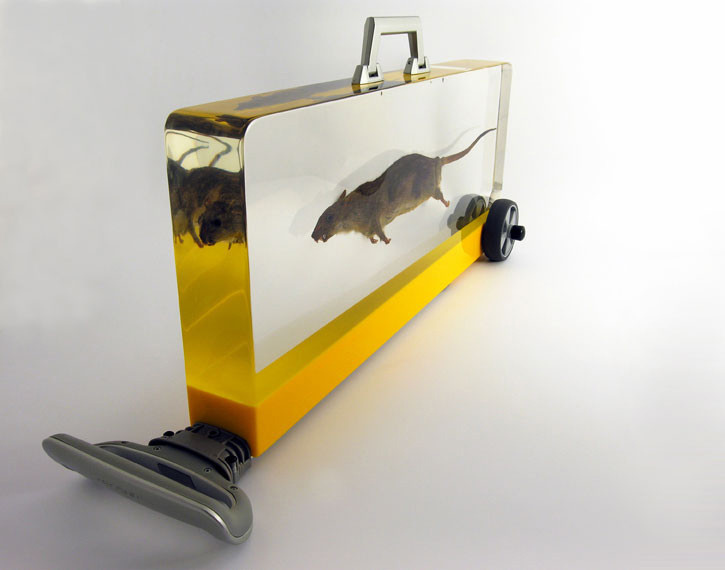 The National Week for the Arts, a collaboration between Dutch museums, artists and art institutions, a professional jury and votes by the general public have made their choice from all realms of the arts: Ted Noten has won Artist of the Year 2012. In the ten years the prize has been awarded it is the first time a jewelry artist has won. Ted was offered the title and a Cash Prize of € 10,000. – at the WestCord Art Fashion Hotel in Amsterdam.
Ted Noten's training as a jewellery designer was at the Art Academy in Maastricht and at the Rietveld Academy in Amsterdam. He gained fame with his jewellery which includes transparent acrylic objects and handbags embedded with various things, like a pinch of cocaine, precious rings, a dead mouse with a tiny pearl necklace and real guns. His work leads often to commotions. He made a tiara for Maxima (royal) as protection from rioters. He tries to stamp out the spoof of society with objects of shifting meanings. He enjoys increasingly international success with his extraordinary work. (Thanks Peter Deckers).
Ted has provided this year's pin for Art Jewelry Forum members.  To join AJF and get your Ted Noten click here.
Ted Noten is also keynote speaker at JEMposium, a 4 day symposium in Wellington New Zealand: 10 – 14 February 2012. 
Ted Noten's work can be seen at:
tednoten.com
galerierobkoudijs.nl
ornamentumgallery.com
2012 the Year of Ted