Susan Beech from Tiburon, California, wears jewelry with elegance and finesse. She is a passionate collector of art jewelry and a good friend. Early on in her quest for pieces to add to her collection she stopped into my gallery in Mill Valley, California and started buying things. Since then she has explored many parts of the world looking for things that make her heart go pitter pat. For a complete interview with her see the Collecting section of our site. In the meantime you can read about her Collector's Choice.    
Over the years I have collected paintings, art deco everything, photographs, sculpture and ceramics. I didn't intend to collect jewelry until I saw some original studio jewelry, pieces very different than what my friends were wearing. As I became more educated about the field, I gravitated toward more challenging work, unconventional jewelry materials and subject matter. Soon I realized I was a collector of contemporary jewelry. It is not possible to wear a painting or sculpture, but I do wear jewelry from my collection every day, even some of the more demanding pieces. Some might say I wear too many pieces at the same time but it speaks to my passion.
I have a great respect for the jewelry artists and it has been honor to meet and talk to so many of them about their ideas. When I wear a piece from my collection, I feel I am promoting their work in particular and contemporary jewelry in general by taking it our in the world, sharing my passion and encouraging people to ask questions.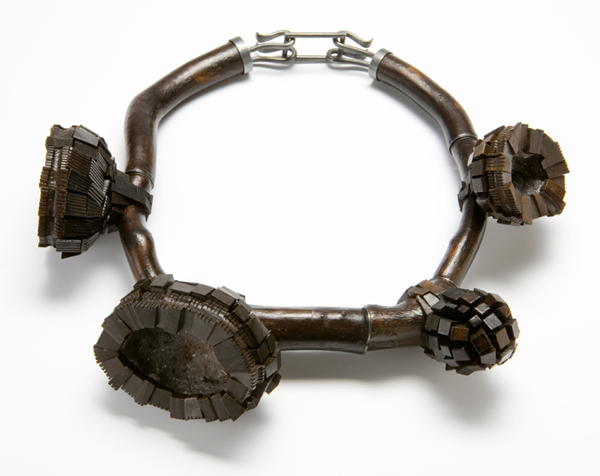 Choosing my favorite piece is an impossible task. I do not have one 'favorite.' I collect what I like and what I connect to and not because it is an important piece or by an important artist. Because of my collecting perspective, I chose an artist, Terhi Tolvanen whose work resonates close to my heart. I own eight of her necklaces and I have chosen a couple of special ones to show.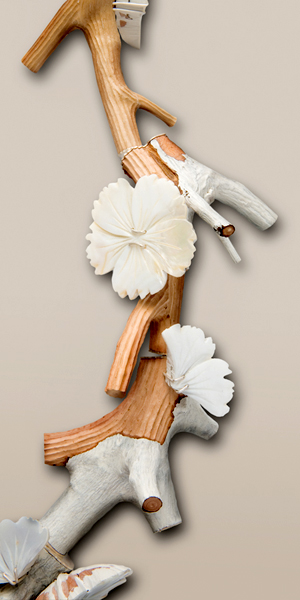 When I wear one of Terhi's wooden necklaces, I feel a connection to her and her impressions of nature. At my home in the Napa Valley just north of San Francisco is in a wooded glen. Along with the existing madornes, oaks and old growth Douglas firs, we planted redwoods, elm, pistache and olive trees. In addition, the See's candy family originally owned the property and before a house was built on the land it was terraced with apricot, plum and walnut trees. These are the ingredients they used in their candy production. It is here with these trees that I feel closest to nature and feel a deep sense of spiritual well being. So of course Terhi's work speaks to me.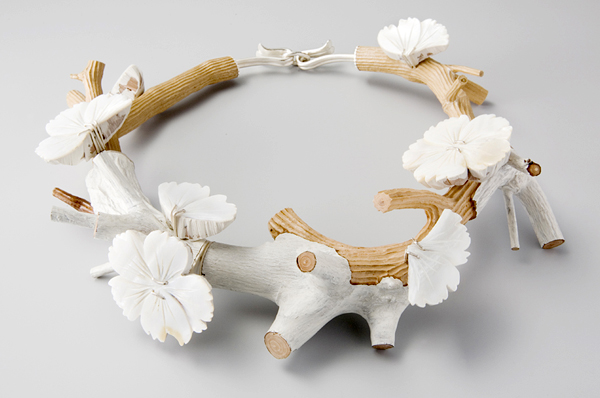 Evert Nijland says Terhi's work 'is about the interaction between man and nature. In her jewelry she focuses not on the damage caused by man to nature but on the care and preservation. For instance, by the removal of dead trees and pruning of branches it is possible for nature to thrive and renew itself.' I am constantly surprised by the way she combines materials, the different types of wood she uses along with gemstones, textiles and porcelain. I connect to Terhi's work as an artist who shares a love of the natural world.