International
10/28/2019
Art Jewelry Forum's extensive network of international gallery supporters is dedicated to celebrating and showing art jewelry. On Offer is a monthly series that allows AJF galleries to showcase a piece that they've personally selected to tempt and inspire you. Please contact the gallery directly for inquiries. Enjoy!

MUSEUM WORTHY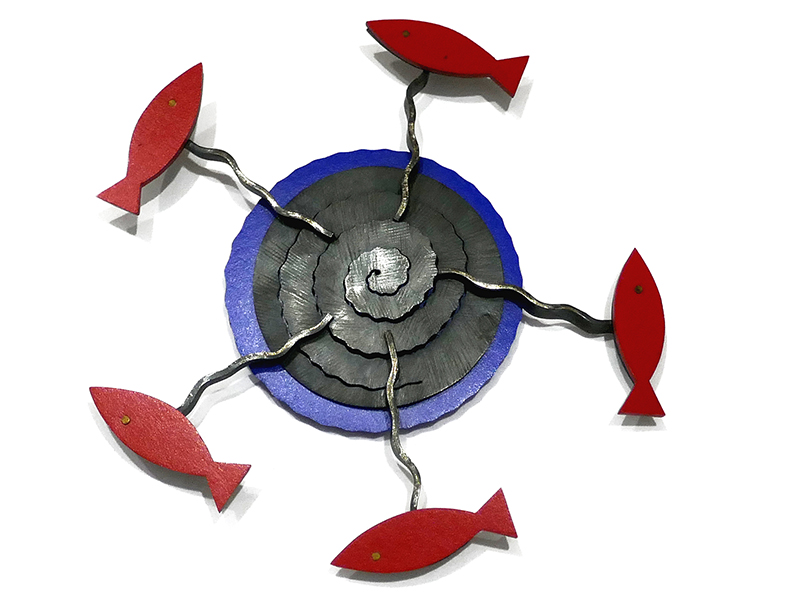 Artist: Ramon Puig Cuyàs
Gallery: Galerie Spektrum
Contact: Jürgen Eickhoff
Retail: €2,250

Ramon Puig Cuyàs was professor of jewelry and head of department at the Massana School, in Barcelona, until 2017. He's one of the classic jewelry artists and one of the most important. The work offered here is a historic piece from 1989. Museums and collectors have here the possibility to acquire this work of art to complete their collection.

MUSEUM WORTHY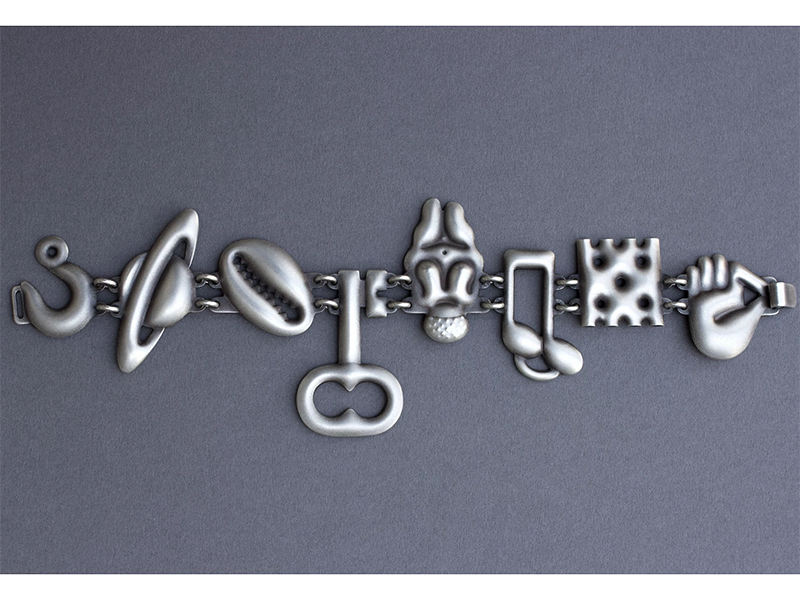 Artist: Stefan Gougherty
Gallery: OHMYBLUE
Contact: Elena Rizzi
Retail: €1,332
Drawing upon his technical design background, Stefan Gougherty creates jewelry that is both a celebration and a critique of industrial progress. With content mined from opposing forces—such as natural/artificial, trash/treasure, antiquity/futurism—his objects mirror the paradox (and humor) of this strange world we inhabit. Surfaces in tension: The inflated geometries of hydraulic-formed sheet metal provide a unifying contemporary language for the diverse collection of icons, symbols, and objects which are juxtaposed in this series.

MUSEUM WORTHY
Artist: Agathe Saint Girons
Gallery: Galerie Elsa Vanier
Contact: Elsa Vanier
Retail: €1,920
Agathe Saint Girons has been breathing a Provencal exuberance into her creations for over 25 years. Created in a beautiful workshop overlooking the Marne river, her one-of-a-kind contemporary jewelry pieces are always spectacular. They arise from an ongoing dialogue between concept and matter. The Resistance bracelet is from a series of work with which Saint Girons presents her vision of the impact of her family life on her artistic career. "Before naming the piece, I immerse myself in a deep reflection on my feelings of impatience, amazement, engulfment," she says. "I wonder about the place of everyone, big or small, in the family, and I face my doubts to create my own family pattern..."

MUSEUM WORTHY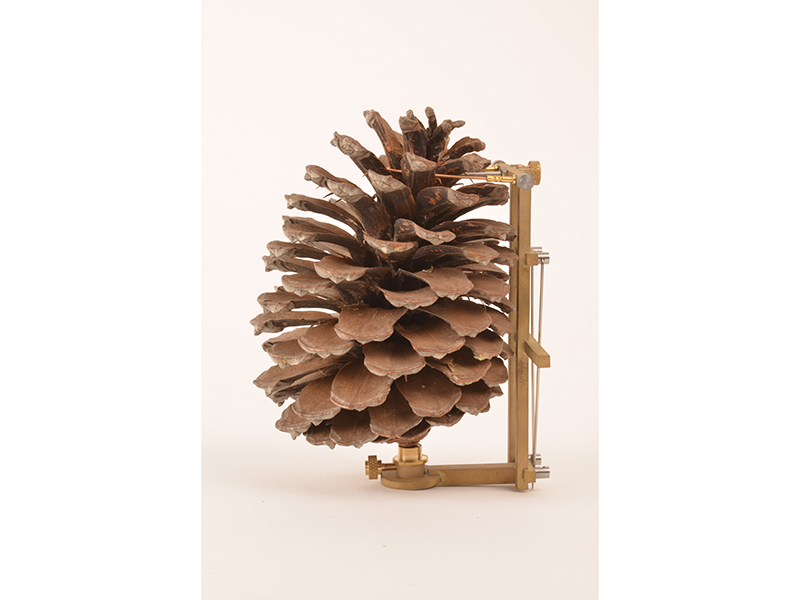 Artist: Sigurd Bronger
Gallery: Ra Gallery
Contact: Paul Derrez
Retail: €4,860
For the jewelry collection The Nature of Things, Sigurd Bronger has taken elements from nature and everyday life, even when these elements in themselves do not seem obvious choices for application in jewelry: They're a reminder of the fragility of nature and life. The surreal compositions that result from the use of perishable materials can be humorous and absurd. The dialogue between things and nature takes place in time, saying something about history as well as our perception of so-called constant values. It's the point of departure and the landing ground of Bronger's voyage of discovery.

MUSEUM WORTHY
Artist: Ruudt Peters
Gallery: Galerie Beyond
Contact: Rene Darmont
Retail: €5,600 for both pieces
Looking at the hollow forms of Ruudt Peters's brooches, a question arises—what's more important, the vessel or the space inside the vessel? Our life from birth to death is intertwined with various vessels, corpora, shells, and nests, but the principle remains the same. There's something that holds and something that is held. An interior and an exterior. A keeper and a dissolver. A separator and the separated. A sustainer and the sustained. Vessels and funnels are like ravenous mouths that suck down and devour everything offered to them. In some of the Dutch artist's Suctus brooches, protective walls have been removed. Only the insides remain. Bodies of water framed by imaginary borders. Tones of approaching sunset and crimson. But mostly deep blacks and opaque glimmers of late summer bog lakes and a murky, barely tangible depth. Dull watery milk tones blend into dark mature layers. Like bog lakes, they entice you to dive into an unknown darkness. Once surrendered to the seducing powers of Suctus, is there a way back? The worst that could happen is you return exactly the same person as when you entered.

ESTABLISHED ARTIST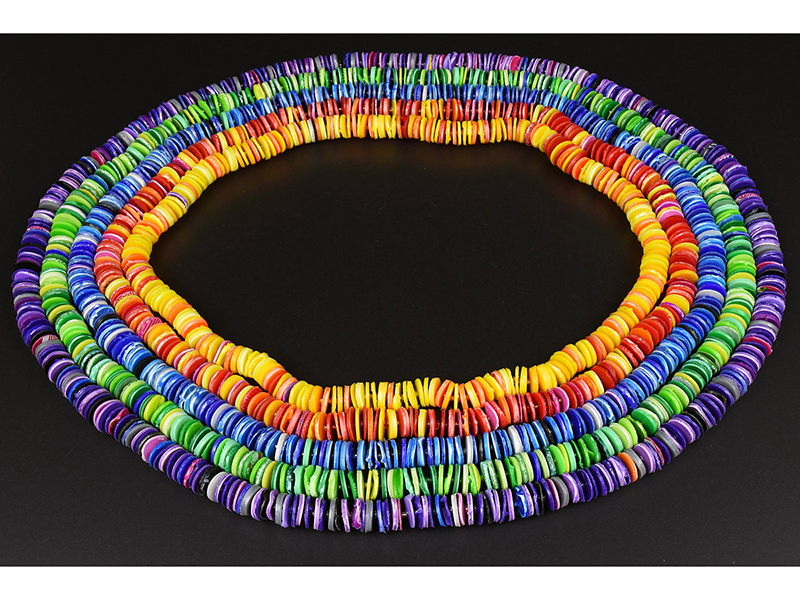 Artist: Roseanne Bartley
Gallery: FINGERS GALLERY
Contact: Lisa Higgins
Retail: NZ$2,350 (shown as a grouping—can be sold separately)
Originally from New Zealand, Roseanne Bartley is a Melbourne-based artist jeweler, writer, and educator. She observes jewelry as a spatial practice—both doing and thing—an ornamental agent through which human and more-than-human ecologies may be broached anew. Through an expanded methodology, Bartley's practice tells of the agency of jewelry in performative trace-making, instructional prompts, social practice, and ficto-critical narratives. "My jewellery is produced from materials left behind, discarded and dismantled," says Bartley. Her method of collecting, which she calls surface archaeology, enables her to observe and reveal aspects that are unique to the place or persons that inhabit it.

ESTABLISHED ARTIST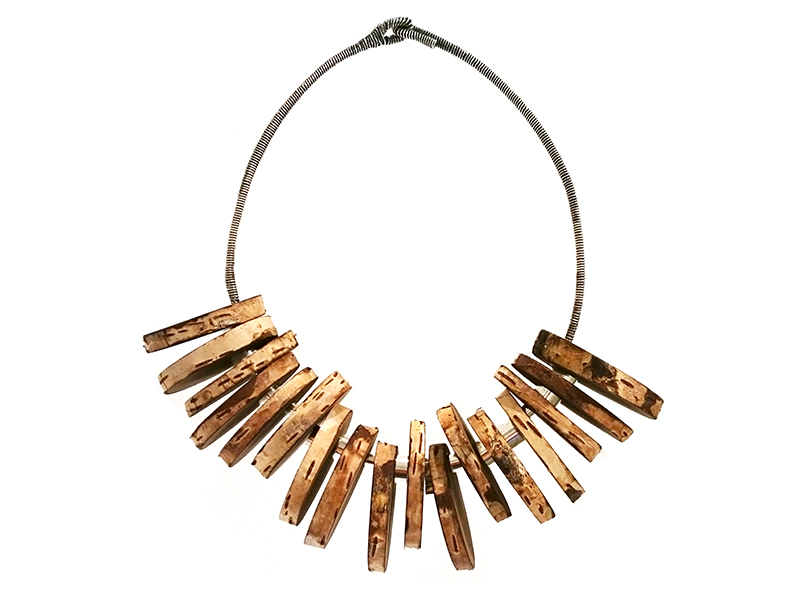 Artist: Catarina Hällzon
Gallery: Four
Contact: Karin Roy Andersson
Retail: €1,800
Catarina Hällzon's grandfather was a man of the forest. He worked many long hours in the woods. For supper, his place was on the sofa, and the grandchildren used to take turns sitting next to him. Hällzon sat there and admired her grandfather's large working hands handling the small cutlery, and she remembers these moments with a precious shimmer. When her grandfather died, he left a lot of material, and the material was the start of this project—a project about time, love for materials and craft, and memories of past generations.

ESTABLISHED ARTIST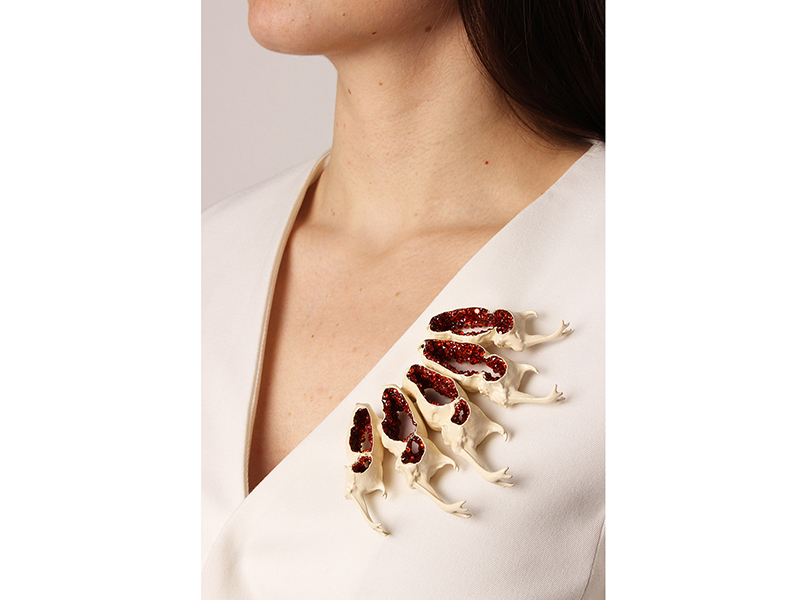 Artist: Märta Mattsson
Gallery: Galerie LA Joaillerie par Mazlo
Contact: Céline Robin (curator)
Retail: €2,200
Cabinets of curiosities, collections of entomology, and vanities are the raw material in which Märta Mattsson draws her inspiration, to explore the contradictory feelings of attraction/repulsion provoked by some terrestrial creatures. Oscillating between ingenuousness, kitsch, and a taste for the macabre, her menagerie consists essentially of insects. Multiplied, divided, glued, disguised in colors and artificial flowers, diverted in decorative patterns, cut down their middle "à la Damien Hirst," her creatures result from a combinatorial game with natural materials that, once assembled, produce a new fantastic entity, thus taming our fears and allowing us to perceive beauty in what generally inspires fear and disgust.

ESTABLISHED ARTIST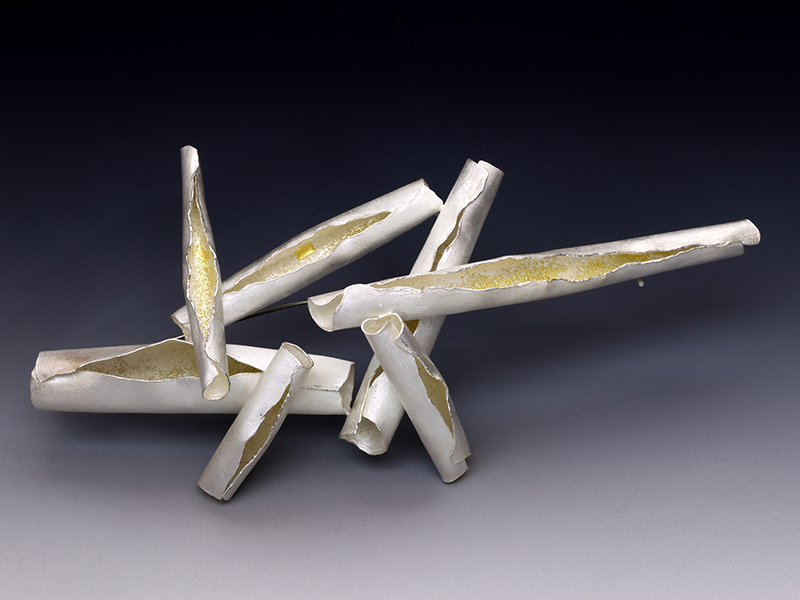 Artist: Liaung-Chung Yen
Gallery: Taboo Studio
Contact: Jane Groover
Retail: US$1,600
Long known for his nature-inspired one-of-a-kind pieces, award-winning artist Liaung-Chung Yen's poetic brooch suggests sculptural fragments of the natural world. It is a seductive meditation on stillness and the beauty of simplicity.

ESTABLISHED ARTIST
Artist: Julia Maria Künnap
Gallery: Gallery S O
Contact: Katharina Dettar
Retail: £2,800
This brooch was part of the group show Stone, which ran at Gallery S O, in London, during September and October 2019. Like a shaman or alchemist, Estonian carver and jeweler Julia Maria Künapp appears to alter the natural state of materials, turning precious stones to liquid. In her hands, stone sag, melt, drip, or ripple, reducing rock crystal to a watery drip, causing obsidian to ripple endlessly, or melting onyx like chocolate. In the brooch Maybe Tonight, Künapp has taught a faceted length of smoky quartz to bend, squeezing it into an angle and setting it in place—its facets still beautifully aligned and polished. One might call her work with stone mischievous or clever, but it seems rather more tender and empathetic than that: She's showing stone how to do something beyond its own nature, but something surprisingly within its will.

MID-CAREER ARTIST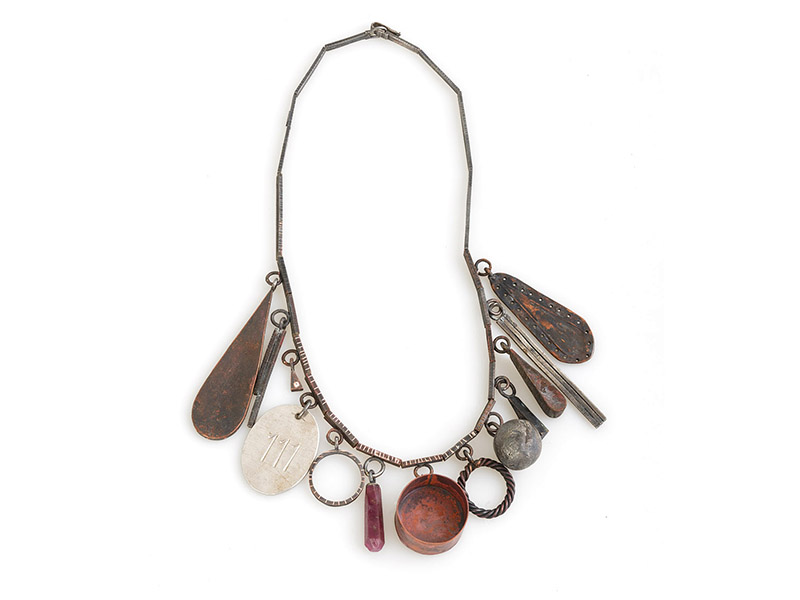 Artist: Silke Spitzer
Gallery: Galerie Noel Guyomarc'h
Contact: Noel Guyomarc'h
Retail: CAN$2,780

Silke Spitzer studied traditional jewelry-making at the University of Applied Arts and Design in Pforzheim, Germany. She received a DAAD Scholarship from the Rhode Island School of Design, and graduated with an MFA in jewelry design in 2002. Since then, she has worked as an independent artist in Berlin, where she teaches at Coop Gold, a small jewelry school she co-founded in 2011. The school offers instruction to the local community in traditional yet challenging and innovative techniques of jewelry making. Her work has been showcased in many international exhibitions in Europe, North America, and Asia, and has received several awards, including the 2015 Justus Brinckmann prize from the Museum of Arts and Crafts in Hamburg. Spitzer took part in the exhibition Natural/Artificial, curated by Luzia Vogt, on view at Galerie Noel Guyomarc'h in 2012. From November 8–30, 2019, she will present an exhibition titled Lunar Land, in a duet with Märta Mattsson.

MID-CAREER ARTIST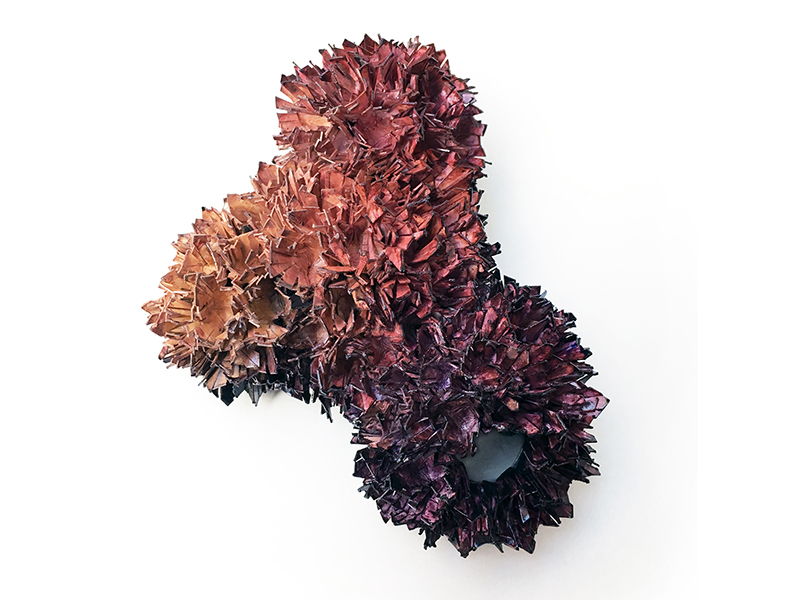 Artist: Hanna Liljenberg
Gallery: PLATINA Stockholm
Contact: Sofia Björkman
Retail: US$900

Hanna Liljenberg's new body of work, with the title Within, is about an out-of-body flora. The artist is interested in the body's physics, problems, and radiance, and in exploring the dynamics between the human body and jewelry. Small cut-paper pieces are folded and fixed together, and the result is like organic vegetation. Liljenberg's use of traditional material for the arts—paper, pens and brushes—blurs the borders of the art fields, and this light, easy-to-wear brooch becomes an extension of the wearer.

MID-CAREER ARTIST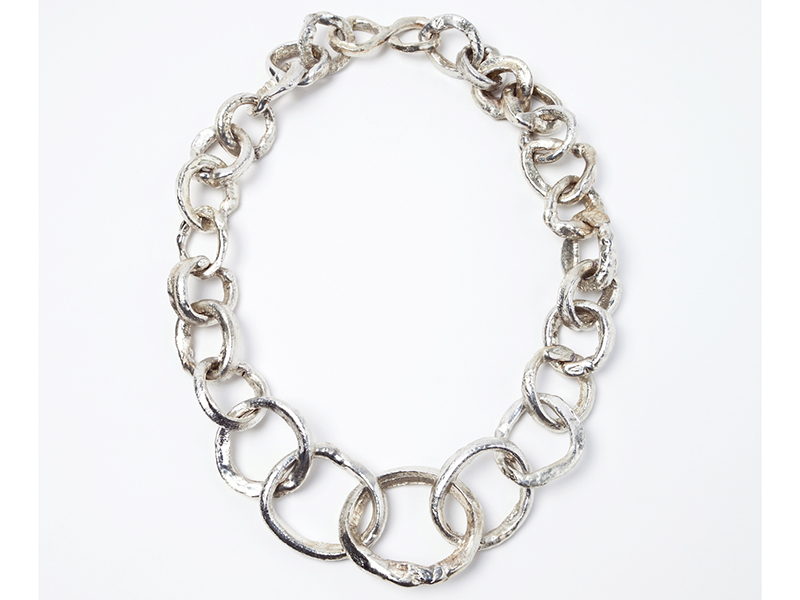 Artist: Nadine Kuffner
Gallery: Irene Belfi
Contact: Irene Belfi
Retail: €1,800
For this series of works, Nadine Kuffner decided to use tin to create jewelry pieces. By using this unprecious material, with its low melting temperature, Kuffner works freely with the liquid metal, trying to show the tin a possible way of becoming form. The liquid material is poured directly onto the string as beaded forms; for other works it's poured onto the prepared loop chain or brooch backing, creating surprising and unexpected results every time. Together, the artist and material create a choreography of movements and forms, a highly concentrated but quick and spontaneous process. The work is an investigation of possibilities and limitations. It's a research of borders and relationships between materials, maker, and object, and where definitions of fine arts and applied arts are in question. How do we define the value of a jewel? By material, knowledge, time, and concept? What makes it valuable?

EMERGING ARTIST
Artist: Peter Antor
Gallery: Gallery 2052
Contact: Nora McCarthy
Retail: US$1,900
Peter Antor will show this one-of-a-kind Ebony Inlay Collar as part of Gallery 2052's upcoming exhibition, Constructional, which will debut at New York City Jewelry Week 2019 before traveling back to the gallery's Chicago showroom.

EMERGING ARTIST
Artist: Cheri Tatum
Gallery: 108 Contemporary
Contact: Susan Baley
Retail: US$225

Fascinated by biology and other natural sciences, Oklahoma artist Cheri Tatum is inspired by the living world around her. She also studies the processes and properties of metals through soldering and fabrication. This necklace features tourmaline, a mineral rock that is an aluminum boron silicate mixed with a variety of different metals such as iron, magnesium, and titanium. The color of the rock is determined by the type and quantity of the metal. Tourmaline is considered a receptive stone believed to have soothing qualities.

EMERGING ARTIST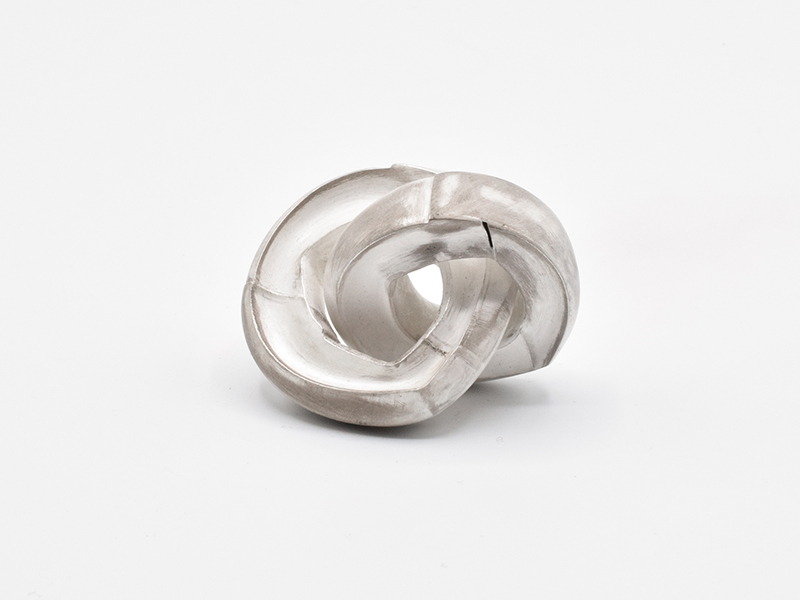 Artist: Lydia Martin
Gallery: Baltimore Jewelry Center
Contact: Shane Prada
Retail: US$525

Lydia Martin is a contemporary jeweler living and working in Baltimore, MD. Her work, based in process and material skill, becomes an investigation of intentions and consequences. This brooch, made of sterling silver, bears the marks of its making, each seam highlighted or hidden in turn by its color and finish. Martin received an MFA from the State University of New York at New Paltz in 2017, and a BFA from the Rochester Institute of Technology. She has exhibited her work nationally and internationally, participating in exhibitions in Germany, China, and The Netherlands, and most recently presented a two-person show at Heidi Lowe Gallery. She's currently represented by Jewelers'Werk Galerie, in Washington, DC.

GALLERY CHOICE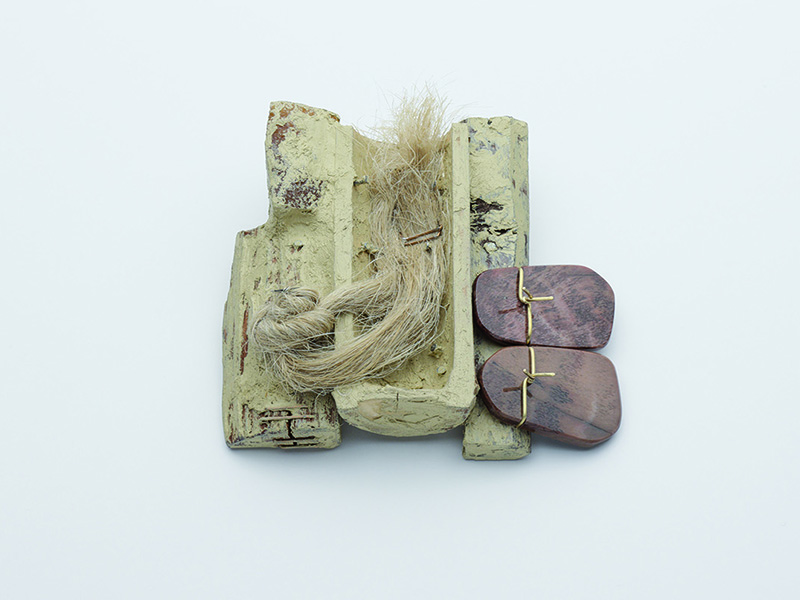 Artist: Iris Bodemer
Gallery: myday-byday
Contact: Laura Helena Aureli
Retail: €1,650
myday-byday gallery, in Rome, presents German artist Iris Bodemer with her brooch Ingredients, made of wood, petrified wood, amber, 18-karat gold, nails, staples, oil paint, and hemp.

GALLERY CHOICE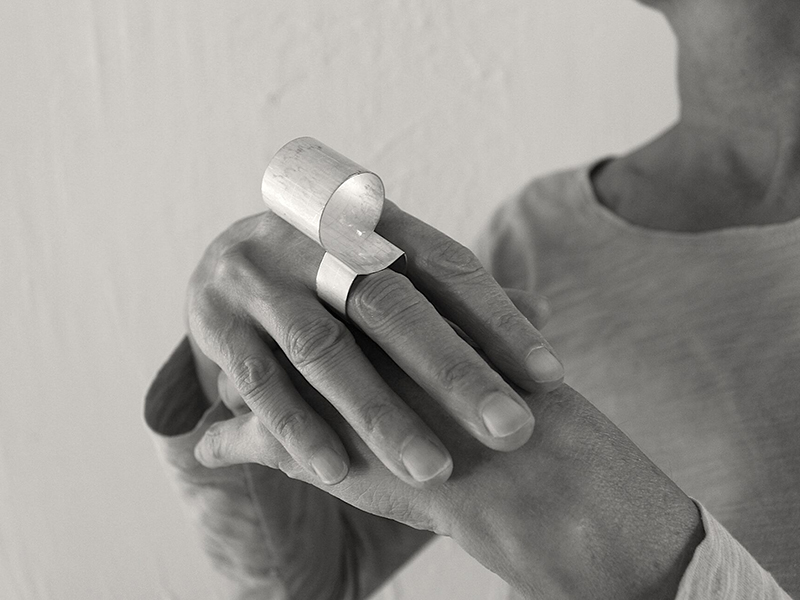 Artist: Noam Elyashiv
Gallery: Gallery Loupe
Contact: Patti Bleicher
Retail: US$1,700

Noam Elyashiv's artwork explores relations between line, plane, and volume. She believes jewelry should not be imposing in appearance or weight. Inside Out Grid and other new work by Elyashiv may be seen November 2–27, 2019, during her solo exhibition at Gallery Loupe.

GALLERY CHOICE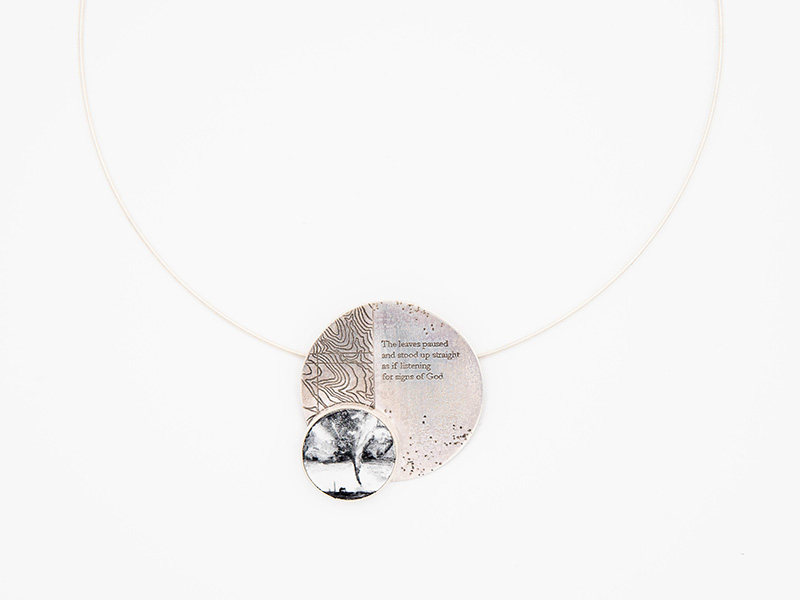 Artist: Teresa Kiplinger
Gallery: Metal Museum
Contact: Alicia George
Retail: US$375

Hand-painted enamel on sterling with engraved original poem by Teresa Kiplinger.

GALLERY CHOICE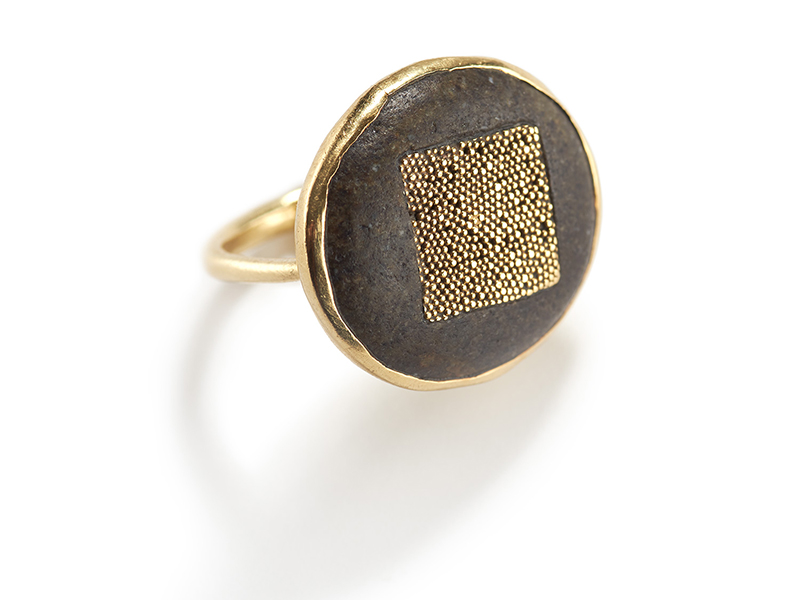 Artist: Harold O'Connor
Gallery: Patina Gallery
Contact: Allison Barnett
Retail: US$2,800

A touchstone to the exotic, earthen majesty of Harold O'Connor's keen conception. With river stone, O'Connor creates his desired design. Emboldening its form in high-karat gold, he holds our attention to the middle of its distinguishable shape. A lustrous field of gold granulation: The ancient embellishment remains a long-lived technique that yet beckons one's continuous fascination. Admire the textural complexity of his work; its opulent domain renders a noteworthy amalgam of unique invention amongst his trove of imagination. Part of Patina's November exhibition, The Contemporary Estate Collection, opening November 15, 2019, O'Connor's work shares the story of its multiple lives and continues on its journey of everlasting beauty.

GALLERY CHOICE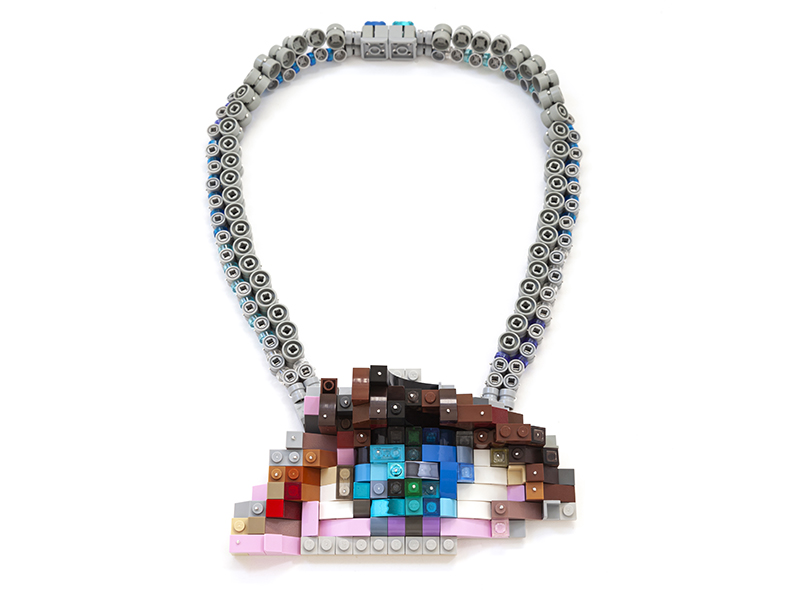 Artist: emiko oye
Gallery: Ombré Gallery
Contact: Jenna Shaifer
Retail: US$1,996

Eye 1: Hope is from the exhibition 2 Be Seen. emiko oye invites the public to experience mindfulness and Nonviolent Communication (NVC) as simple practices we can implement in our day-to-day interactions to begin to acknowledge the humanity of every person and create the positive change we wish to see in the world. oye's study of NVC with her teacher, Judith Hanson Lasater, has led her to "personally experience the transformative nature of stillness, presence, and intention to understand people with care and curiosity. While this is foreign territory for many of us, putting these practices into action does create positive change. Everyone has the basic human need to be seen and heard—it is a Universal Truth. How we regard, relate to, and interact with one another, especially those whom we regard as the 'other,' can have a profound impact." As a fourth-generation Japanese-American, born and raised in Cleveland, OH, oye explores the transgenerational trauma of her family's experience with discrimination and injustice. She earned her BFA from Syracuse University, and is based in San Francisco, CA. Utilizing LEGO® and semiprecious materials, her jewelry tugs on the nostalgic heartstrings and artfully interweaves memories into conversation-sparking adornment.