Velvet da Vinci, San Francisco, California, USA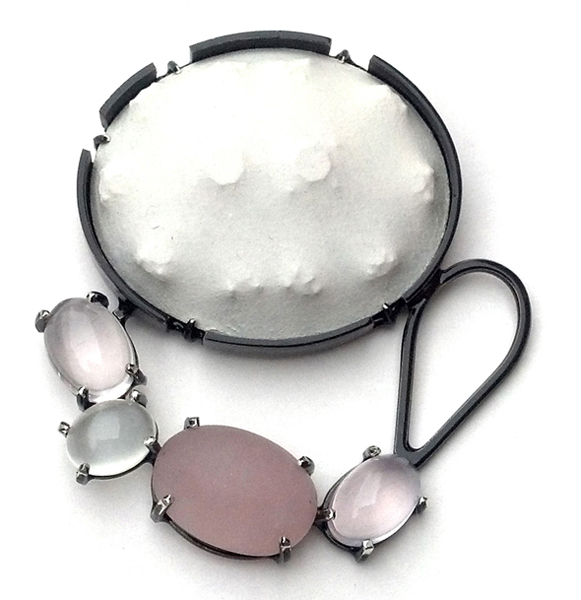 Mike Holmes and Elizabeth Shypertt of Velvet da Vinci gallery have once again inspired another curated exhibition Monochrome Noir. The work was chosen by the makers Michael Dale Bernard and Tara Locklear. This show brings together some fresh work and represents a broad spectrum of approaches. The featured artists are Allyson Bone, Sara Brown, Ashley Buchanan, Kat Cole, Gabriel Craig, Robert Ebendorf, Réka Fekete, Arthur Hash, Sarah Holden, Yevgeniya Kaganovich, Nick Mullins, Katie Poterala, Marissa Saneholtz, Loring Taoka, The Opulent Project, Robert Thomas Mullen, Tanel Veenre, Stephanie Voegele, Sarah West, Laura Wood, Leia Zumbro, and including Tara Locklear and Michael Dale Bernard themselves.
Susan Cummins: What inspired the theme of black with a color accent? Why not totally black?
Michael Dale Bernard and Tara Locklear: All black jewelry is a three-word statement. The Monochrome Noir theme is not that simplistic. It is not about black. It is not about accents. It is about a symbiotic relationship of a bold color and a deep void of any color. The show began with three artists that Velvet da Vinci was interested in putting together. These makers had a certain affinity for a dark palette but were clearly not afraid of color. Yet, each of these artists had only a few pieces that successfully combined deep black fields with color in a way that provided an equal visual emphasis to both. This equality became the goal or stimulus for the show, and the idea was transposed onto the other artists' established styles.