Galerie Rosemarie Jäger, Hochheim, Germany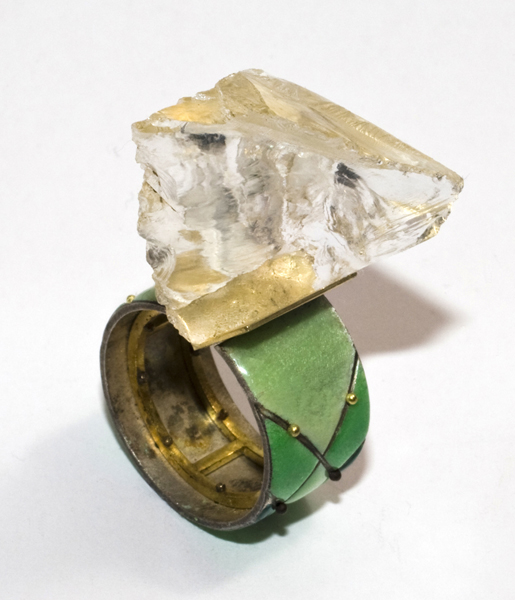 Rosemarie Jäger had been noticing how many couples there are in the jewelry world, and suddenly one day, she realized that it was a great idea for a series of shows. This one, with Beate Klockmann and Philip Sajet, is the first, and appropriately it is called Frühling or "Spring" and is the beginning of the series. It is fascinating that there are so many couples working together or at least living together. It will be fun to interview some of them and understand better how that works. I am very curious.
Susan Cummins: Please tell the story of where you were born and raised and how you became interested in making jewelry.
Beate Klockmann: I was born in the GDR (German Democratic Republic) and raised up in a little town in Thuringia in Ilmenau. Johann Sebastian Bach lived in this area, and I like that because I feel connected to his music, but I have no musical talent at all. My father and my mother both worked in the porcelain industry, and I got my drawing talent from my grandmother. She was a workaholic, making cloth the whole day long with a lot of creative ambitions, but she did not have a lot of possibilities during the war. I decided to make jewelry spontaneously after seeing a slideshow that was shown to introduce different departments of the Burg Gibichenstein, Hochschule für Kunst and Design, Halle, Germany. I remember I was touched by a photo of a classically made little precious box with blue enamel and golden animal inlays. I hadn't looked at jewelry before.
Philip Sajet: I was born in Amsterdam and raised by a French mother of Russian descent and a Polish-American (step) father. We travelled to Djakarta, Indonesia, where I saw a lot of Chinese antiques—so beautiful, so magnificent. I love tradition. I think that 96-percent of what I do is based on accumulated knowledge. Well actually, I am being very presumptuous here. I should have written 98.7 percent.