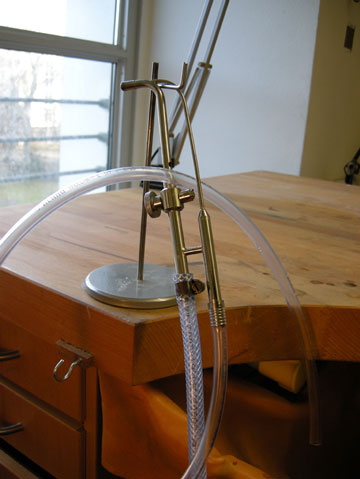 In response to the opening of the Milwaukee Art Museum show called The Tool at Hand I asked a group of jewelers to talk about their preferred tool. Most of the work I have seen by Attai has been in paper so the choice of a torch was a bit of a surprise to me. He is a talented young jeweler studying at the Munich Academy with Otto Kunzli.
My favorite tool is without any doubt the 'mouth-blowing torch' or 'blowpipe torch.' I am always fascinated by our extraordinary capacity to turn stiff and solid metal into something fluid. It is somewhat reminiscent of the alchemical process.
Sometimes when I solder, especially with the mouth-blowing torch, I feel that it is like a meditative process. There is something almost hypnotic about this phenomenon, when the melting point reaches its highlight.
When I first saw the mouth-blowing torch I was completely excited by the idea that I can in fact really be part of the process that I described, that I could join in and control the temperature with my own breath and in a way bring a part of me inside this extraordinary experience.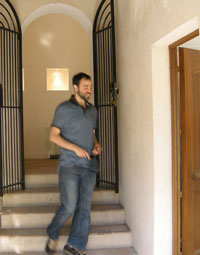 Attai Chen was born in Jerusalem, Israel. He received his first degree at the Bezalel Academy of Arts and Design in Jerusalem in the Department of Jewellery & Fashion. After one year of having a studio in Jerusalem, he moved to Germany to continue his studies at the Academy of Art in Munich, with Professor Otto Künzli. He is just about to finish his studies, and in the meantime is establishing a new studio in Munich.