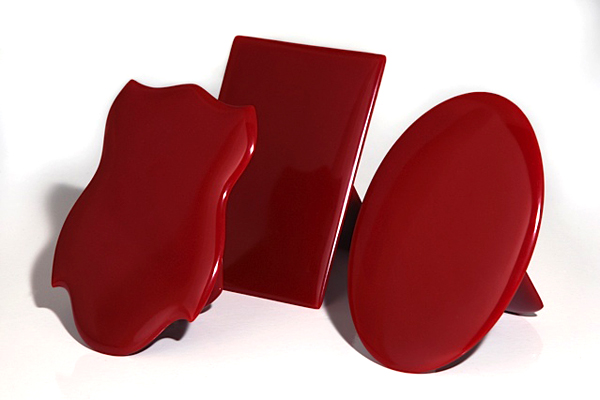 Anna Rikkinen and Helena Lehtinen organized the exhibition Lahti Korut and both live in the city of Lahti, Finland. They use the city as an unusual topic for a jewelry exhibition. This show appeared first in Lahti, then in Munich during Schmuck, and now is being presented at Galerie Pont & Plas. How successful is the show as a whole in capturing the feeling of the city? How successful are the individual pieces? It was a big project about a complex topic.
Susan Cummins: What is so special about the town of Lahti, Finland, that it inspired you to curate a show about it? How did the project evolve?
Anna Rikkinen and Helena Lehtinen: Lahti is our hometown. In 2012, Lahti was the World Design Capital together with Helsinki, Espoo, Vantaa, and Kauniainen. Our project Lahti Jewelry was selected to be part of the official World Design Capital Helsinki program.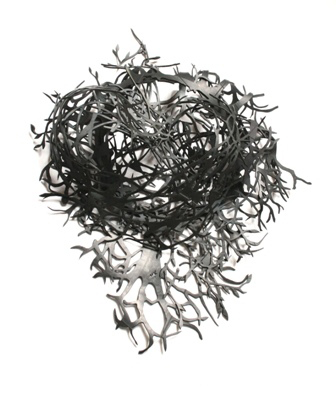 Lahti has more than 100,000 residents, making it the eighth largest city in Finland. The word lahti means bay, and the town is situated by Lake Vesijärvi (the Water Lake). Nature gives Lahti a distinctive look. The town has a wonderful variety of terrain. However, most of the buildings are from the 1970s. Lahti with its surroundings forms an interesting unity. The surrounding nature and the city's architecture create contrasts that work as a source of inspiration for artistic work.
Lahti is also traditionally considered a meeting point for different cultures. Its location in the heart of southern Finland, along a busy railway line and at the junction of several highways, is superb. There's also a long tradition of jewelry education in Lahti. We wanted to present international art jewelry for the residents of Lahti.
How did you present the project to the participating artists?
Anna Rikkinen and Helena Lehtinen: We made a selection of interesting artists and invited them by an email. We hoped they would be curious about our small and somewhat ugly city. We asked them to create a new piece of jewelry for Lahti or of Lahti. We hoped they would create a piece based on their visual feeling of Lahti. We sent them some information by post and gave web addresses for information such as the Lahti city website and Google maps. They also had some size limitations and information that the exhibition would be displayed in the store windows of downtown Lahti.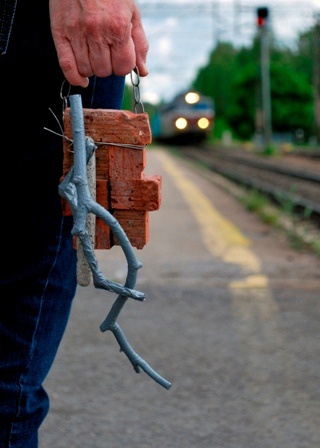 The international roster of jewelers included in the show are Sara Borgegård Älgå, Kim Buck, Gemma Draper, Iris Eichenberg, Jantje Fleischhut, Javier Moreno Frias, Gésine Hackenberg, Hanneke van Hage, Hanna Hedman, Jeannette Jansen, Agnes Larsson, Mia Maljojoki, Amandine Meunier, Eija Mustonen, Gitte Nygaard, Seth Papac, Ruudt Peters, Tinna Rajakallio, Constanze Schreiber, Nelli Tanner, Ketli Tiitsar, Terhi Tolvanen, Tarja Tuupanen, Tanel Veenre, Francis Willemstijn, and Annika Åkerfelt. What criteria did you use for selecting these artists?
Anna Rikkinen and Helena Lehtinen: We used very selfish criteria for choosing the artists. We appreciate their work and most of them are personal friends.
Did all these jewelers come to Lahti in order to create a response in the form of jewelry?
Anna Rikkinen and Helena Lehtinen: The artists didn't visit Lahti during this project, but many had already visited either the city or Finland at an earlier time. Some had a brief encounter, but others stayed longer and saw more aspects of the city and our country.
Did you feel that everyone involved was able to capture the feeling of the place? Can you describe a couple of pieces that you really feel describe the city?
Anna Rikkinen and Helena Lehtinen: Some artists adopted the feeling better than others. Terhi Tolvanen has been studying jewelry in Lahti and has had a personal relationship with the city. She knew it well, so she could capture the essence. Lahti is also a famous winter sports city, so in her piece, Terhi mixed this with her personal history. From her statement: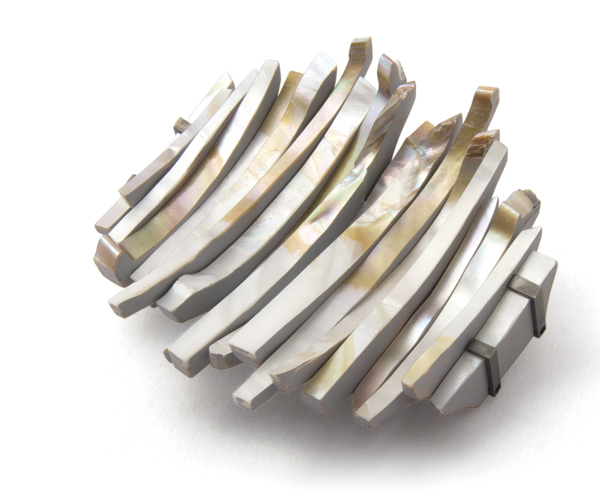 After I finished my studies at the Institute of Design and Fine Arts in Lahti, I left for Amsterdam to continue my studies. There, I became acquainted with jewelry design and fell in love with it! I still live and work in Amsterdam, but Lahti has, in a way, launched me into the world! The brooch Jumps is originally inspired by the famous ski jumps in Lahti. The brooch expresses a row of different jumps; sometimes they're steeper and sometimes shallower… Terhi Tolvanen
The other example could be Kim Buck, who captured the Finnish nature in his pieces in his own special way.
Is it fair to ask a small piece of jewelry to take on the job of capturing the ethos of a place?
Anna Rikkinen and Helena Lehtinen: Of course not. Such a small object cannot necessarily fulfill this task, but we hoped that the exhibition as a whole might provide an idea of what Lahti and Finland are like.
Is the catalogue of the show available? How can someone find it?
Anna Rikkinen and Helena Lehtinen: We had a limited edition of 500 catalogues. They were available during the exhibitions in Lahti, Munich, and Gent. During the exhibition at Gallery Pont & Plas in Gent (through October 2013), you can contact the gallery or us if you are interested in the catalogue.
Thank you.
Gallery Pont & Plas, Gent, Belgium