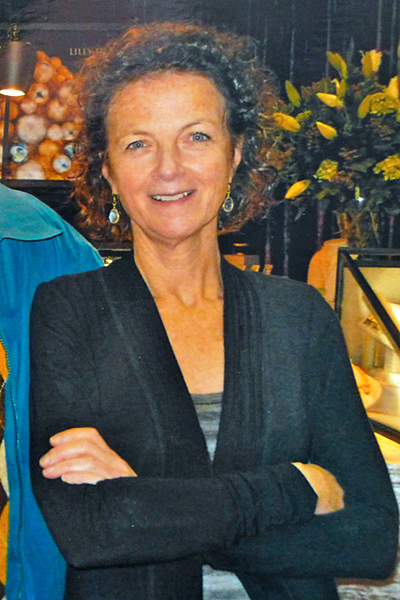 Ivan Barnett from Patina Gallery in Santa Fe, New Mexico, has known Lilly Fitzgerald and Judith Kaufman for many years, but they have never shown in his gallery. Although both jewelers have made a habit of showing on their own at craft fairs and in private showings, Ivan convinced them to present work with him during the opening of the opera season in Santa Fe. It is an exciting time of the year for the city, and Lilly and Judith will be attending the opening at the end of June. It is an experiment on everyone's part to see if the gallery system can work for these two independent makers. 
Susan Cummins: Can you tell me the story of how you discovered that you wanted to be a jeweler? Where did you learn to make jewelry?
Lilly Fitzgerald: While in school at the Worcester Art Museum I studied painting, but we were required to take introduction classes in all media. Metal was a material I connected to immediately. So I started making work on my own, started selling things, and then I left school and worked for myself making jewelry and selling it.
Judith Kaufman: Becoming a jeweler was not on my radar. At 16, I was kind of a shy kid and had no passion for anything in particular. My mother had a friend who made silver jewelry. She asked if she could "borrow me" for a six-week class as an experiment to see if teaching jewelry would be something she would enjoy. It was a very basic class held every Wednesday for six weeks. I learned the usual basics of piercing, soldering, filing, polishing, etc.
I really enjoyed the hands-on experience, which led me to find a bench job at a retail jewelry store followed by a job working at a wholesale manufacturing venue. On weekends, I would exhibit my work at craft shows all over New England. In 1973, I opened my own studio, located in an old dynamite factory, with 27 other artists. While there, I enjoyed building my own collection as well as taking commission work and meeting the public. The environment was ripe with talent and filled with creative energy. 

You both work in high-karat gold and colored stones. Why have you chosen these materials, and do you have favorite stones and why?
Lilly Fitzgerald: In my early days, I worked only in copper and silver. When I started working with stones—which I did pretty quickly—I found that gold was the perfect environment to make the color of the stones really vibrate. I do not put a high finish on metal. I like the dull glow of the high karat. I also love the way high-karat gold ages, and so it is always great to see old pieces on my customers. The finish achieved through being worn is the final step in their making and not one I can do with my hands. From the very beginning, moonstones have been a favorite of mine because they are the perfect combination of light, balance, and movement.
Judith Kaufman: I used to work in silver, copper, and brass. I enjoyed working with these metals mostly because I was attracted to the tone-on-tone quality when combining them into a piece. I switched over to using fine silver and 18-karat gold and then realized the beauty and elegance that only gold and its various colors can offer. Pairing rose gold, green gold, and 22-karat gold with stones feels very natural to me. Some of my favorite stones include tourmaline, opal, carnelian, diamonds, sapphires, turquoise, moonstones, and agates. What makes them my favorite is not necessarily the stone, but more importantly the stone's character, as well as its shape, dimension, and proportion. All of these characteristics are critical.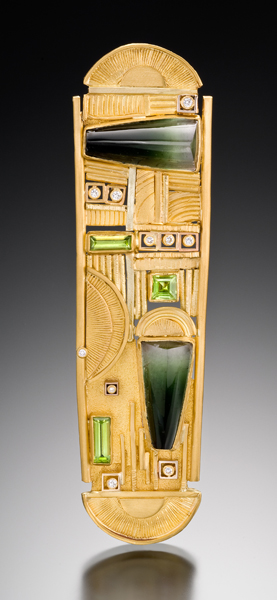 What kind of impression do you hope your jewelry will create?
Judith Kaufman: I hope that people will respond to my work viscerally and have the urge to examine it closely. I would also want them to feel inclined to try it on, because great jewelry begs to be worn and enjoyed. Integrating the human form with the jewelry is my goal.
Why have you chosen to do the craft fair circuit and not show in a gallery? Can you explain what does and doesn't work in representing your own work to your audience? Why did you opt out of the gallery system?
Lilly Fitzgerald: In the beginning I did craft shows, but around 20 years ago the show schedules prompted me to start seeing my customers in New York City in a private setting. I rented a hotel suite and invited them to come and see my new work. I have done this ever since, both New York and Los Angeles. My customers love the format. It is more like playing and exchanging ideas and is very beneficial to both sides. The work is not in cases but placed throughout the suite. People try it on and ask questions and talk to other clients.
I still do a few public shows, such as the Philadelphia Museum of Art Craft Show and some American Craft Council expositions, and through them I have built up a great customer base. The gallery system leaves out an important component for me. I like to know where the pieces end up and see them on the client. It completes the arc from maker to wearer.
Judith Kaufman: I've chosen to attend the craft show circuit because I like to meet the people that enjoy my work. It's very important for me to see how my work looks on someone. It informs me on many levels and helps me when I'm back at the bench designing and creating new work. What doesn't work well, however, is the very busy schedule that comes with attending 8 to 10 shows a year, and all the setting up, taking down, and the very long hours. But, I removed myself from the gallery system because just receiving a check in the mail from a sale was unrewarding. I work in one-of-a-kind jewelry, and I like to meet the person for whom I was making that particular piece. It is a mystery that eventually gets solved.
Why did you decided to do this show at Patina Gallery? What was compelling about Ivan Barnett's offer?
Lilly Fitzgerald: I have shown my work on the east coast and west coast but not really in between. I feel Patina Gallery represented a way to reach informed and discerning customers. I had been into the gallery several times and felt the space would be a nice fit for my work. This is an experiment for me. I am accustomed to really knowing my clients and being there and talking to them about the work and materials as well as helping them try on jewelry. To relinquish that part of the process is unknown territory for me.
Judith Kaufman: I am coming to Santa Fe for many reasons, mostly to be a part of Patina Gallery's exhibition, but also to enjoy its people, galleries, and natural surroundings. I showed my work at Ornament Gallery for many years. The response to my collection was very positive there.
Your show will open during opera season in Santa Fe. Are you interested in opera, and was that a draw for you to attend your opening?
Lilly Fitzgerald: New Mexico itself is the draw for me. For a long time, I have felt a deep connection to it, and Patina is an established gallery. Attending the opening will be a way to be introduced to their clients, and perhaps meet some of the people who might end up wearing my work.
Judith Kaufman: I am not a huge opera fan, but I am interested in seeing everything I can while visiting.
Can you recommend a book you have recently read?
Lilly Fitzgerald: Yes, I have two books to recommend—The History of the World through 100 Objects by Neal MacGregor and Avian Architecture: How Birds Design, Engineer and Build by Peter Goodfellow.
Judith Kaufman: I am currently reading Blood, Bones, and Butter: The Inadvertent Education of a Reluctant Chef by Gabrielle Hamilton
How about an inspiring book on jewelry?
Lilly Fitzgerald: Yes again. I recommend these two—Line Vautrin: Sculptor, Jeweller, Magician by Line Vautrin and Patrick Mauries and Gilbert Poillerat: Maitre Ferronnier by François Baudot
Judith Kaufman: Jewelry Through the Ages by Guido Gregorietti
and One of Kind: American Art Jewelry Today by Susan Grant Lewin
Thank you.
Patina Gallery, Santa Fe, New Mexico, USA