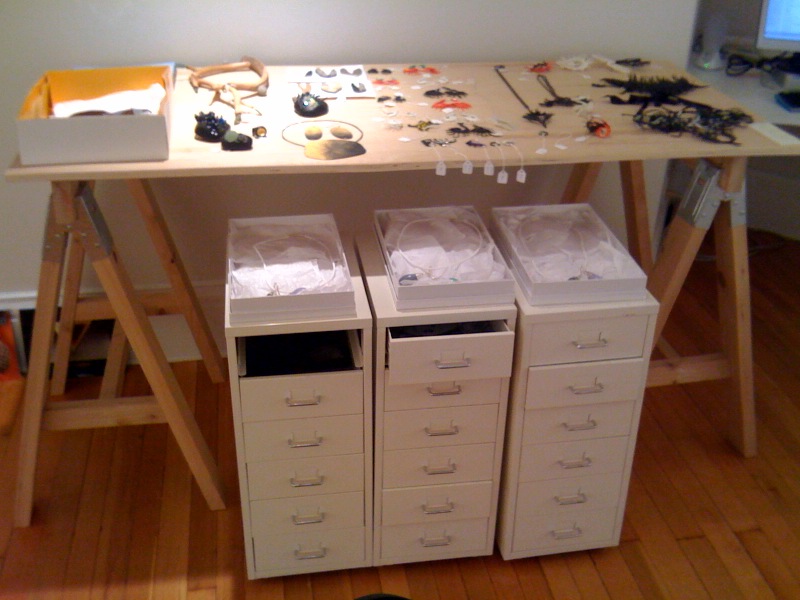 Five days out from opening night, the Society of Arts and Crafts (SAC) in Boston is a site of purposeful activity. The previous exhibition has come down and is being packed away in preparation for sending back to the makers and new owners. The gallery walls are clear, the floor is dotted with empty boxes and rolls of bubble wrap. The next show, From Minimal to Bling: Contemporary Studio Jewelry, is due to open on Friday November 4, 2011. This is the third time SAC has hosted this exhibition. I asked Fabio Fernandez, exhibitions director at SAC, if he could explain to me exactly what the show is about.
Essentially it is a mini survey presenting the work of contemporary practitioners who we think are doing good and interesting work. With a number of fine art schools in the area, work in the exhibition has the possibility to become an extension of the classroom. We therefore attempt to make selections that mirror or anticipate current methods, materials, processes and themes . . . plastics, CNC, felt, found materials, narrative . . . Our selections are informed by our attendance at events like the SNAG conference, where Beth Ann Gerstein (SAC director) and I have served as portfolio reviewers, by what we learn when asked to be visiting critics at universities and by artists whose work we encounter when we are asked to be on jury panels. We also keep abreast of developments on sites like AJF, Crafthaus, Klimt02 and the like.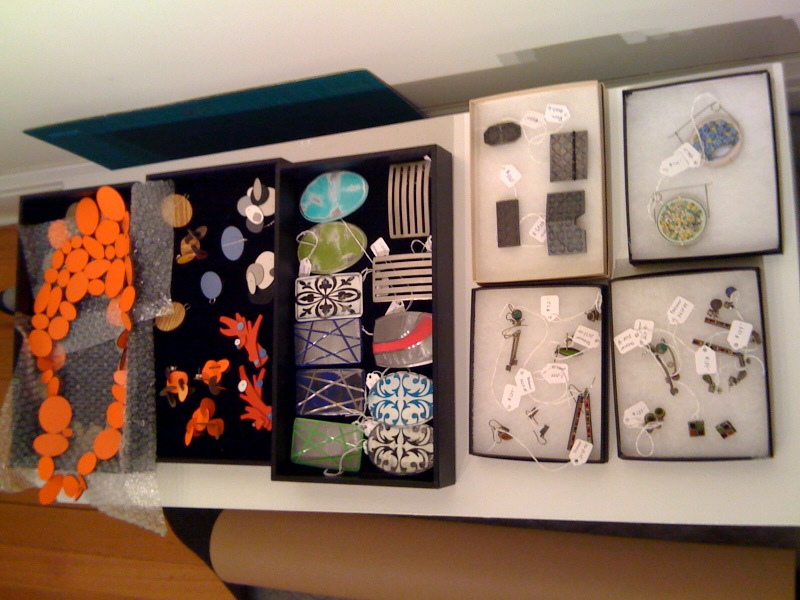 At the time of my visit, From Minimal to Bling exists as jewelry stashed in metal drawers and arranged across the surface of a trestle table. Everything is labeled with a white tag attached to the objects by string, which has the last name of the maker and a unique number on one side, the price on the other. It is a potential exhibition, awaiting realization in the gallery space. I've been invited to view it in this state because I won't be in Boston when the show opens later this week.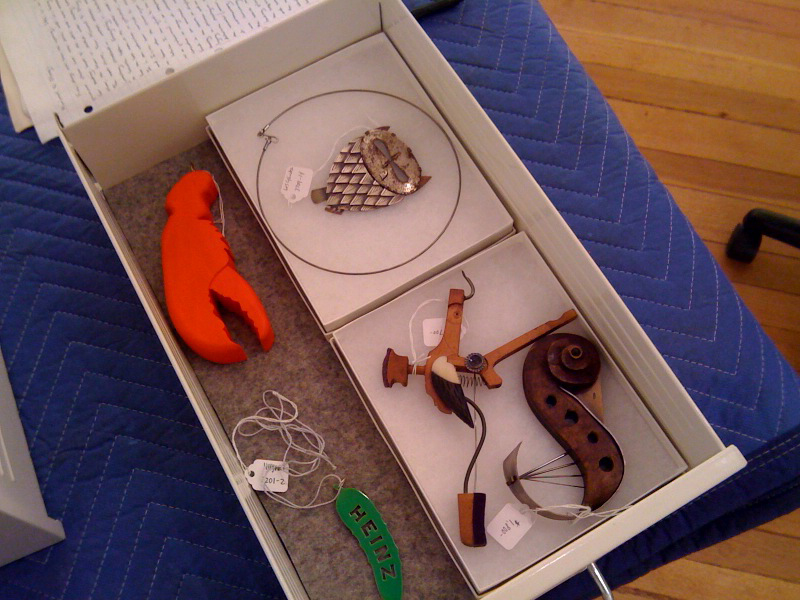 While I am glad to see this jewelry in advance and to have the opportunity to consider it as a professional – as examples of work being done by what SAC considers to be some of the more interesting contemporary makers in America – I find it to be an unexpected type of experience. There is a big difference between seeing the work on display in an exhibition and seeing it in this state, lying in drawers and on the table, somehow vulnerable. Or not vulnerable, precisely, but available, appealing to me not as an art historian or critic, but as a buyer, a potential wearer/owner. What comes to the fore is not what this jewelry means as part of contemporary jewelry practice, as it would if I were looking at an exhibition, but instead the claims and appeals that these works make to me personally.
While this experience is taking place in a gallery, it isn't a gallery experience. Rather, it is the same as the kind of experience you have at home. Doesn't most jewelry that is owned and worn actually live in drawers just like this? From the many, one piece gets selected, chosen to be picked up, looked at, worn. Doesn't jewelry inhabiting the drawer lie exactly like this, protected and safe yet somewhat ungainly, meeting other pieces of jewelry in unexpected combinations that are about size and shape, rather than more common curatorial conceits? It is a strangely moving encounter because the jewelry's availability calls forth my own needs and requirements, the way I might connect to these objects, invest in them and make them mine.
 The effect is no doubt aided by the white tags and the boxes and velvet bags in which some of the jewelry sits, which evoke the shop or retail space rather than the gallery and thus emphasize purchase and ownership rather than disinterested contemplation or artistic concerns. Tags and boxes play up this jewelry's homebound status. It seems strange to me that the price tag doesn't seem to disrupt my experience. Instead, it seems that in being reminded that these are commodities, items for sale, the jewelry dimension of contemporary jewelry is activated – more so than later when they will go on display as part of an exhibition in the gallery space.
I also find it amusing that some strange and unexpectedly appropriate readings of this jewelry's meanings turn up during this experience. Toby Milgrim's jewelry made out of the plastic casings of Pilot pens (emptied of ink) return, transformed, to the place where pens naturally live, as though having some memory of a previous life in the office drawer.
Jennifer Wall's candy colored cameos and flowers seem more playful when seen together in the metal drawer, as though this setting emphasizes their lineage in costume or children's jewelry, as inexpensive and delightful objects of play, rather than the precious, ancient treasures more usually found in a museum vitrine.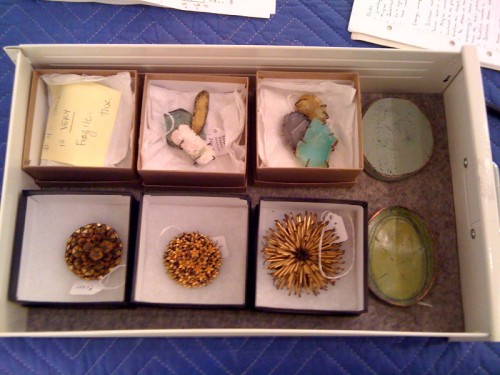 A single drawer divided between Brooke Marks-Swanson's brooches made out of mineral elements and Judith Kinghorn's floral brooches doubles the feeling that we have stumbled into the natural history halls of a museum or science department.

Having had a good look at the work, I carefully replace the drawers and restore the jewelry to its preparatory state. Like most people, I enjoy the rigor and thought of a well-installed exhibition, but I feel fortunate to have encountered From Minimal to Bling before it's public life begins. Stripped of the visual and textual strategies that come with being on show, I am encouraged to find that contemporary jewelry remains surprisingly powerful and affecting as objects to be worn and cherished.