Susan Taylor and Peter Jones are based in Canberra, Australia, where their home houses a substantial contemporary art and jewelry collection. They also curate exhibitions, drawing from both collections in their Spare Room 33 gallery. A few month ago, I got to see some of the art and jewelry they own. The latter is kept in cardboard boxes, many of them from the galleries where the pieces were bought. In the course of our conversation, more and more pieces just kept emerging from them…
Manon van Kouswijk: When and how were you introduced to contemporary jewelry?
Susan Taylor: I guess I started by being very interested in mid-century Scandinavian jewelry. My mum came from a poor family, but when they did buy something, they would buy the very best they could afford, so they bought these very strong and simple Scandinavian jewelry pieces. I was always interested in that very clean modern silver, no emphasis on gemstones, diamonds, or anything like that.
Once I started developing my own taste in terms of contemporary jewelry, I would say the moment for me was when I saw the graduate collection of Blanche Tilden at the School of Art … so that would have been in 95 or 96. It was just this watershed moment of "this is it," this is what I've been working my way toward.
Peter Jones: The watershed moment for me was going to see Susan Cohn's Technocraft exhibition, which came to the National Gallery, in 2000 I think. We went to her floor talk and we were blown away. We really loved the nature of the work and how it was very conceptual, each piece and each exhibition had a particular theme, it was quite tough work but beautifully made. It was mechanical, industrial, and precise.
So that was 2000 and that was around the time that we started to collect art as well.
Susan Taylor: We then bought a donut bracelet that had been part of Cohn's 1994 Way Past Real exhibition, which was a significant early acquisition. It's number 47. Numbers are really important to us; this is the number of the road out to Eltham, that's where Peter comes from.
Seeing Otto Künzli's work at Gallery Funaki in the early 2000s was also very important in embracing a more conceptual approach to jewelry. Buying the Gold Makes Blind rubber bracelet was an important leap of faith and a commitment to the value of ideas.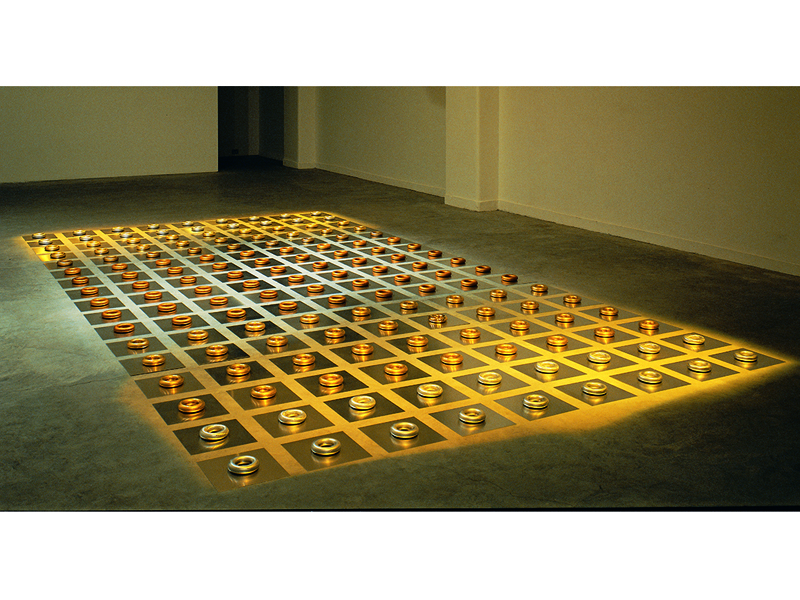 Do you make decisions together when you buy something, or do you each also decide individually?
Susan Taylor: Both. With jewelry, it's interesting: Even though we consider it as part of the art collection, I think we feel comfortable making decisions separately as well as together, because they are smaller pieces, essentially, and personal, too. But I would say that we mostly make decisions together.
Peter Jones: Because Susan is more knowledgeable about jewelry, I'm happy for her finally to decide what to buy, but we always have to discuss it, especially in an exhibition. It's like any art exhibition that we see: We scan the entire exhibition, usually separately, and then come back and share notes on what we think are the strongest pieces. And we pretty much always have similar views on what those are, whether it's an art exhibition or a jewelry exhibition. We might pick three or four pieces and then we narrow it down and discuss between ourselves why we think one piece is stronger than another, and if we can't make a decision between two sometimes we'll buy both. In one case we bought five works at once from the same jeweler (the jeweler had been on my radar for a long time and these pieces all worked perfectly).
Can you be more specific about the criteria that determine for you what the strongest jewelry works are?
Peter Jones: It's hard to define specific criteria but in the end it's about the "rightness" of a particular piece, which is a combination of the quality and attractiveness of the idea, how well that idea is executed in the form of the piece. That includes the piece's technical quality, and also its visual impact and how well it communicates itself, which can include qualities of subtlety or quietness or humor.
Susan Taylor: I find it really important to also consider production pieces; they are often really good. We bought a piece by Peter Bauhuis that is 3D printed (Orifice) and it works really well, it's such a good piece. Good production work can be as important as the one-off.
Is there space for disagreement in the collection?
Peter Jones: There was for the first piece Susan bought of Helen Britton's work. It was a brooch called Night Garden, and there was another brooch that was very beautiful. But the actual debate we had was that it was beautiful, but was it too beautiful, would we get sick of it?
Susan Taylor: It was Mari [Funaki] who said: You need the tough one. And I said, you're right, so we went with the tough one.
Peter Jones: I think most times if you go with something tougher and harder, you'll end up with something more rewarding in the longer term.
Susan Taylor: Early on I was buying smaller pieces that were very wearable, I still had an office job where I wasn't wearing the boldest pieces, and I also think you kind of have to build up, you get more demanding of the work, you expect more from it and you want to be more surprised by it and you want it to do more for you over the long term.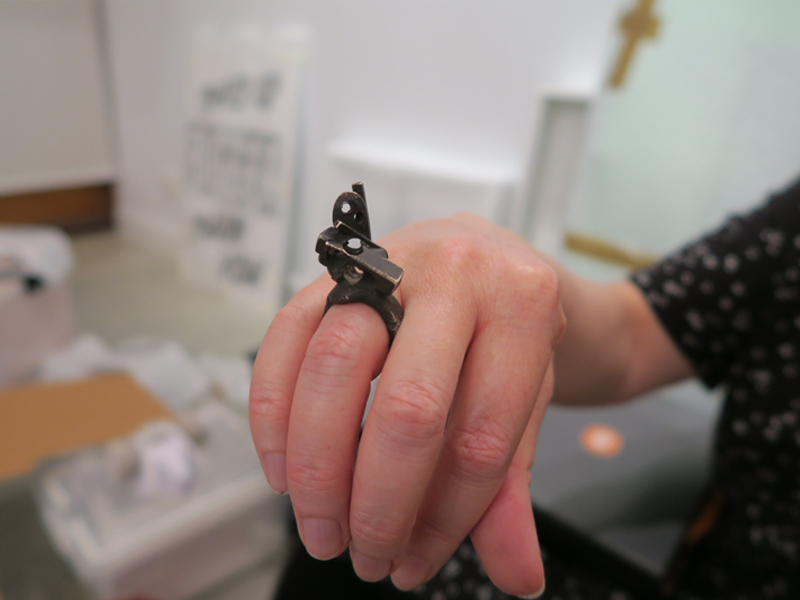 In terms of disagreement, remember the Karl Fritsch ring?
I really wanted a Karl Fritsch ring and I had workshopped extensively on what I might buy. I had narrowed it down to a few pieces and I gave the pictures to Peter and said, I am really interested in these. And while he is really good at buying me presents, he is really terrible at picking up on things that I am hinting at because he hates things that aren't surprises.
Peter Jones: I just wanted to exercise my own judgment and there was a better one.
Susan Taylor: So he bought me something completely different. I was angling for something that had the gemstones with the rusted nails through it and he bought me a Karl Fritsch that is not really like many Karl Fritsch pieces. I looked at it and thought about it for two days and I had to really work hard and then I decided that it was really good. In fact, it's perfect, it's the perfect ring for me. I didn't know it, but Peter did.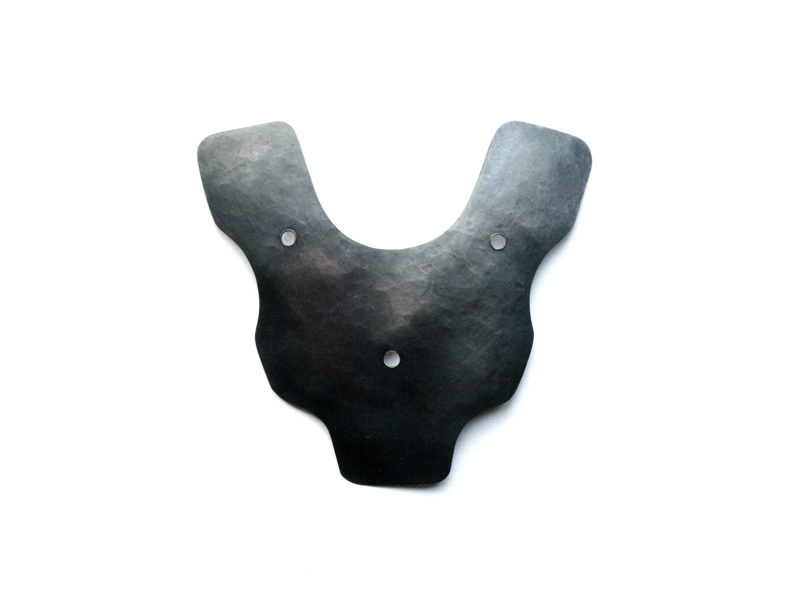 If you think of collecting as an ongoing learning process in which you develop your way of looking and also your thinking, would you be able to point out a few key works that progressed your ideas about jewelry?
Peter Jones: I think the Warwick Freeman piece that I bought you was a departure.
Susan Taylor: Yes, Peter bought this for me as a present. I didn't know the work, it's a breastplate of hammered-out silver called Gasket Face. It's tough and it's large and it's industrial and it's far from polite, and pretty confronting. It reinforced our interest in looking beyond conventionally fine and aesthetically beautiful pieces.
Also the pieces by Nick Bastin, which are crazy expressionistic agglomerations of plastic detritus and not at all conventionally beautiful. I doubt that I would have considered these early in our collecting.
Another big moment in terms of what has changed our direction is an awareness of Lisa Walker's work. I have thought about her work for a long time and discussed it with Peter and others, especially her use of glue, which I find very challenging! It has taken a long time for me to find a piece that speaks to me and fits into my collection, partly because of the price, which makes it a very significant purchase. In the past there have been a couple of pieces I almost bought but didn't. We recently bought a massive green stone neckpiece which is constructed almost like a sculpture and has those formal abstract qualities that I like in sculptural forms. That has spurred me on to research Lisa's work in more detail, and I find myself more drawn toward her jewelry, especially pieces that are more difficult than the one I have bought. There are going to be more Lisa Walkers in my collection, I am sure!
It's probably less and less important to me whether or not I'm going to wear something, although I will wear almost anything. In my mind there's always the option to wear it.
Would you say there is an Australian focus in your collection?
Susan Taylor: Yes, but I would say that's simply because that's what we have the most access to. Most of the international work we've bought through Gallery Funaki. I'd say it's not a conscious choice, it's just availability.
Can you tell me how the jewelry exhibition at Spare Room 33 came about?
Peter Jones: We wanted to do a jewelry show because it's an important part of our overall collection that perhaps people weren't as aware of. Spare Room 33 is about giving visibility to parts of our collection that aren't usually on display. But from such a large collection, how do you make a selection that has some coherence? So we decided to do a show on what we described as "conceptual jewelry," and it was really interesting in terms of the debates; we then had to decide, "is this piece in or is this piece out?" We actually set criteria which were very similar to the criteria for conceptual art in the late 60s/early 70s. The jewelry is judged to be conceptual if it meets one or more of the following criteria:
The idea is paramount insofar as the piece is primarily an exploration of that idea;
The idea interrogates the nature of jewelry;
The idea interrogates concepts of value;
The idea involves the concept of non-materiality;
The jewelry is the product of a system of instruction, which may or may not incorporate randomness and may result in the piece being constructed or not constructed;
The jewelry includes performance as a primary element.
We titled the show You've Lost Me as an ironic commentary on the conventional response to challenging conceptual art work, and that title also works on the invitation card, which was designed to be worn as a neckpiece.
As we wrap up our interview, I have a bit of a heavy question: Do you consider what will happen with your collection when you get old?
Susan Taylor: Yes, we have been thinking about that a lot lately.
Peter Jones: You can try and make a donation to a worthy institution, bearing in mind that if it's a major institution, it will obviously just put the work in their storage room and bring it out once every 10 years. You can go for another institution that doesn't have much of a collection and therefore would appreciate your donation. But the thing with institutions is that their priorities change, their directors change, curators change, and down the track they might change their views completely. The other thing is that you could just put it back on the open market and let other collectors buy it.
Susan Taylor: We've been thinking that that is an option. Friends of ours who are big art collectors said it's not a bad thing when your collection goes to auction and people like us, who would really want to buy those pieces, have the opportunity to get them. And maybe people will just wear it. Because I don't want it to be locked in a gallery's storage facility. I think that's really sad, I want it to be out in the light and enjoyed by people. Because that's how I feel a bit when I'm buying these more significant pieces now, I feel like I rescue them from ending up behind glass, where they'd never move and you'd never hear the noise they make…
At the end of the evening it looked like there had been an explosion. There were still more pieces coming out of boxes, and back in Melbourne I got an email saying there were many more that I hadn't seen.
The next time I saw Susan and Peter, they told me they'd acquired a few pieces of Melissa Cameron's new work from the Body Politic exhibition at Bilk Gallery in Canberra. A few days later, in Sydney, in the jewelry exhibition at the Powerhouse Museum, A Fine Possession, I noticed a David Bielander Wiener necklace on loan from Susan and Peter's collection.
I think I should conclude by saying that Susan Taylor and Peter Jones take their pleasure in collecting seriously. Their passion for debating, acquiring, and wearing jewelry extends to the meticulously curated exhibitions in Spare Room 33, accompanied by beautifully written room sheets of a sort that you would wish to encounter more in some public institutions. We are lucky to have them contribute all this to our field!
INDEX IMAGE: (left) Peter Jones wearing a Lore Langendries piece; (right) Susan Taylor wearing Lisa Walker's Pendant, Canberra, 2016, photo: Manon van Kouswijk