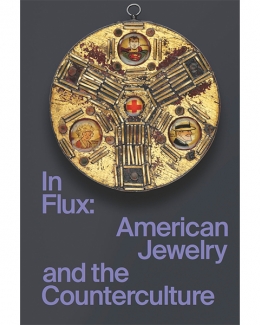 In Flux: American Jewelry and the Counterculture
AJF has sold out of its inventory but you can still purchase this book from The Museum of Fine Arts, Houston. 
In the 1960s and 1970s, young Americans rejected the promise of prosperity, and the suburban dream embraced by their parents. Angry about the Vietnam war fighting for civil rights and eagerly exploring psychedelic drugs, free love and eastern religions, they "turned on, tuned in dropped out," creating the counterculture.
For many American jewelers, these events and values materialized in the studio, as well as in everyday life. In Flux is the story of how jewelry contributed to the raucous, contradictory, and enthusiastic clamor for a new society that made this period so extraordinary.
Specifications:
Paperback, 6.97 x 0.79 x 10.08 inches, 184 pages
ISBN-13 : 978-3897905979
Publisher, Arnoldsche Verlagsanstalt (December 21, 2020)
Language, English