International
03/27/2013
Though not widely known, Paul Mergen is an American metalsmith and educator who has been practicing with focus and purpose for 50 years. In fact, his work has existed outside the mainstream of the metal and jewelry fields, in semi-isolation, for the better part of his career. Mergen's recent retrospective, So What 50, at the Arts Council of Greater Kalamazoo featured 150 works—primarily in copper—spanning 50 years. Accompanying the works were handwritten contextual statements that situated the work within the artist's practical philosophies of making, giving, family, nature, and art. By any measure, the show held a tremendous amount of work with more than 30 shadowboxes and five pedestals in a 700-square-foot gallery. The exhibition highlighted Mergen's prodigious skill, though his technical mastery was almost always in the service of advancing narrative, thematic, or cultural concerns.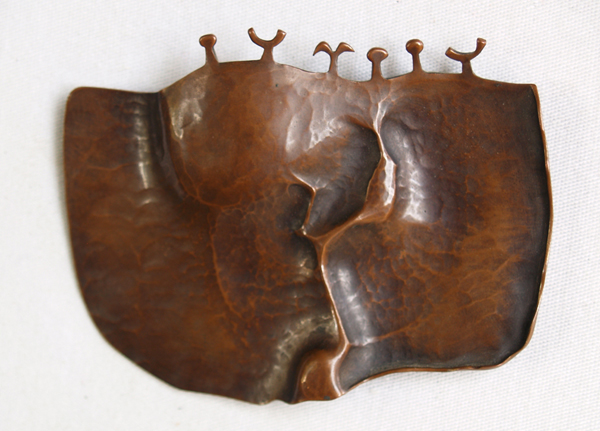 The show was organized in a loose chronology, with obvious thematic trends existing in Mergen's early, middle, and late career. Mergen's earliest works in the exhibition hail from his student years at the University of Wisconsin, Madison, where he was a student of Art Vierthaler and Fred Fenster. (Mergen was, in fact, Fenster's first graduate student in 1962.) In a 2004 interview for the Archives of American Art, Fenster reflected that, "Paul's a natural hammer man. I mean he took (to) the hammer like no one I've ever seen." (Fenster 2004) Mergen's allegiance to copper began with its working properties and conceptual purity. In his annotations, he refers to copper as "the mother metal." From his early career, he used copper subversively, as a low material, perhaps precluding himself from early recognition. The premier works of Mergen's early jewelry combined forging, repoussé, and piercing to achieve contrast in form, visual weight, and texture. A forged and repousséd necklace from 1964 and a brooch with sprout forms from 1972 are two fine examples. These are archetypal works for their time, and it is from this origin—at the center of the coalescing American metalsmithing academy—that Mergen departs, moving toward esoteric interests and developing his artistic inquiry.
By the late 1960s, Mergen had begun to explore additional themes, most notably international indigenous craft traditions. A series of pierced combs and brooches from 1966 demonstrate an early interest in pre-Columbian metalwork. Unlike the cultural pilfering of Robert Lee Morris a decade later, Mergen's appropriations revel in the spirit of the original. They are more in league with revivalism than appropriation.
 Mergen's interest in copper hollowware began with his 1964 thesis exhibition at University of Wisconsin, Madison, and he continued to make hollowware at regular intervals throughout his career. In 1965, Mergen took a job teaching metalsmithing and jewelry making at Western Michigan University alongside Bob Engstrom, whose expertise in Scandinavian design seems to have influenced some of Mergen's work.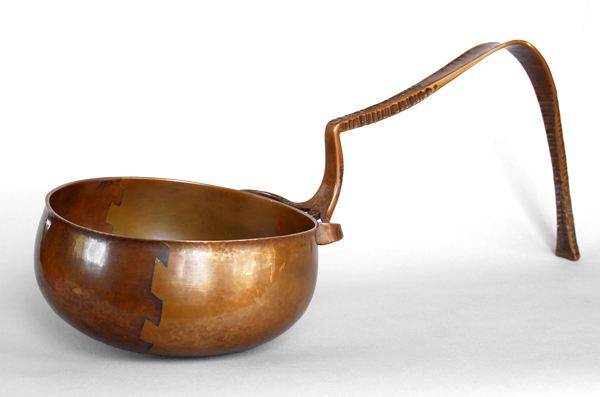 One example is Big Dipper (1974), a ladle/bowl with a keyed seam and a wonderfully complicated forged copper handle. So What 50 features a number of raised and seamed organic copper vessels with multi-node feet. Several notable works are from the 1970s, including Big Dipper and an untitled curvilinear bottle form from 1979. Mergen's vessels from the 1970s, at once formal and whimsical, compare favorably with any hollowware forms today.
The 1970s also saw Mergen gradually shift toward more personal themes with strong narrative imagery emerging as Paul and his wife Brenda started a family in Kalamazoo. Emblematic of this shift is Family Portrait (1976), a substantial necklace with intense piercing and accumulated charms that has clear personal, narrative, and symbolic value. From this point forward, Mergen used both piercing and chasing to create vivid imagery in his work. Through the late 1970s and 80s, Mergen reveals an increasing interest in the representation of nature. Fibers, tumbled stones, seeds, and coins were incorporated into his material and compositional lexicon. Wrapping and bundling also became standard practices.
Engstrum retired from Western Michigan University in 1984, and Mergen became the sole metals faculty. During the late 1980s, Mergen's work became noticeably isolated from dominant trends in American metalsmithing and jewelry making. While others were anodizing and using ColorCore to create highly formal works, Mergen developed a personal vocabulary embracing the sentimental. Chased fish are a reoccurring theme. Fish Ring (1989) is a good example of Mergen's copper work from this period, as is Stick Work Necklace (1994) with its strung seeds and stones, thread-wrapped frame, and immaculately sawn and chased charms that depict farm tools, a bicycle, a slingshot, a snake, asparagus, and a mill bastard file. The influences in Mergen's work shifted almost exclusively to nature, world culture, and his family life.
At a time when craft struggled to emulate and be accepted by the art world, Mergen was expertly utilizing the most traditional jewelry techniques to create substantive works that solely satisfied his artistic curiosity.
Acknowledging the errant nature of Mergen's practice allows critical analysis to exist outside the rubric used to assess historical works. Set within a landscape of willful isolation, Mergen's mid- and late-career output could be approached as outsider or folk art were it not for his academic training and professional position. Frankly, Mergen's folksiness can distract from some of his more interesting technical and relational projects. For instance, in 1988 Mergen began casting and distributing commemorative pewter coins to honor relatives, friends, colleagues, and people he met on his world travels. With the altruistic motivation of sharing his enthusiasm for coinage and commemoration, Mergen minted more than 1800 coins. He distributed them on three continents and in 13 countries and 29 states, quietly deploying one of the longest running and far reaching craft-based relational projects to date. This little known endeavor situates Mergen as a forerunner of social practice artists, such as Michael Strand.
So What 50 includes work from the past 15 years. This most recent period has yielded Mergen's most ambitious works since the late 1970s, bearing witness to lessons learned over a long and prodigious career. Fish Box (2001) is a great example of how Mergen has revisited previous forms and themes, such as the seamed vessel, the multi-node foot, and the chased fish. Since his retirement from teaching in 2003, Mergen has made a series of necklaces that combine large intricately chased medallions with colorful wrapped thread, bundles of sticks, found and altered natural materials, coins, and other elemental forms. Echo of the Sun (2008) and Underwater, Under Sky (2012) are good examples of Mergen's late career style. These tightly composed works demonstrate a reverence for nature, natural phenomena, and historic world jewelry and position Mergen's personal style within a global lineage of jewelry makers. They are certainly the most ambitious works of his later career, clearly articulating the vocabulary of technique, form, and material he cultivated over 50 years.
So What 50 is a generous yet sprawling retrospective documenting the career of a little known American coppersmith. Through So What 50, Paul Mergen shares his passage from grounded studio craftsman to holistic metalsmith shaman. He takes great pains through wonderful handwritten annotation to bring his audience along on his life journey. For the jewelry connoisseur or historian, the work of Paul Mergen presents a highly stylized and sophisticated vision for the fusion of twentieth-century metalsmithing and pre-Columbian and native folk jewelry traditions. Ultimately, the retrospective rewards those who are patient with intricate works that oscillate between sublime cultural conflation and sentimental kitsch.