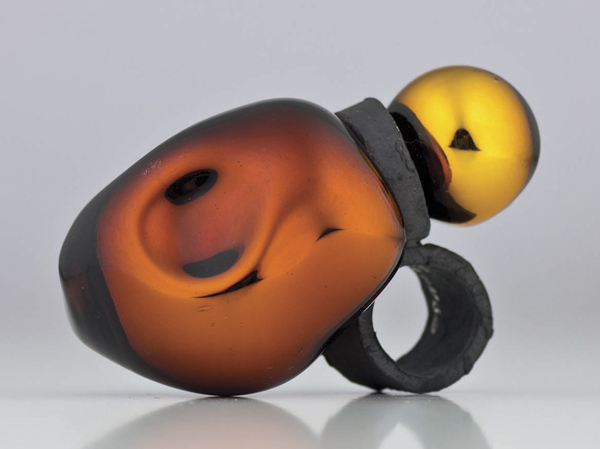 Aaron Faber Gallery in New York City is presenting the work of five master jewelers from Europe and America. In an impressive showing of innovative stonecutters and metalworkers, this exhibit celebrates the creative talents of these jewelers. Patricia Faber answers some questions about the choice of jewelers and what is so special about their work.
Susan Cummins: The title of your show is Dramatic Jewelry. How would you define dramatic jewelry as opposed to any other kind?
Patricia Faber: The title of this show cannot be parsed. It is Dramatic Jewelry: The Five Masters. Usually, gallery show titles are headlines or banners to communicate the essence of the exhibition and to describe it to non-collectors as well as to the jewelry community. So the word "jewelry" in the title is essential. And in the presence of these works, their dramatic scale stands out. These are all artists exploring the sculptural possibilities of their media, and the works are large.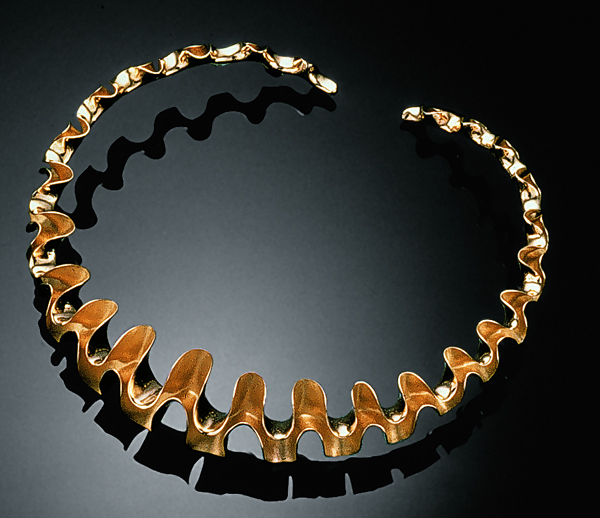 Five masters are the roots of the show. I was taken with what I perceived as the inseparable dynamic of material and concept in these artists' work and in particular Michael Good's work. He spoke at our booth at SOFA NY three years ago, riffing on the metaphysics of his technique, how anticlastic raising is essentially organic, and how it follows the same laws as the expansion of the universe. His decades of "doing the same thing," of exploring metal in the same way, like a Zen practice, seemed to me to have a profound influence on his understanding, or revelation, of his design concepts. To me, this is a master at work, not only able to execute complicated structures, expertly finished and detailed, but informed conceptually by his skill and practice.
How did you decide on these five masters in particular?
Patricia Faber: We represent three of the artists—the Munsteiners, Peter Schmid, and Michael Good—in permanent collections, so I am deeply familiar with their history and work, their expertise and investigations. The other two artists are recent additions to the gallery.  Paolo Marcolongo is a jewelry artist and sculptor from Padua, Italy, whose blown glass jewelry is new and overwhelmingly accomplished. Charlotte De Syllas, from London, England, works primarily by private commission, but her collected works in lapidary are original, sculptural, and masterfully carved.
Can you describe in each instance what is so special about their work?
Patricia Faber: Michael Good's work continues to evolve within the confines of technique, yet this is an oxymoron, because it seems actually to evolve because of technique. His bronze sculptures are a new evocation of anticlastic raising. This larger scale allows the viewer to better appreciate the movement and complexity of these sinuous forms. 
Tom & Jutta Munsteiner … Experimentation. Tom Munsteiner grew up in the experimental gem studio of his father Bernd Munsteiner and is always working with new gem materials in new directions. His wife and studio partner Jutta is a catalyst to this experimentation, introducing new forms and new materials to the oeuvre, such as her series of Personalities jewels and a new collection of brightly colored ceramic-painted gems.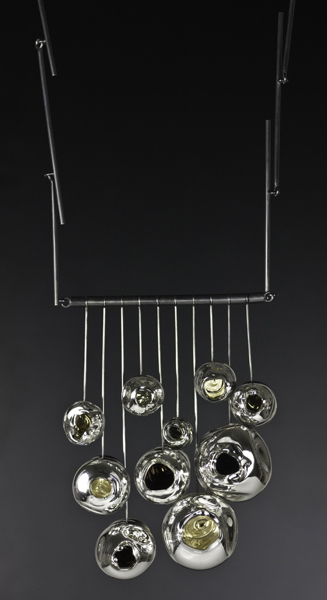 Charlotte De Syllas's works in lapidary are notable for their integration of metal and stone in a single form, such as her Twist ring, and for their sculptural three-dimensional smoothly rounded forms, which are so unexpected in gemstone jewelry. Since most of her work is made for private clients, this is a glimpse of an original mind and hand at work.
Paolo Marcolongo's Murano glass jewelry is remarkable for its breadth of experimentation and the accomplishment of the forms. (This is a collection that the artist has been working on for only a year.) They are erotic, sculptural, evocative, colorful, and exude the essence of their making, which is a momentary breath in hot glass.
Peter Schmid is the successor to German jeweler Michael Zobel of Atelier Zobel. Schmid's training in the atelier is evident in the signature designs of this studio, with their decorative style combining precious gems and metals. Schmid's own designs are more sculptural and sometimes narrative, still based in the flawless technique of the studio, but often unexpected or disturbing, especially in the context of the atelier. Scale has exploded in his work with rings or necklaces that are enormous, set with giant gems or carved Buddhas. The collection remains one of the most interesting being made today.
What is the price range of the work in this show from the least to the most expensive?
Patricia Faber: It's a very wide range from Michael Good's familiar earring designs in sterling silver, priced around $600, to rare gems from Munsteiner in the $50,000 range.
Is that value based mainly on their reputation or on the materials in particular?
Patricia Faber: The value is based on reputation, materials, rarity, and complexity.
Is there a catalogue to go with this show? How can someone find it?
Patricia Faber: There are a limited number of catalogs available through the gallery.
What would you recommend as a good text on jewelry similar to the work in this show?
Patricia Faber: For further reading, I do recommend Metalsmith, which does a remarkable job informing and reporting on the art jewelry field and its makers. But, there is no single text on this current generation of jewelry makers. For the Munsteiner's work, the newly published The Young Generation: Tom & Jutta Munsteiner is a very useful overview.
Thank you.
Aaron Faber Gallery, New York, New York, USA