The Swiss jeweler David Bielander is unique and so is his jewelry. In his current show at Gallery S O, he presents a broad array of his work, going back to the famous 1999 lips. There is always something intriguing, strange, and humorous about his jewelry, and the more you ponder it the more amazing it becomes. He has his own ways of thinking about what he does as well. It is all very curious and fascinating. How does he think of these things?
Recently, David Bielander was chosen by the AJF board to make the 2014 AJF membership pin. I can hardly wait to see what he does.
Susan Cummins: David, can you tell the story of how you discovered you wanted to make jewelry?
David Bielander: My first encounter with the world of making jewelry happened when I was 19 and had to make an unscheduled detour on my straight-lined and not at all naive path to become a groundbreaking fashion designer in Antwerp. A trial week in goldsmithing, followed by a four year apprenticeship as a traditional goldsmith. I did this because of the attraction of the resistance of metal and the handling of fire. But mainly because I was fascinated that everything I learnt was visible on the bench at the end of the day and also everything that I had thought I had learnt, but in fact had not internalized was also visible.
I did this not because I would have been interested in jewelry in any way. I have never been a dedicated wearer, I could not comprehend the notions of enhancing a person, of simple beautification, joyful decoration, or showing off materialized technical virtuosity or splendor, which I learnt would be the parameters of jewelry. Even not after having been the goldsmith for two years of the wonderfully kooky Georg Spreng.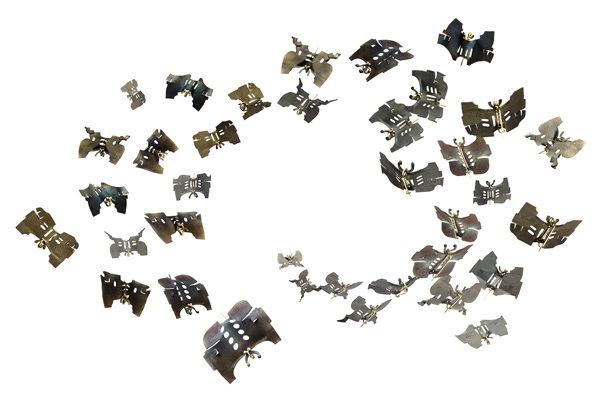 I applied at the Academy of Fine Arts in Munich with a sketchbook called: "How can I prevent jewelry from being worn?" and started my studies by executing ideas from this booklet, works around jewelry.
I had been making jewelry basically for over ten years before I finally could overcome the ridged dogmas of the Swiss goldsmithing guild, and understood the unique potential of this art genre, defined by its specific parameters. I managed to successfully make the first genuine piece of jewelry (a crown cork mouth brooch with a bright red coral cabochon as a flexible tongue), and 1999 the first publically recognized piece, the rubber lip. Since then I am a jeweler.
What is the most important thing you learned from Otto Künzli during your years as his student?
David Bielander: Otto's discourse is the specificity of our genre, the analysis of the unique parameters, which describe jewelry, and the consequential questions and potential propositions arising with a profound understanding of these characteristics.
Often there is a droll humor behind the way something is made and the material used. For example, can you explain why Koi is made of thumbtacks? Why is the beetle made of a spoon? Or some other example you would like to discuss.
David Bielander: You refer to the transformation pieces in my oeuvre.
The key is that I decide first what kind of piece I am going to make, analyze its constitution, and this thorough engagement with its nature means that the optimal object (or material) to transform usually unexpectedly pops up. This flash is the kick. An object or material, where the piece is basically already inherent, and I only have to reveal it. I hardly ever refine materials, and the transformation must be so successful and self evident that the viewer always names the piece first and not the material, although the starting material is still complete and in the open.
So no wonder a koi has to be of red/white/black thumbtacks scales, a beetle's carapace a teaspoon's bowl, or sausages live in a Thonet bent wood chair.
This working method fortunately provides me also with a crucial element, particularly when one works with a cursory clear goal: the surprise. I know what I am going to make, but I must never know how it'll finally turn out.
In contrast to when I would actively design the curves of my sausages for instance, the bentwood chair provides me with irregular, almost unpredictable bends, and most importantly, bends in all dimensions!
Another reason is simply to cause confusion – in a Magritte's sense. It is a play about perception.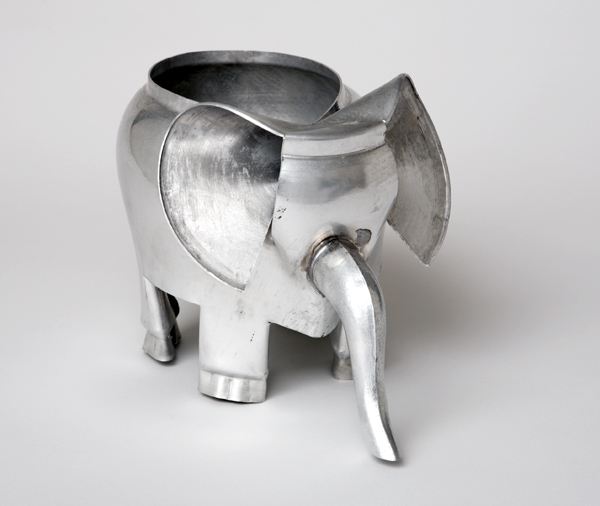 You seem to enjoy doing a wide variety of figurative pieces. Many of them are animals, such as a snake, pig, porcupine, shrimp, and so forth. Do you think of animals as archetypes? In your mind, do they have stories? Could you explain the way you think about animals?
David Bielander: The animal per se doesn't really interest me. It is the relation between the object, the viewer and wearer that I am after. The figure with its manifold connotations – (jewelry) historically, sociologically, philosophically and so forth together with the person is a fantastic stage for a captivating moiré effect.
The easy identification of both the animal ("it's a beetle") and the technique ("it's a spoon") functions like a trigger: it encourages a conscious effort on the part of the viewer to reach beyond the obvious for more subtle layers of meaning. Meanwhile, a controlled amount of abstraction leaves some room for shifts in individual perception of the piece.
How do you decide on the next form for a new piece? Can you describe how Koi joined the existing group?
David Bielander: I have a fairly limited choice of things (this includes animals), which I feel the urge to realize, and which are suitable to become jewelry, and can fulfill the job I want them to do. Without becoming garrulous. Often the things are selected for many years before I manage to "solve" and release them. The black/red/white koi I appointed in 2007/08, but due to my at the time insurmountable technical limitations I released a bronze thumbtacky fish then. Patience and persistence.
When I discover a thing, which is notably over-represented in jewelry  (like thousands of snake necklaces e.g.) I get particularly excited. And I anyway can't invent anything new.
Despite all this, in the end it remains a not yet, and hopefully never fully understood, incomprehensible mystery, of exactly how I finally decide and pick out with great determination another "thing" (or rather: which "thing" itself decides) to become "the" new piece.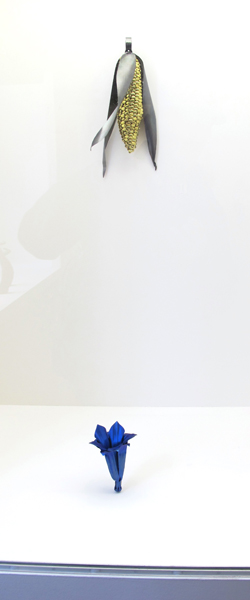 Can you describe how you make your work? Are all your pieces produced in multiples?
David Bielander: My answer about the choice of material pretty much explains my working method. As a general notion: essential is that only through making, something I did not know beforehand becomes apparent. Then through observation of what I have made I am also aware of what I still don't know.
I like the attitude with which one commonly approaches jewelry, applied art in general. It is about the piece, the object, exactly how it is. It is the thing itself that counts, not more and not less.
All of my important theories, social observations and enigmatical sophistries are in the first instance uninteresting. The thing itself has to seduce, has to be intriguing, has to be adequately executed, because – in contrary to other art forms – in jewelry there is no distance between the piece and the wearer, the identification with the piece is crucial.
All pieces are initiated as jewelry. Their place is defined.
Wearing a life-size python as a necklace is a fairly common idea.
The impetus for me is in turning that snake into a piece of perfectly wearable jewelry: her movement, snuggling around the neck, her weight, her color.
Whenever possible pieces are multiples. Usually in numbered and limited editions of 12 or 25, unlimited when it conceptually makes sense, or is just greater fun like the case of the vision of thousands of slugs slugging on thousands of people. And don't forget, I live solely from my work.
What are you reading that you can recommend? Anything on jewelry?
David Bielander:
E.L. Doctorow Homer & Langley
Dave Hickey Air Guitar
Thank you.
Gallery S O, London, England