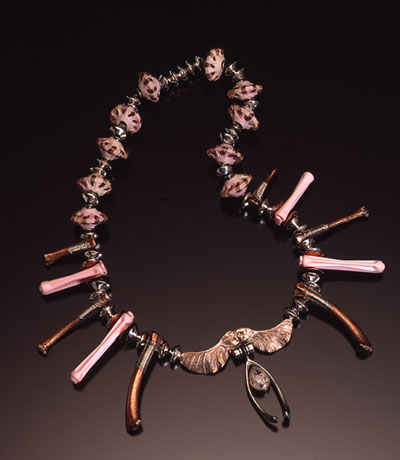 Museums collect lots of things and in the past 10 years or so a number of big jewelry collections have gone into museums in the United States. Helen Drutt contributed hers to MFA Houston, Daphne Farago added hers in the MFA Boston and Donna Schneier gave hers to the Metropolitan amongst others. Those big contributions to big museums set their collecting on a specific course depending on the original vision of the donated collection. There are a number of smaller museums building their collections from a smaller base of contributions who get to determine their own course. The Tacoma Art Museum in the state of Washington is doing just that. The decisions about what should be added and the ways in which the museum is able to acquire them is similar but different than those of the collector. However it seemed to go hand in hand with the Collector's Choice so here is the first explanation of a Curator's Choice.
Finding Favorites in the Collection
Thinking about which work in Tacoma Art Museum's collection of studio art jewelry is my favorite brought back a flood of memories of my first few days at the museum a decade ago. To familiarize myself with the collection, I spent about two weeks looking at the works in the vaults. The art storage was literally kept in bank vaults at our former museum, a 1929 Beaux Arts bank building. One of the strongest memories of these early days was opening the case that contained Initiation Necklace (1977) by Nancy Worden. I was astonished by the visceral impact of this thing that looked like jewelry but that did not have anything in common with what I expected in the collection.
Initiation Necklace defied everything I knew about studio jewelry. As a graduate of the University of Washington School of Art, I knew the broad contours of the history of jewelry in the Northwest. When I was a student, Mary Lee Hu, John Marshall and Ramona Solberg were part of my day-to-day experience in the School of Art building. The university instilled a sense tradition in the well-crafted object and encouraged technical mastery and innovation. Initiation Necklace defied these deeply held beliefs about the intersection between craft and art.
Based on the traditional Navajo 'squash blossom' form, nothing about Initiation Necklace conformed to jewelry. The thing was funky. The copper wire adornments weren't meticulously parallel. The thing had incorporated found objects, but they were fragments. There were electroplated chicken bones! Gross, smelly chicken bones! Probably from somebody's dinner and not even 'honestly' sourced found materials. This necklace wasn't what I wanted.
However, the bawdiness of the work haunted me. I began to obsess about the composition of fragments from home permanent wave curlers. I began to think about the relationship between the silver wire and the color of the electroformed bones. I wondered about the scale and quietness of the rhodonite instead of the baroque centerpiece of the traditional necklace. What struck me was the perfect metaphor that Worden had constructed: the perpetual effort to come into adulthood through manipulated debris.
I have subsequently come to learn that Worden completed Initiation Necklace as an undergrad at Central Washington University while studying with Ken Cory. I have always had an ambivalent relationship with student work in the collection. One the one hand, it is important to have a complete chronological representation of an artist's career. Given the centrality of academic training in artist's reputation, it is probably imperative to have student examples. On the other hand, work created by students virtually always carries the heavy trace of the mentor's hand. Initiation Necklace was a class assignment about form. Obviously, Worden made a spectacular work and, in hindsight, reveals the potential of the young artist. Yet, it is not entirely her thinking and conceptual construction. Despite these misgivings, Initiation Necklace remains fresh, vital and compelling more than 30 years after its creation.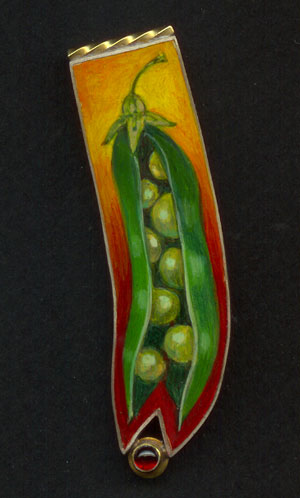 The issue of 'which work got away from the collection' is a complicated one to answer. Because the museum has modest but growing acquisition funds, we have been very cautious about acquiring new works. We are grateful for the extraordinary generosity of patrons with their thoughtful gifts to the collection and have been extremely lucky that our patrons have worked quite hard to acquire new works for the collection. That said, there is one work by Sarah J. G. Wauzynski that stands out in my memory as a significant missed opportunity.
At her first presentation at Facèré Jewelry Art Gallery in Seattle, Wauzynski had a brooch, an open pea pod meticulously painted in tempera. I recall two things about the brooch. First, was that it was so beautifully constructed and painted. Wauzynski meticulously rendered the vegetable in tiny strokes and gave enormous attention to the variations in greens. Secondly, the gesture felt wholly authentic. There was nothing contrived or saccharine about it. Often, such lowly subjects feel twee and precious. This was an image made by someone who cared deeply about the value and meaning of peas and other vegetables. Depictions of farms and farm work in a museum context are virtually absent. To experience a genuinely sincere appreciation of the labor of others and a succinct distillation of an appreciation of farm production is a special occurrence. 
Working in Yakima, Washington, Wauzynski is part of a complex and interdependent agricultural community. Farming is central to the identity of the area and the culture. The city is surrounded by orchards, vineyards, and fields. Migrant labor generates the area's wealth in partnership with the landowners and growers. Deeply conservative politically, a place like Yakima is not a typical arena for the production of fine art. Wauzynski's success indicates that this is changing and diversity is becoming more important.
Although it ought not be surprising, Wauzynski has a connection to Ken Cory as well. She earned her Master of Arts degree at Central Washington University in 1987, studying with Cory. This intellectual tradition is important to Northwest art and jewelry, in particular. With the dissolution of the metals program at the University of Washington, Central's program is the only major training program in Washington State. Support for the artists coming out of the program is crucial for its long-term viability, especially in light of seemingly endless and indisputably draconian budget cuts to higher education. As an institution with its mission focused on art and artists of the Northwest, it is also vitally important for our museum to understand and incorporate works by artists working outside the major urban centers.
Rock Hushka is Director of Curatorial Administration and Curator of Contemporary and Northwest Art at Tacoma Art Museum. Hushka also serves as an Affiliate Assistant Professor at the University of Washington. At Tacoma Art Museum, Hushka has curated more than 50 projects, including recent jewelry exhibitions Loud Bones: The Jewelry of Nancy Worden and The Eloquent Silver Curve: Jewelry by Flora Book.Additionally, Hushka has worked to build the museum's permanent collection, adding more than 1600 works by Northwest artists, ranging from major historical paintings by Morris Graves and Mark Tobey to more than 100 works of studio art jewelry.
Rock Hushka, Tacoma Art Museum