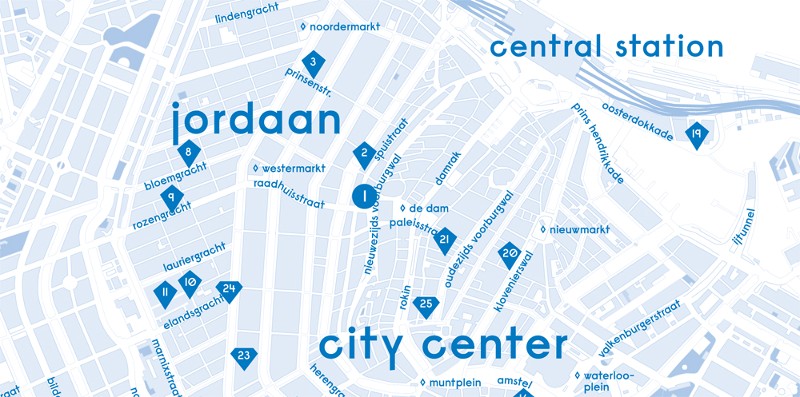 THE SKINNY
B-side Down Town Art Jewellery Festival is a four day event created by and for jewelry artists. As an alternative, a "b-side", to the Sieraad International Art Jewelry Fair, the festival presents artist created exhibitions and special performances across the city of Amsterdam. Initiated and organized in 2010 by MIN-Association, a group of three international jewellery designers: Maaike Ebbinge (NL), Iris Tsante (GR), Noémie Doge (CH), the festival aims to "highlight different ways of thinking about and presenting art jewellery". B-side is about exploring possibilities, in work, venues, display strategies, and public interaction, bringing a relaxed, experimental flavor  with some of the edginess of an underground festival. Overall B-side has a gallery crawl or art school degree show vibe, not related to the quality of the work but to the informal, party-like atmosphere it creates. On our route through the city we visited ateliers, private apartments, redundant commercial spaces, boutiques, cafés, galleries, community exhibition spaces, and outdoor public spaces. Participants included established artists, emerging artists, collective groups, and students, exhibiting an incredible range of work. Each participant organized a venue and designed their own show within the wider framework of the route coordinated by B-side. Since the festival was as much about the method as the content, I hope you, dear reader, will forgive me if I am not only focused on the work…
This year the organizers produced a map available at participating venues with event locations, opening times and short statements submitted by each participants. To start, we downloaded a stripped-down printable version of the map from the B-side blog, which, if you were lucky, functioned as a way to find a venue with a real map – or as a handy place to put your chewing gum if you were not. Fortunately, (with the help of some very attractive, young Dutch men) we experienced the former. Upon securing the official B-side map we looked over the participating 25 venues, including the three main jewelry galleries in Amsterdam. With the exception of the established galleries and a few others, most of the statements on the back of the map provided little insight into the anatomy of the show or venue, but rather outlined inspirations or artistic intentions. Although interesting, these blurbs did not make formulating a plan of attack easy. With Sieraad Fair AND the opening of Liesbeth den Besten's show Unleashed! Limitless Jewelry all in the same weekend, our dance card was ridiculously full. So, despite Amsterdam's supreme walkability, excellent public transportation and unseasonably lovely weather, we found it impossible to see everything. As a person who is only newly familiar with the city, the map, which delineated the carriage ways but not the street names, did not always lead us in the right direction. Those that know me can vouch, I have an excellent sense of direction and am a skilled reader of maps, but this map, although a nice piece of graphic design, was not the adept tool it needed to be for efficient art seeing. We WOULD have made it to an impressive 18 out of 25 exhibitions if we had not, on a few occasions, gotten irrevocably lost. In all we saw 16 shows.
HIGHS-HIGHS & LOW-LOWS
ATELIERS
As a trained maker, visiting ateliers proved to be the most enjoyable. There is something exciting about seeing a makers work space, but it also seems that the warmest atmospheres exist in artist studios. They feel at home, they offer you tea, they want to chat. In a word, these spaces were FUN.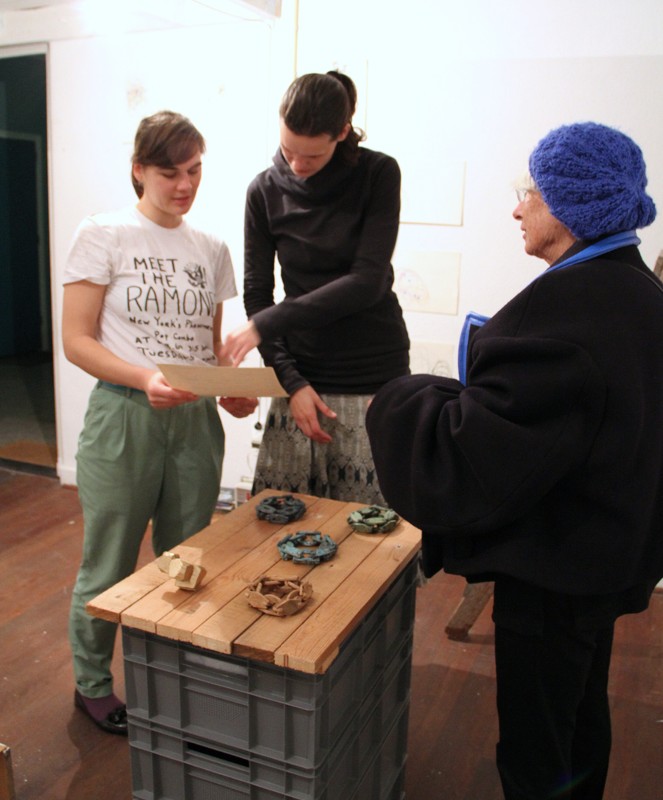 News fro Nowhere, Julia Walter & Antje Godglück
Julia's atelier at Studio Babel is bit off the beaten path relative to the rest of the B-side festival, but in terms of B-side's goals this exhibition was right on track. Although there is nothing revolutionary about exhibiting in a studio space, the work was provocative and the energy was veritable. Visitors and friends chatted with the artists and were offered tea while music played out of an old turntable. One wall was decorated with drawings by Julia's daughter Frieda, which are sometimes mistaken for her own. See more online click here and here.
Julia invited former studio-mate Antje to mount a show together in her large institutional space. The work was simply displayed on the walls and on makeshift pedestals consisting of crates and boards. Both jewelers work relatively big, both with wood, both with similar color palettes, but with very different aesthetic sensibilities.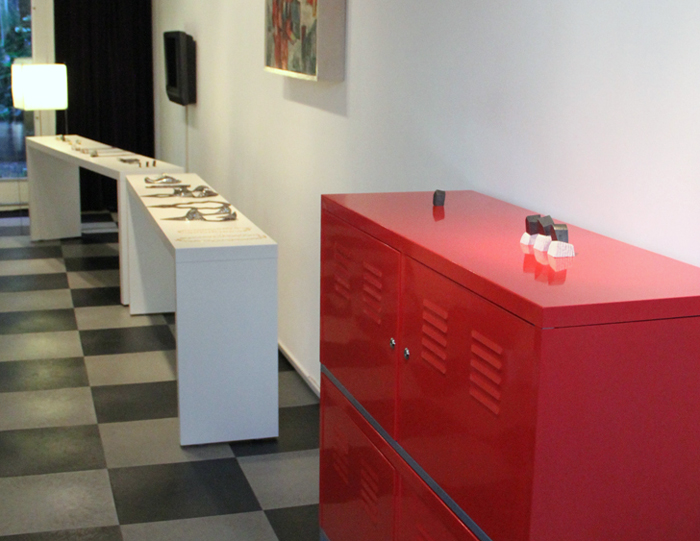 Time, Jack van Osnabrugge & Ariëtte van Osnabrugge
This lovely space serves not only as the jeweler couple's venue for B-side, it is also a vacation rental apartment and for-hire exhibition space right on the Bloemgracht (canal). Jack, former lecturer and course head at School of the Arts, Utrecht and his partner Ariëtte live and work in the a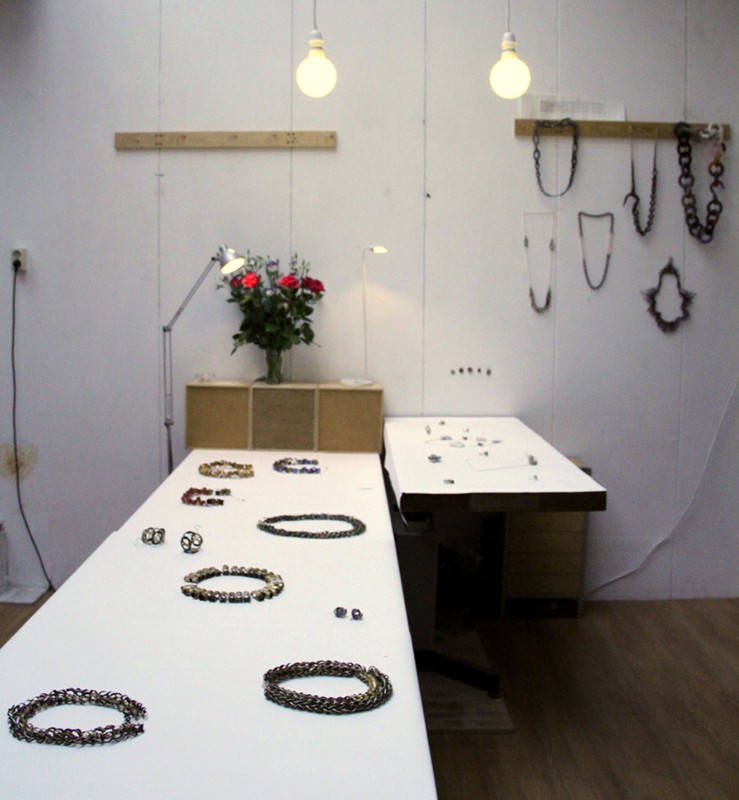 telier above.
Same same but different, Nolia Shakti and Lucie Zampova
 In her studio which boasts excellent skylights, Nolia presented her 'Throw away Gold' collection of necklaces and earrings which are constructed from the colored foil of Nespresso machine coffee capsules and gold. Also on show, the debut of Lucie Zampova's collection of jewelry inspired by the contrasts between the modern and ancient ways of life in Hong Kong.
GALLERIES & EXHIBITION SPACES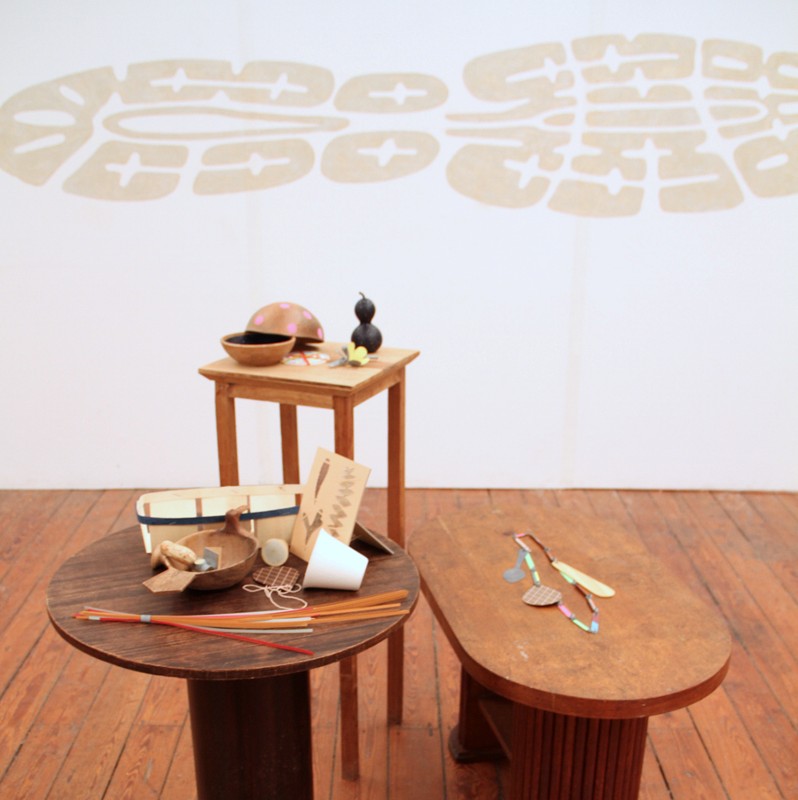 Meganano, Lucy Sarneel and Jelle Kampen
This collaborative effort exploring function and scale by jeweler Lucy Sarneel and Painter Jelle Kampen was housed at Punt WG. This exhibition space belongs to an artist complex, Atelier WG, a former Amsterdam hospital. Lucy's complex jewelry compositions constructed from chalky zinc, paint, wood and other materials, were displayed between and on top of paintings by Jelle.  Jelle's abstract (giant shoe tread?) murals and small-ish paintings which are made on top of photographs of classical sculpture, share the same sizelessness as Lucy's brooches and necklaces. The zinc gives the impression of weightlessness, while the actual scale makes the work nothing less than conspicuous. The work is both fragile and sturdy, present but camouflaged.
Venue: Lauriergracht 160
It was not clear to me whether this space is normally an exhibition space or simply an empty store front rented by B-side participants. Several seemingly unconnected exhibitions were on display inside, including the work of Vanessa de Gruijter and Collective A?.
I was a cloud, Vanessa de Gruijter
The front of the space featured jewelry and ceramic sculpture by Vanessa who spent last year in residence at the European Ceramic Work Centre in Den Bosch, NL. Trained as a jeweler at the Gerrit Rietveld Academy, Vanessa has more recently engaged in ceramic studies of the anthropomorphization of the animal kingdom by humans.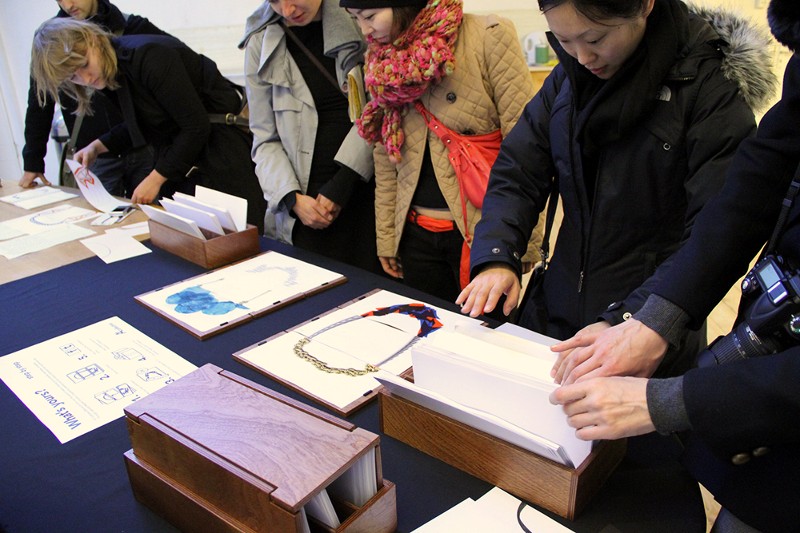 What's yours?, Collective A6
A6 offered visitors the opportunity to compose their own jewelry via a three-part booklet of illustrations. Each personalized design was available to the designer as a postcard. A few lucky designers will win their real necklace made by the collective.

STORES/BOUTIQUES
Where the heart is, Min-association (Maaike Ebbinge, Iris Tsante, Noémie Doge)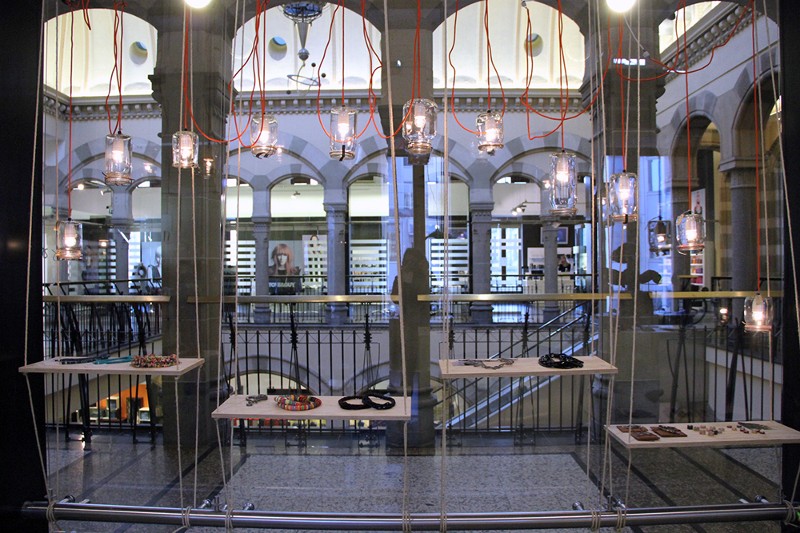 B-side organizers, Min Association, displayed their own work in the front windows of HYM Concept Store, located in the Magna Plaza Shopping Center. The work lay on suspended plywood shelves with Mason jar lamps hanging above. Considered the B-side headquarters, the concept store shows the work of many Dutch product and fashion designers. That said, the Concept Store already seems like it a space one might to find art jewelry (although there were some uninspiring commercial pieces as part of the concept stores display). It seemed that the point of the B-side is to create interventions in spaces that "art jewelry" does not normally occupy, but this isn't one of those spaces. What about a cardiologists' office? Or a bakery? It just seems that if the aim of the festival is to "to highlight different ways of thinking about and presenting art jewellery", then the headquarters should also take that shape.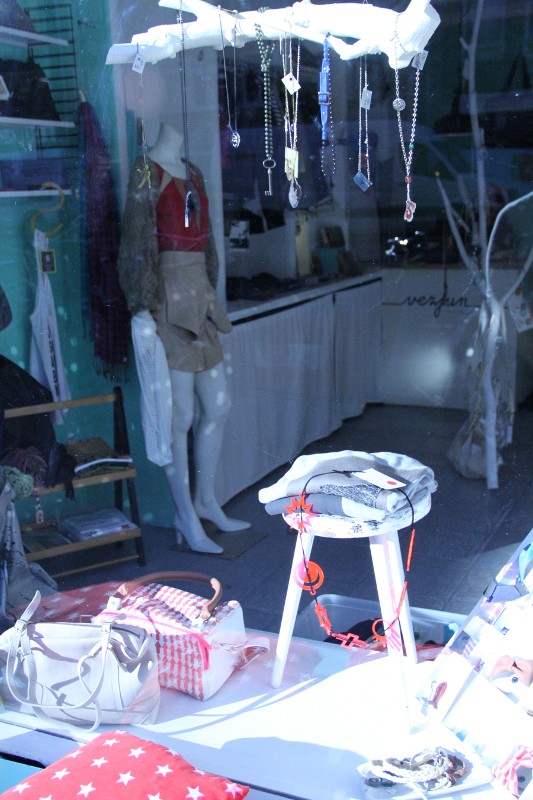 They all love you, Bea Correa
The problem with this show was that the exhibition concept was not made clear enough. The work is technically and aesthetically like a lot of trendy fashion jewelry; fluorescent laser cut Plexiglas, black knotted cord, of religious symbols watered down by context. The statement proposes a redesign of the concept of God. "Man has evolved over time. God is still thinking, behaving and dressing like a medieval." Are they purposing a makeover for God(s) in a fashion boutique? Like a supreme Extreme Makeover? Is this necklace (of which I might add, there were two – identical, the other hanging near the shops register), made for God? Or is it made for our various images of God? Or is it just another secularly inclusive, one-love, fashion accessory? I never really found out.
ALT-VENUE SHOWS

Mute Items / Talkative Objects, Morgane de Klerk
In her wee apartment show, Morgane displayed a progression of her playful works which are part jewelry, part sound-object. Some of these jewelry/instruments can literally be  played while others are built from musical instrument parts. These pieces either make noise or have in the past, retaining that memory and meaning within the material. Also on display, a series of short videos illustrating the work. After enjoying her show and chatting, Morgane sent us on our way with a much needed sugar rush via stroop-waffles for the road. Check out videos of her work in action at: morganedeklerk.blogspot.com
Miscellaneous, Pia Farrugia, Marie Debrinay, Fanny Agnier and Oya Kozacioglu
Part of what can be interesting about presenting work in a space not normally used for art is the possibility of tailoring the presentation so the work creates a dialog with the context. Potentially, an exhibition in an alternative venue can create a new way of seeing, thinking about, and interacting with work while questioning assumptions about space. This unfortunately did not happen in Micellaneous. The group of former colleagues showed interesting work, but in a make-shift exhibition space consisting of pedestals of stacked pizza boxes with less than adequate lighting. The exhibition felt crammed into a corner, sort of moved to one side, as to not disturb the patrons. This may have been because Talia, the Italian café that hosted the exhibition still needed to function as a business. Regardless, this didn't do anything for the exhibition or the café, which could have been better served if the show had been somehow integrated into the space.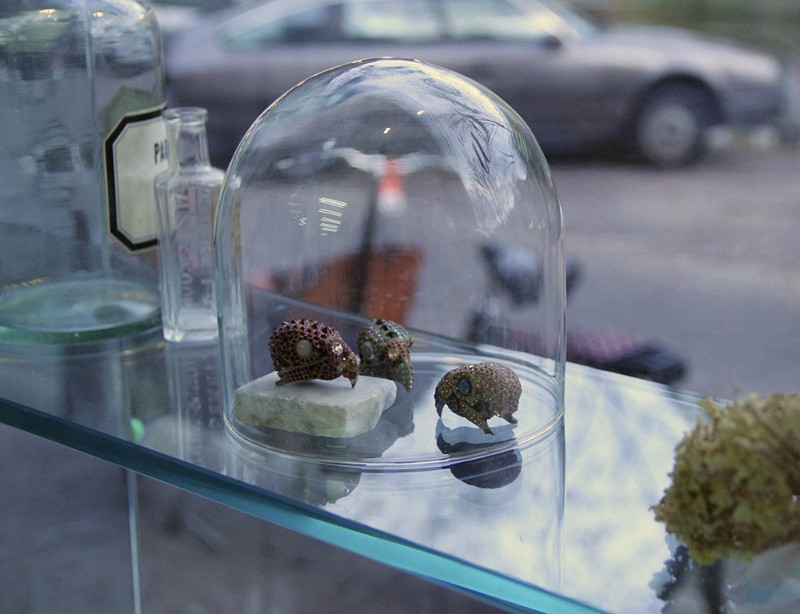 Skin, Jewels and other Curiosities, Florie Dupont and Muriel Laurent
In another attempt to adapt a commercial space, Geneva-based artists Florie and Muriel occupied the front window of custom tattoo shop Dermadonna. Carefully placed under bell jars on glass shelves in the front window, the work was displayed with other curios like snakes in formaldehyde and whale bones. We looked at the work while a tattoo gun buzzed away in the background. While not completely integrated into the space, this front and center placement in a window on busy street made for the opportunity to connect with a different than usual public.
Steinbeisser
Steinbeisser is an organization that describes themselves as, "…a temporary art space that functions as a contact point for diverse forms of artistic expression, a stage for exhibitions, performances and experiments, a store for contemporary jewellery, design and fashion". Several performance events along with the exhibition '10 Years Retrospective of Shoemaker Kei Kagami' took place at the Lloyd Hotel & Cultural Embassy during the B-side festival. Steinbeisser has hosted many events at this location, mostly utilizing the hotel's bar, a bauhausian affair with red and white tiled walls, and a red formica bar.
Performance event 'She decided to by Flowers by Herself', Monika Brugger, Marzena Krzeminska and Simon Tanguy
PUBLIC SPACES
Several performances took place around the city.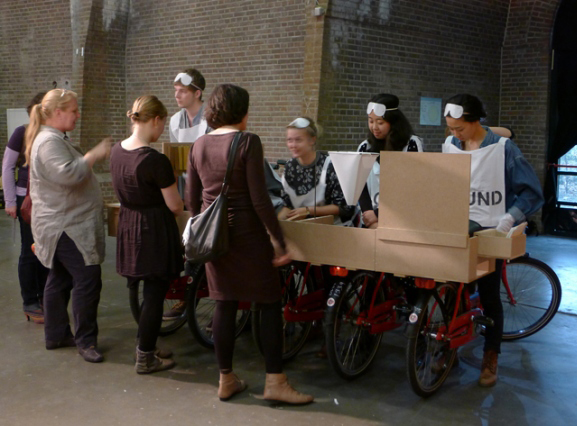 Gerrit Rietveld Academie jewelry department students performing 'Het Sieraad' (The Jewelry). Guest teacher: Liesbet Bussche.

Bórax08001 Collective took over major public spaces such as Dam Square and Amsterdam Central Station performing Jewellery Displaced. The performance consisted of enlarged images of jewelry objects and direct interactions by collective members with the public.
AMAZEMENT & ADVICE
This being only the second year of B-side the organizers have really made something amazing with great potential to grow and improve. The inclusivity of the festival is what makes it special – allowing for a spirit of exploration and experimentation. But, IF the organizers were asking for advice…
First, I would suggest that they consider adding to the artist submitted statements, which mostly function as statements of intent but say little about what it is you are in for as a viewer. With so much to see this makes it difficult to plan a route with much strategy. Some visitors may be interested in more traditional venues or ateliers, while others might be okay with combining their plotted course with some shopping at venue/boutiques or lunch at venue/cafes. Viewer expectations should be critically thought about by both artists and organizers. When viewers are really working hard to see your work, they need to feel rewarded in order to come away with a good feeling about what they see.  Giving them a clue is a great way to start.
Second, make a map that is more than good graphic design – with ALL the street names. There were a few exhibitions we really wanted to see but completely missed (Black to Kawaii & Psycho) because we were lost.
And third, keep doing this! The future of the field is recurring topic of discussion. What should it look like? How will can jewelers reach patrons in the digital age? Etcetera. Events like B-side should be part of it, as a platform for discovery for both artists and viewers.
More info and images can be found on the B-side Festival Blog (http://bsidefestival.wordpress.com/) or the MIN-association's website (http://www.min-association.com/).
B-side Down Town Art Jewellery Festival: 3-6 November, 2011