Shibumi Gallery, Berkeley, California, USA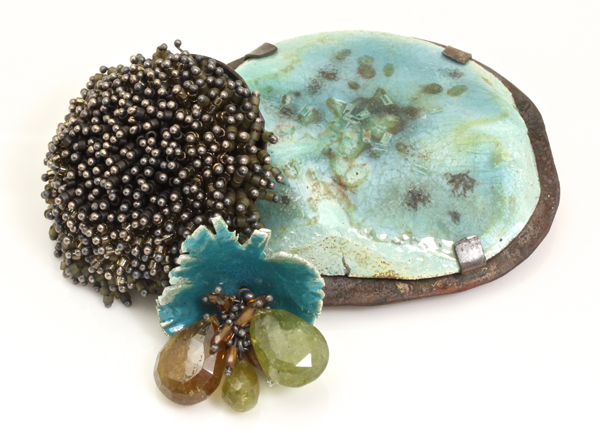 Karen Gilbert is a designer, jeweler, mother, wife, partner in a glass business, and gallery owner. I don't think she can fit one more thing on her plate. She is having a show with Shibumi Gallery, where owner April Higashi is pretty much in the same boat. How do these women do it…and do it so well? In this show called Shift, Karen has shifted the look of her jewelry to a simpler, more colorful style.
Susan Cummins: What is the story of your journey to becoming a jeweler?
Karen Gilbert: I became a jeweler by accident. I was a student at California College of Arts and Crafts in the painting department when I took an elective in the metals department and became mesmerized by the material of metal. I loved drilling it, sculpting it, torching it—all the tactile qualities appealed to me. I switched my major, and at the same time, became involved in the glass department. The two materials had the immediacy that I needed. I love to work quickly and to respond to my materials as I am working. After school, I worked for numerous jewelers, and that led me into creating wearable pieces. I loved that people actually wanted to buy and wear what I created, and that the relationship of maker and collector really gives meaning to art.