Galerie Ra, Amsterdam, Netherlands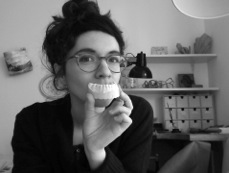 Carina Chitsaz-Shoshtary's work was recently on display at Galerie Ra in Amsterdam, Netherlands, from February 1 to March 22. In this interview, Carina provides us with insight about her use of graffiti as a material and the concepts behind her pieces. 
Missy Graff: Please tell me about your background. How did you come to be a jeweler?
Carina Chitsaz-Shoshtary: It is quite probable that I would have become a musician if I did not have terrible stage fright. My father is an Iranian guitarist for classical and Spanish guitar. We had lots of weekends of music making, dancing, and singing together with friends and family when I was young. On the weekdays, I was with my mother and mainly occupied myself by drawing, painting, and building all kinds of small objects from different materials. My passions for music and creating things developed simultaneously.