International
01/24/2011
Adornment and Excess: Jewelry in the 21st Century was exhibited at the Miami University Art Museum in Oxford, Ohio, from January 21 to July 10, 2010 and was curated by Lena Vigna (curator of exhibits) who recently moved to the Racine Art Museum. This exhibition was elegantly designed and conceptually focused. The works displayed provided a comprehensive examination of questions and solutions put forth by contemporary jewelers regarding precious materials, traditional practices and the function of jewelry as signifier of wealth, status and position. The seventeen participating artists (and one non-profit organization) address these issues from various angles, but all of the works express the tension surrounding the intrinsic value of materials typically used in the jewelry industry.
Two artists, Boris Bally and Harriete Estel Berman, have made recycling the centerpiece of their individual practices for many years. Harriete Estel Berman uses recycled, post-consumer, printed tin containers to assemble a series of bracelets titled Prestige, Value and Identity. Berman uses package advertising images and bar codes to construct identity in much the same way that fine jewelry serves to signify status. In addition to brooches made from recycled aluminum traffic signs, Boris Bally has two necklaces, CENTS*less Necklace and Small Change: Ten Buck Necklace, made from United States copper pennies and silver quarters respectively. Here Bally is reiterating that jewelry's value has always been as a form of redeemable investment, a point brought home originally by Otto Künzli's piece from 1983 titled Swiss Gold: The Deutschmark, where Künzli affixes a pin back to gold bullion. 
Kathy Buszkiewicz also uses money, in her case shredded money (obtained from the Treasury Department) to address issues of materialism, commodification and value/worth. It took her countless hours to sort the strands of shredded money before even beginning the meticulous process of weaving patterns by lining up the images on the currency in The Eyes of George Are Upon You. The title refers to the 1500 pairs of George Washington's eyes that are lined up to create one of the stripes in the woven pattern of this shawl. The money, in this case, is only symbolic of wealth because in its present state (shredded) it is, in fact, worthless. The worthlessness of the materials is juxtaposed with the high value of the labor in Buszkiewicz's work, an idea which is fundamental to its meaning. 
Excess, as the show title states, has a conspicuous presence in the gallery. emiko oye's exuberant constructions made from repurposed LEGO®, as in Cygne Noir from "My First Royal Jewels Jewellery Collection 2009", are made as a homage to jewelry masterworks. In this case, oye creates, with humor and extravagance, an oversized yet beautiful rendition of Rene Lalique's Necklace with Insect and Black Swans from 1900. One can easily dismiss plastic for its banality, but there is a seductive side to the material. The transparent and saturated color of the plastic is deftly used here and, when coupled with an exaggerated scale, creates an aura of power and glamour.
Two of Meg Drinkwater's necklaces, one made from predominantly costume jewelry 'gold' chains, the other from costume pearl necklaces, are both presented as uncontrolled tangles of strands that are then encased in resin to create one massive piece. They both have a bib-like presence on the body and the accumulation of 'stuff' contained within addresses the pure commodity value and, frankly, the lack of imagination present in most costume/fine jewelry. Erin Gardiner Rose uses a similar strategy, but here she uses the ubiquitous engagement ring and heart pendant, copies them and uses them as raw material. In the resulting rings, brooches and necklace, Rose gathers these forms into awkward clusters, denying the component parts any uniqueness or preciousness, thus interrogating ideas of excess, mass production and consumer desire.
A quieter and, perhaps, more sophisticated critique of luxury, consumerism and mass production is found in the 'pearl' necklaces of Yevgeniya Kaganovich. The artist states: 'A pearl is a scar, an imperfection that has been glorified, elevated to a status of preciousness, and prescribed a high monetary value.' All of this is true, of course, but the pearl has been elevated to this status over the millennia due to its exotic origins, symbolic meaning (purity, perfection, integrity etc.) and physical attributes. One can't deny the sensual pleasure of viewing and touching the lustrous surface and the feel of warmth and weight. 
Kaganovich focuses her interrogation on the pearl necklace, once a symbol of the rite of passage into womanhood, of innocence, propriety and decorum. Pearls, as a commodity, have been subjected to mass production techniques that make them hardly recognizable. Pearl farming techniques are such that pearls now come in all shapes and colors (crosses, sticks, discs, rectangles and lavender, 'raven wing', pink, green, etc.). Kaganovich encases her pearl necklaces, in part or in whole, within larger silicone 'pearls' which serve to create a lens-like structure which magnifies issues of production and cultural meaning while denying the sensual pleasure inherent in the pearl itself. These are thought provoking and multivalent works.
There are two community action projects represented in the exhibition. First is Gabriel Craig's Pro Bono Jeweler video of performances he gave at various locations where he brought his jeweler's bench out on the street and, while making silver and polymer clay rings, engaged the public in dialogue about making and meaning. Some of the residual rings made during the performances are on view in the gallery; others were given away during the performances. 
The second project is the Radical Jewelry Makeover Project created by the non-profit organization Ethical Metalsmiths (www.ethicalmetalsmiths.org). They have presented an extensive display including a video, a sluice box (used in mining to capture precious metals like gold and silver) and a case of new jewelry made from recycled jewelry. The purpose of this ongoing project (held in various locations) is to bring to public attention issues of ethical sourcing of precious materials used in jewelry manufacture. The process is this: a host community is designated and then a call for donations of jewelry is made. Professional metalsmiths and students come together to create new jewelry from the donated jewelry and when the work is completed it is put on display and offered for sale, with the proceeds going to the fund the educational mission of the organization. The sluice box was filled with the 'mined' (donated) jewelry and the display case featured recreations by eighteen artists.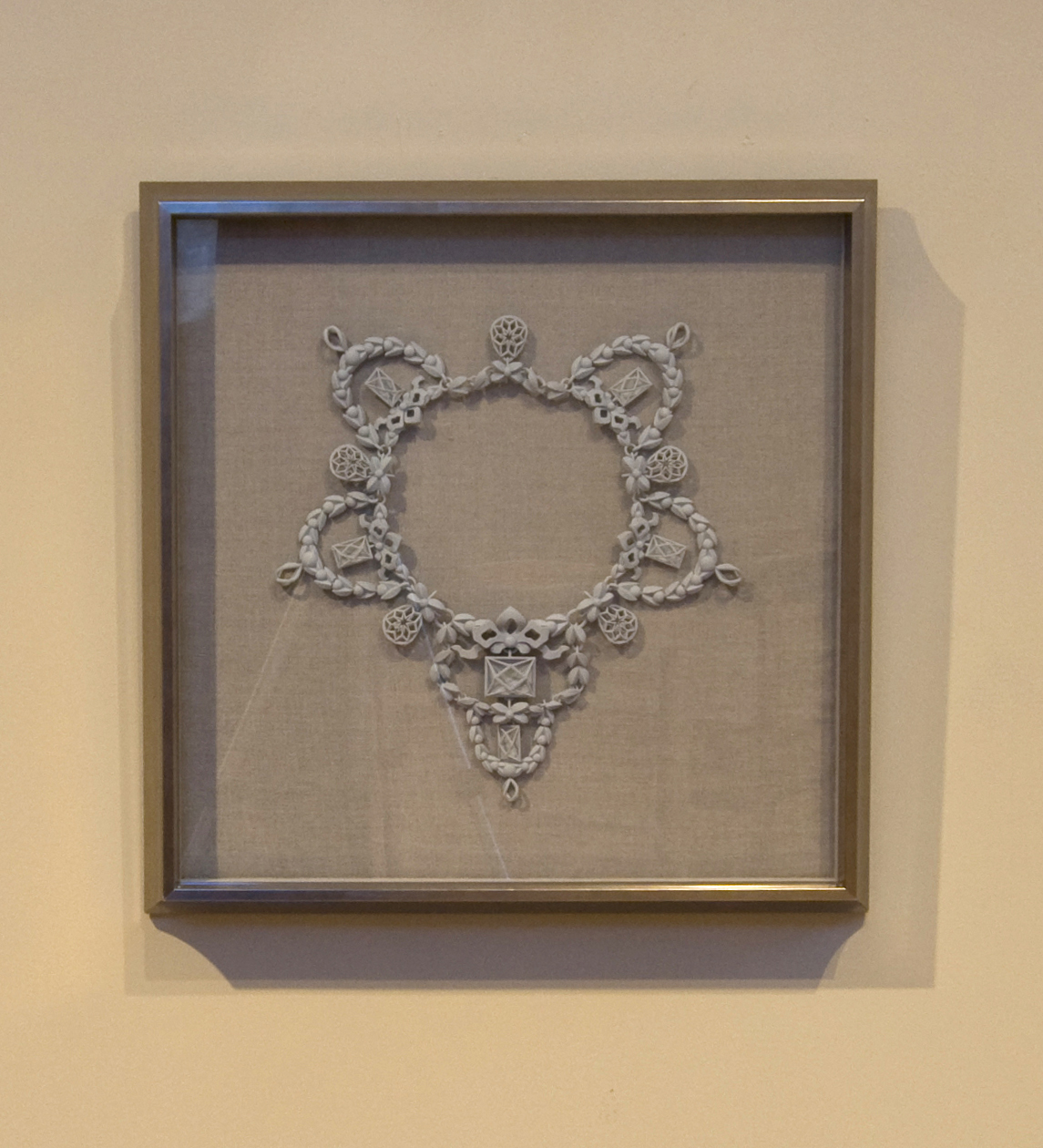 A series for three shadowbox pieces made by Kimberlie Tatalick have continued to haunt me since viewing the exhibition. Each box contains a piece of jewelry referencing a historical style but modeled in Rhino and printed in grey ABS plastic. Although not the artist's intention, they bring to mind Victorian mourning wreaths, which were often made of human hair. They are ghostly and somber and in my imagination represent a moment of grieving for more innocent/ignorant times when one could make jewelry with impunity. Now, we contemporary jewelers experience the burden (and joy) of taking responsibility for our practice. Speaking as a jeweler, I can't help but think that the amount of art jewelry that has been made in the last decade using the gemstone as trope indicates our collective angst about our profession's connection to industrial production, precious materials and elite markets. Shedding light on these troublesome relationships, as many of the artists in this exhibition do, is a step in the right direction toward an enlightened future.
Other artists participating in the exhibition were: Yael Friedman, Lisa Gralnick, Michelle Hartney, Rory Hooper, Anya Kivarkis, Shari Pierce, Gary Schott and Francesca Vitali. Accompanying the exhibition was a catalog/gallery guide with a curatorial essay and commentary.