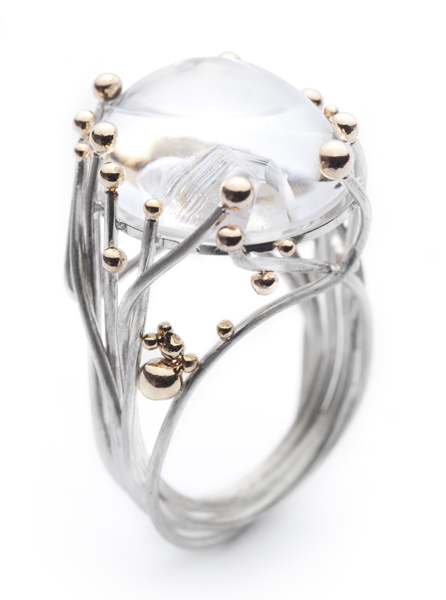 Patricia Faber of the Aaron Faber Gallery in New York curated Innovation and Craftsmanship in 2012 to raise the profile of studio artists from Quebec, Canada. The artists, enjoying the success of their combined energy, decided to expand on the original idea by making it into a travelling exhibition called 14 Jewellery Artists of Quebec. It includes Elise Bergeron, Matthieu Cheminée, Laurie Dansereau, Roland Dubuc, Gustavo Estrada, Jean-Pierre Gauvreau, Janis Kerman, Christine Larochelle, Lynn Légaré, Annegret Morf, Pierre-Yves Paquette, Claudio Pino, Antonio Serafino, and Barbara Stutman. This group approached Lisa Albuquerque at L. A. Pai Gallery in Ottawa, Ontario, and she decided to take on the show. It will continue on to Galerie Noel Guyomarc'h in Montreal in the fall.
Susan Cummins: Why did you decide to take on this show? 
Lisa Albuquerque: I initially considered the exhibition out of respect for the three artists I have represented for more than a decade: Matthieu Cheminée, Gustavo Estrada, and Janis Kerman. The collective force of the artists in a new initiative made it a worthwhile project to undertake, and it gave me the opportunity to enjoy the presence of a few of the artists I'd long been aware of but had never worked with. A travelling exhibition can stretch a dealer and can challenge one's personal proclivities.
Is there a consistent thread of some sort running through all of the work in this show?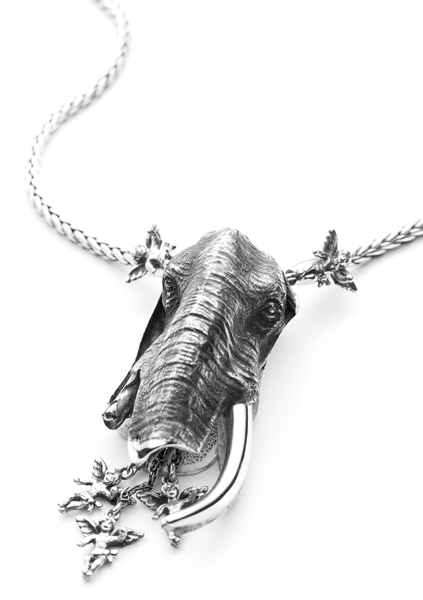 Lisa Albuquerque: Each of the artists responded to their newly fledged travelling collective with a theme piece. Many of the narratives touched on the number 14 by including 14 stones (Bergeron, Kerman, Serafino) or 14 elements (Dansereau, Dubuc, Estrada, Morf, Paquette, Stutman). Others considered the notion of unity or disunity (Gauvreau, Légaré, Larochelle, Pino), whereas Cheminée considered a broader notion of cross-cultural collaboration. 
What is particular to Quebec about the work in this show?
Lisa Albuquerque: The fact that they are jewelry artists who maintain a studio practice of such a high caliber—not production or middle-of-the-road work—is a distinguishing feature of this group of artists. That there are many others who could have been included—Josée Desjardins and Petra Luz, to name just two other gallery artists—would seem to suggest that the Quebec system is successfully producing and supporting studio artists. Otherwise, an organic homage to nature (primarily the female artists) and an architectural rigor (primarily the male) were the two predominating stylistic approaches.
Who would you suggest we approach for an explanation of their work?
Lisa Albuquerque: I would propose three artists, each for their different approaches. The first is Matthieu Cheminée, who is socio-politically motivated and about to publish a book on African metalsmithing techniques. He is working collaboratively with some master metalsmiths from Africa and incorporating their precious filigree work within his own jewelry. Cheminée's techniques range from the ancient techniques of hand tooling and casting to the contemporary use of CAD/CAM design systems. He often contrasts found and precious materials to provoke thoughts of value. The next is Claudio Pino. His kinetic rings are built with as many as 85 solderings of independent gem-laden parts in one ring. They are meticulous mechanisms that play with light and space. And the final one is Roland Dubuc who works from a single sheet of metal to create jewelry of surprising complexity through folding, twisting, and knotting.
Matthieu, Claudio, and Roland – Could you please briefly describe your work?
Matthieu Cheminée: The collection I have made for this show is based on the West African elephant. Firstly, it's my two-year-old son's favorite "momo." Secondly, this is an homage to the last West African elephants of Mali, a herd that I had the privilege to track, find, and follow with a group of young children who were tending their village livestock. It was in the middle of nowhere, somewhere around Gao. In the last few months, this region of Mali has been taken over by extremist Islamic groups who imposed the Sharia law. For me, this series represents both the distress of the people of Mali and the distress of this last herd of elephants which is just as vulnerable to these recent events. There are 14 angels who represent the power to get together to change or help a cause.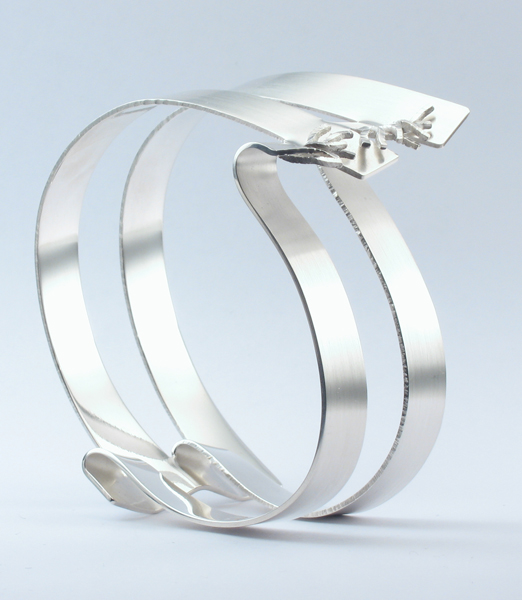 Claudio Pino: I will describe the ring pictured. Equilibrium is a kinetic ring with 14 luminous diamonds. The theme of 14 was explored in reference to the Quebec Jewelers Collective, which is comprised of seven women represented by the yellow diamonds and seven men represented by the white diamonds. Each group member brings his or her unique voice to jewelry design, yet all are united on a platinum plateau. This handmade sculptural ring has a meticulous mechanism that enhances the continuous shifting of light along with the interplay of colors, shadows, and depth while creating a direct physical interaction with the wearer. With more than 85 solderings and entirely constructed piece by piece, the kinetic plateau can move freely yet remain facing up at all times.
A narrative unfolds as each set of elements is revealed. For instance, the number five is repeated in this design with the golden drops at the top and the holes drilled in the bottom, which represent my identity. A four cardinal pointed star can be found under the plateau, describing an unexpected path. Finally, I intended to incorporate the poetry and exquisite properties evoked by the luxurious and sensual aspects of platinum.
Roland Dubuc: My piece is a nod and a wink to the group of 14 jewelers. It is sculpted from a single piece of metal separated into four bands. On top of the bracelet, 14 branches cross each other representing the 14 jewelers. Before they are folded, the 14 branches are parallel and independent of each other. Once folded, they regroup to form a whole that gives meaning to the 14 directions.
Thank you.
L. A. Pai Gallery, Ottawa, Ontario, Canada